Tag:
baldor-speciality-foods
May 24, 2017
by Sunitha Sarveswaran
Most people look at strawberry tops or carrot peels and throw them away, without realizing the myriad of other uses these scraps could provide. According to the EPA, the most preferred use for food and organics is human consumption. The least preferred uses are landfill and incineration. The GreenHomeNYC April Forum on Sustainable Food Systems featured a panel of five experts who spoke about the different strategies communities, businesses, and building owners can employ in order to limit or eliminate their organic waste footprint.
Communities can make a difference
According to the
New York City Department of Sanitation
, more than a third of all waste generated by New York City residents is organic waste. Michael Hurwitz, the Director of the
GreenMarket Program and GrowNYC
, spoke about how consumers can make a large impact on the organic waste footprint of New York City. Greenmarket was founded in 1976 with two main goals: to keep local farms viable and to ensure New Yorkers have unlimited access to fresh, local produce. Hurwitz discussed how one third of all food grown goes unharvested due to the cosmetic preferences of vendors. GreenMarket takes this unwanted produce and sells it at their local markets. Greenmarket's passion is educating consumers on how to prepare food so that every part is used and scraps are not wasted. Greenmarket provides recipes, canning presentations and workshops to help consumers minimize their food waste and stretch their dollar.
(more…)
January 2, 2016
by Tamanna Virmani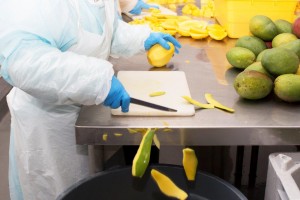 Idaho potatoes, a staple of the American diet, make a long journey from farm to plate. Physically and literally, the last stop on the train for this American native is
Baldor Specialty Foods
at Hunts Point Avenue in the Bronx. Hidden away in full view at Hunts Point is a sustainability success story that few know about but most are connected to, at least indirectly.
(more…)