NYC Green Building Events
Please note that GreenHomeNYC lists local events as a service to the community and is not directly affiliated with every event listed please check the individual listings to find out details and contact information!
You can also
submit an event
to be included on this list.
Tour
October Tour: New, Improved, and Affordable!
October 22, 2016 1:00 PM-2:30 PM
Where: Prospect Plaza Site #1: 1765 Prospect Place, Brooklyn NY, 11233
Hosted by: Blue Sea Development Company & NYCHA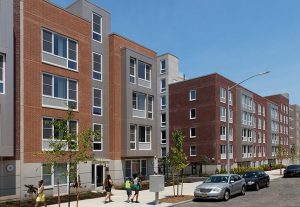 Come to our two part tour to see first-hand, two highly ambitious projects in Brooklyn, just steps away from each other. They exemplify the large scale realization of energy efficient, healthy, affordable housing for New Yorkers.
Date:
Saturday, October 22, 2016
Time:
1:00PM – 2:30PM
Location:
Prospect Plaza Site 1: 1765 Prospect Place, Brooklyn NY, 11233
Space is limited, click here to register.
SPEAKERS:
Bomee Jung, Vice-President for Energy and Sustainability at NYC Housing Authority
Les Bluestone, Co-founder of Blue Sea Development & Blue Sea Construction Co. 
PART 1: Prospect Plaza: New Construction – LEED Platinum – NGBS Gold, Energy Star, Active Design
Located in Brownsville, NYCHA's Prospect Plaza Houses consisted of 368 units in four long vacant towers, demolished to provide new housing and revitalize a once thriving community through HUD's HOPE VI program. Developed in partnership with Blue Sea Development and spanning across three adjacent city blocks, the new Prospect Plaza has become 394 units of modern, human scaled affordable housing with retail, a community center, and a new park. The completed Site 1 is 110-units of energy efficient, healthy housing in four attached townhouse style buildings and a mid-rise elevator building.
HIGHLIGHTS
– Super tight thermal envelope, 50% better than code – Passive House triple-glazed tilt/turn windows – Room zoned heating/cooling with Nest thermostats – Home energy monitoring systems provide real-time $ feedback – Cogeneration for electricity and 100% domestic hot water – Green roof & white roof mitigate storm water runoff and heat island effects
PART 2: Howard Ave. Houses: Rehabilitation & Weatherization
Around the corner from Prospect Plaza, the New York City Housing Authority (NYCHA) is undertaking a Weatherization Assistance Program (WAP) pilot project at Howard Ave. Houses, a 150-unit public housing development where the average rent is $537. The Howard Ave WAP pilot is part of a two-development, 222-apartment pilot project with a total cost of $1.3 million. NYCHA and New York State Homes and Community Renewal, the State agency that administers the federal WAP program in New York State, worked closely together for two years on the pilot. It is the first time in the program 40-year history that NYCHA's developments are eligible for WAP. The pilot is a part of NYCHA's
NextGeneration NYCHA Sustainability Agenda
(http://j.mp/green-nycha), which outlines NYCHA's 10-year strategies to achieve create healthy and comfortable homes that will withstand the challenge of climate change. WAP projects are overseen by community-based non-profit agencies. The WAP Agency for Howard Avenue is Sunset Park Redevelopment Corp. (SPRC), and the projected completion of date is Spring 2017.
HIGHLIGHTS
– Air sealed – Upgraded & repaired heating & hot water – Upgraded windows & doors – Improved energy efficiency, health & safety – Resilient to climate change.

Back to all events