Tag:
lower-east-side-ecology-center
July 28, 2014
GreenHomeNYC's Summer Sustainable Businesses  Tour
included a visit of three
 environmentally-responsible venues in Brooklyn: Our first stop was
 Build It Green!NYC  (BIG) – 
New York City's non-profit retail outlet for salvaged and surplus building materials and other household items, including refrigerators, doors,  appliances, and even books! The tour of BIG NYC was lead by Harvey Jaswal, who provided a thorough outlook on the history of  the venue, an overview of the store's storage spaces and items available for purchase.  Harvey also discussed the process by which businesses, home owners and developers can donate materials and appliances to BIG during building renovations.  These materials can then be purchased by people looking for rare and vintage materials for thier own renovations. Architects and designers are oftentimes able to find unique items for a great price here!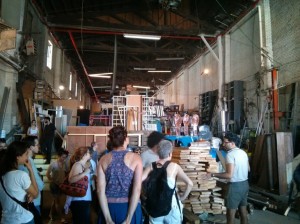 From Build It Green, we headed over to our next stop
– Lower East Side Ecology Center  E-Waste Recycling Center 
to explore a warehouse  that allows residents to dispose of old or broken electronics in an environmentally-responsible way.
(more…)
May 28, 2013
This year the Lower East Side Ecology Center will open its office and learning center at the East River Park Fireboat House. The site will contain an aquarium connected to the river to prove that "there are actually things living in the East River." Through initiatives such as environmental education programs, greening, and composting, The
Lower East Side Ecology Center
works to promote a more sustainable New York City. As part of
GreenHomeNYC's SustaiNYC Spring tours
, Daniel Tainow, Education Director, led a tour of three sites affiliated with LESEC. On top of the Fireboat House is a Xero Flor Green Roof, made up of squares of sedum for insulation, absorption of rainwater, as well as other benefits of a green roof. "We will cut holes in the tower in order to install a spiral staircase that will make the green roof more accessible. This will also encourage passive air movement throughout the tower." In the past the tower was used to hang hoses to dry after use. Solar ivy (tiny solar panels designed to mimic the appearance of ivy) will be hung to generate solar energy.
(more…)