December 21, 2011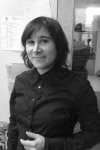 Some excerpts from our friends at Brownstoner:
Welcome to the Hot Seat, where we interview folks involved in Brooklyn real estate, architecture, development and the like…
BS: Can you explain the mission behind GreenHomeNYC?
SL: GreenHomeNYC was created to make going green accessible to New Yorkers. We're a community-oriented, volunteer-run organization whose mission is to facilitate the adoption of sustainable building methods and materials by owners and occupants of small residential and commercial buildings in New York City. Our free programming connects folks, ranging anywhere on the spectrum from green novices to green professionals, with local experts and actionable information to help them improve the energy, environmental performance and overall sustainability of the spaces in which they live and work.
BS: What's the green movement looking like now in Brooklyn? What are the strengths and weaknesses when it comes to this borough's energy uses?
SL: I think the green movement in Brooklyn is on an upward trajectory; it's becoming both more mainstream and DIY at the same time, but there is still a very long way to go… Read the entire article at:
Brownstoner