June 4, 2016
by Jaime Alvarez
How do the buildings we inhabit affect our well being? Should we be concerned with the health impacts of the construction materials that go into them? While we are well aware of the hazards of outdoor air pollution and understand its sources, we may understand less about indoor air quality (IAQ). The April Forum provided important insights into what to look out for and what's being done to address it. Three experienced professionals including a building consultant, a public advocate, and a medical doctor gathered at the office of Steven Winter Associates to inform us of indoor air quality concerns, tools for measurement, and proven results from green buildings.
Lauren Hildebrand, Senior Sustainability Consultant at Steven Winter Associates
Lauren identified some of the most common building-related health concerns: Environmental tobacco smoke Biological contaminants (dust, mold, pollen, pet dander, pests) Combustion gas by-products from stoves and boilers Household cleaning products Furniture off-gassing Toxic materials Radon Safety and security Diet and exercise According to Lauren, commissioning, the practice of testing and verifying that buildings are built and function according to their intended design, can help ensure that buildings attain their greener and healthier aspirations.
In combination with new construction standards, which are specifying more air tight construction, commissioning for proper air sealing can address a number of IAQ concerns. While the initial intent behind better air sealing is a higher level of energy efficiency, it also prevents the transmission of tobacco smoke, pests, and other pollutants between living units. Implementing
blower door testing
as part of the commissioning phase ensures units are individually sealed and can identify any deficiencies in need of correction. Carbon dioxide and other combustion off-gassing from gas stoves can also negatively impact indoor air quality and safety. Older stoves, which are pilot lit, are constantly producing combustion gases. Newer models contain electric pilots so gas flow is ignited when the burner is turned on, but the best choice is an electric stove, which avoids all combustion indoors. This issue is exacerbated in some lower income households, where residents sometimes use gas stoves for winter heating. When considering construction products that abate harmful substances, the list below identifies some of the most commonly recognized toxic materials: Asbestos Cadmium CFC's HCFC's Neoprene Formaldehyde Flame Retardants Lead Mercury Petrochemical fertilizers & pesticides Phthalates PVC A number of green building rating systems and other certification tools integrate indoor air quality criteria: Indoor airPLUS (Energy Star) Enterprise Green Communities 2015 LEED v4 Well Building Standard Active Design Guidelines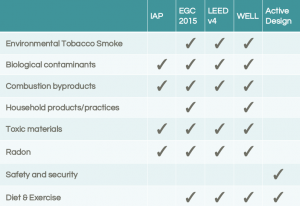 Indoor Air Plus
provides construction specifications and checklists with preventative measures to mitigate IAQ issues.
Enterprise Green Communities
certification, which is required for many affordable housing developments, includes mandatory criteria for indoor air quality issues. After commissioning for any construction related issues and addressing green building rating system requirements, a green cleaning plan can be implemented to keep harmful cleaning materials out of the home by using less toxic cleaning products and procedures.
Bill Walsh, Founder and Executive Director of the Healthy Building Network
The Healthy Buildings Network strives to remove hazardous chemicals from building products to make buildings safer. As part of this process, HBN examines the full life cycle of these products to ensure that hazardous materials are not introduced into buildings and are not recovered for indoor use. Bill focused on the dangers of asthmagens, neurotoxins, and endocrine disruptors, many of which have not yet been taken into consideration by existing green building programs. HBN is at the forefront of this research and provides awareness for many of these materials. Poor chemical regulation is one of the primary reasons there are so many hazardous chemicals used in construction. The Toxic Substances Control Act of 1976 (TSCA) grandfathered almost all existing chemicals, assuming them to be safe unless proven otherwise.  Only known, highly hazardous materials such as asbestos, PCB's, dioxins, CFC's, and hexavalent chromium were restricted. This created the lack of a legal mechanism to ensure the safety of chemicals used in products. HBN believes that informing the public about the dangers of certain substances will result in reduced demand for these products. They have identified the following chemicals as having links to asthma. Acid anhydrides (hardeners in epoxy resins, paints) Acrylates (paints, coatings, plastic polymers) Ammonium hydroxide (chalkboard paints, adhesives) Bisphenol A diglycidyl ether [BADGE] (resins, adhesives) Ethanolamines (cleaners, flexible foam, coatings) Formaldehyde (phenol-formaldehyde resin) Isocyanates (urethane spray foam, hardeners in urethane paints and adhesives) Polyfunctional aziridine (hardening agent) Styrene (carpets, rubber flooring, polystyrene) Phthalates (flexible vinyl products)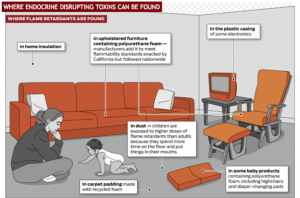 Sometimes materials which are thought to be "green" actually contain asthmagens. Carpets certified as Green Label Plus by the Carpet and Rug Institute may use recycled foam with harmful flame retardants. Certain paints such as "zero VOC" chalkboard paint, may be VOC free, but still contain the known asthmagen hexyl acrylate polymer. This highlights the need for a more comprehensive approach to identify carcinogens, asthmagens, and other materials. Green building certification systems incentivise the use of recycled materials. But if the material to be recycled isn't properly monitored and contains hazardous substances, the recycled product may reintroduce these substances into the built environment. For example, PVC that was previously in contact with lead and not removed from the recycling stream may actually reintroduce lead into the environment. Foam found in older furniture and sometimes in recycled foam used in new carpet is likely to contain flame retardants which can act as endocrine disruptors potentially harming developmental and reproductive health. To inform the public, HBN initiated the Pharos Project which attempts to identify potentially hazardous chemicals within a product. Healthy Product Declarations have also been developed to share materials data and ease the use of better building materials. Better access to this information can help to make healthier materials the standard, rather than the exception.
Dr. Elizabeth Garland, Associate Professor – Icahn School of Medicine at Mount Sinai
Dr. Garland is an Associate Professor in the Departments of Preventive Medicine (DPM) and Pediatrics at the Icahn School of Medicine at Mount Sinai. She has conducted years of research on the effects of green buildings on high poverty populations, which typically have a 15% prevalence of asthma. In Harlem for example, asthma affected 28 out of 1000 children in the mid 1990's, over four times higher than in the wealthier Upper East Side area.
Asthma attacks can result in hospitalization, keeping children from attending school and forcing parents to miss work – a serious problem in higher poverty areas. Dr. Garland conducted multi-year research on a group of residents that moved from substandard unhealthy housing into a LEED-certified affordable housing development in the South Bronx called Melrose Commons. The
study
 showed that improved housing conditions lead to dramatically reduced asthma symptoms, hospital visits, and school absences, practically eliminating asthma issues and also possibly allergies.
Melrose Commons was smoke and pet free. It had compartmentalized ventilation for each living unit, trickle vents for outdoor air, electric instead of gas stoves, non-toxic pest control, and low VOC materials. The information presented by our three speakers provided valuable knowledge regarding the importance of indoor air quality and building materials selection. While green building certification systems have successfully identified some harmful substances and curtailed demand for them, additional work needs to be done in order to ensure healthier new buildings. The health benefits of green buildings are clearly visible. Continued awareness will ensure that more people ask for well-designed and affordable homes that are also healthy.