March 3, 2019
By Warren Berger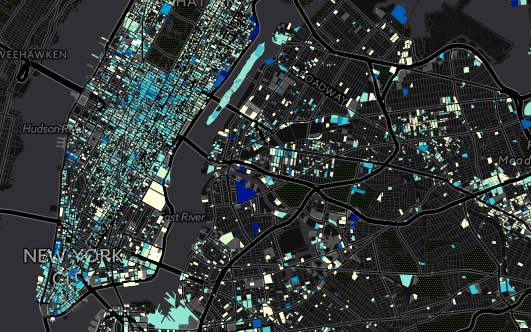 On Earth Day 2015, New York City Mayor Bill de Blasio announced One New York City: The Plan for a Strong and Just City (OneNYC). As part of the plan, Mayor de Blasio committed New York City to reduce carbon emissions by 80 percent by 2050 from 2005 levels (80 x 50), with an interim target to reduce emissions 40 percent by 2030 (40 x 30). But meeting those targets requires a good understanding of where the City's emissions come from. New York City Buildings cause 75% of New York City's carbon emissions. The residential sector accounts for 37 percent of the City's total emissions, making it the largest single source of emissions in the City. Collecting energy use data in these buildings is certainly a good place to start, but will that be enough to meet the City's aggressive goals and address the climate change challenge in time?
According to the New York State Energy and Research and Development Authority (NYSERDA) report, Realizing Measurable Savings in Multifamily Building: Results from NYSERDA's Multifamily Performance Program:
"It is critical to the growth of the energy efficiency market that we improve the accuracy of savings predictions to decrease the risk involved with investing in efficiency. The first step in doing so is to track and analyze actual savings data to discover changes that practitioners or program administrators can make to improve the accuracy of savings predictions and to discover which factors cannot be changed so that building owners and investors better understand the inherent risks and the likelihood of project success."
Local Laws Aim to Capture Energy Use Data
New York City's Local Law 84 of 2009 (
LL84
) requires annual benchmarking data to be submitted by owners of buildings with more than 50,000 square feet for public disclosure, creating transparency for energy and water usage and informing building owners and tenants on how to make their buildings more efficient. Local Law 133 of 2016 (
LL133
) expands the list of buildings required to benchmark to include mid-size buildings from 25,000 to 50,000 square feet. Local Law 87 of 2009 (
LL87
) requires covered buildings spanning 50,000 square feet or more to audit their energy consumption and conduct retro-commissioning of building systems, including the building envelope, boiler, domestic hot water, ventilation and lighting.
Compliance is Complex
What has the data collection process taught us about what it takes to motivate action and effect change in the city's residential buildings? For one thing, it's clear from benchmarking extensions that gaining compliance isn't a simple matter. Early last year, the City announced a deadline extension for submission of 2017 benchmarking reports for mid-sized buildings to December 31, 2018. In September 2018, the deadline was extended again, this time to February 1, 2019. In 2018, the New York City Department of Buildings and the
NYC Benchmarking Help Center
publicized three walk-in help sessions, which took place in May, October and November, for building owners who want more information about compliance. The center also maintains a telephone and e-mail service for owners who want more information, assistance, and answers to questions about the NYC Benchmarking Law. This is not the first time education and engagement have been employed to help with compliance. Previously, in 2015, the
NYC Retrofit Accelerator
, a free, personalized advisory process for making energy efficiency improvements, was introduced. The service includes working with building owners and management companies to determine their energy conservation needs, select the best contractors for energy conservation projects, find best financing plans, and train staff. But, according to Tom Sahagian's December 2017 article,
"NYC's 80 x 50 Goal: Is It Realistic? How Do We Get There?"
the Retrofit Accelerator needs to provide more studies with actual data, rather than only projected data, to better inform these projects. A couple of years earlier, in 2013, the City tried motivating retrofits by launching the
NYC Carbon Challenge for Multifamily Buildings
, which engages the City's largest residential property management companies to commit to reducing greenhouse gas emissions across selected buildings in their portfolios by at least 30 percent, by making cost-saving energy efficiency improvements. But, as stated on the website of the Mayor's Office of Sustainability, only 22 New York City based residential multi-family property management firms had committed to the Challenge, pledging to reduce the greenhouse gas emissions from over 3,500 multifamily buildings over ten years. Altogether, these buildings represent over 275 million square feet or just 8 percent of the City's residential square footage.
A Complete Picture is Hard to Paint
It turns out that, in addition to gaining compliance, the data collection process itself plays an important role in the ultimate utility of the data. For example, according to the 2016
One City Built to Last Technical Working Group Report
,"Some of the energy that is reported in the LL87 audits fall into the 'other' category and is assumed to be from tenants-driven loads, but there may be additional tenant energy uses that go unreported." Some of the total building energy measured used by tenants includes space cooling ventilation and other uses. Cooling systems are not as well covered in LL87 energy audit data as heating systems because tenants are responsible for these systems. The report also states that "For some building typologies, there were not enough records within the first two years of LL87 energy audit data to draw statistically significant conclusions about the breakdown of heating and cooling systems in these typologies." For LL84, data quality is not enforced by a third party. At one point the Mayor's Office of Long-Term Planning and Sustainability had to temporarily suspend the calendar year 2017 rules for Benchmarking Energy and Water Use because of technical issues.
Changing Behavior and Buildings One Small Megawatt at a Time
According to the Technical Working Group "LL87 energy audit reports for large buildings include recommended energy conservation measures (ECMs) that can improve specific systems within a building, along with their associated costs and simple paybacks. These recommendations provide building owners and decision-makers with useful information to help prioritize energy efficiency investments. LL87 also requires buildings to complete retro-commissioning to ensure that existing equipment and building systems are operating as intended by current facility requirements." The Technical Working Group report says that "The opportunities that are identified through Local Law 87 are important first steps that owners and decision-makers in large buildings can take to begin reducing their energy use and GHG emissions. However, even if all recommended ECMs were implemented, these opportunities alone are not sufficient to put New York City's existing buildings on the path to 80 x 50." The first two years of reported LL87 energy audits recommended ECMs that would result in a 14 percent annual reduction in GHG emissions on average if building owners implemented all measures. Retro-commissioning measures, which are required to be implemented, are estimated to have reduced these buildings' GHG emissions by an average of only 2.5 percent. In addition, there are still many buildings that lack processes and systems for managing operating efficiencies and measuring environmental impact. Furthermore, states the Technical Working Group Report, "Currently, energy auditors are not required to report all potential ECMs for a building in an energy audit. Typically, auditors include only the most cost-effective measures with paybacks of less than 10 years, sometimes at the specific request of building owners. Moreover, LL87 energy audit recommendations and retro-commissioning measures may capture some, but not all, efficiency opportunities in tenant-leased spaces." The good news is that while LL87 does not require tenant systems to be included in the building systems inventory and energy audit recommendations, surveys of auditing firms indicate that many auditors do provide at least some of this information in LL87 energy audits. Still,
"Turning Data Into Action, Version 2"
of August 2018 reported that the implementation of all recommended LL87 measures by the City's covered multifamily buildings would reduce their GHG emissions by 11 %. Even if all of these measures are implemented, "they would not be enough to get to 80 x 50." Finally, the Urban Green Council report of October 2017,
New York City's Energy and Water Use 2014 and 2015 Report
, includes data collected under LL84 and LL87. The data analyzed in the report includes up to almost half of the of New York City's total floor area. The report states that "Large NYC buildings continue to cut their energy and carbon emissions. Buildings that regularly benchmarked have decreased their energy usage by nearly 10 percent and their total emissions by almost 14 percent". However, "After an initial 5 percent drop, multifamily buildings have been stagnant for the past few years; offices have experienced regular declines and universities have been the all-stars of NYC, with a 20 percent reduction." So, there still remains the question of how quickly and fully the City can move forward to meet its sustainability goals and stop a catastrophic climate crisis. Time will tell whether energy use data collection will help move the needle. However, the biggest outstanding question is, do we have that much time to save the earth?