January 26, 2016
Although everybody loves a beautiful, healthy building that saves energy and water, there's a lot that goes on behind the scenes to finance those projects and get them off the ground. As such, there is an incredible demand in the green building industry for professionals who know how to make use of tax credits, grants, and unique financing options. 
For our February Green Careers meet-up, come hear the following professionals discuss their careers and provide insight into the green financing sector:
Christopher Diamond,
 Director of Engineering at New York City Energy Efficiency Corporation, is an experienced energy efficiency, sustainability, and resiliency expert. He is well versed in all aspects of how we inhabit our urban environment: design, construction, codes and policy, finance, legal. Christopher has experience with commercial, institutional, multifamily residential, and affordable housing buildings, as well as city and state policy, and construction finance. He is well-known for implementing creative solutions to unique, complex problems. Mr Diamond has interpersonal skills, professional attitude, and a firm personality.
www.linkedin.com/in/christopher-diamond-a431932b
Jessica Lynn Aldridge,
Vice President of New York Green Bank, supports the origination, evaluation, and execution of scalable clean energy project investments across New York State. Prior to joining NY Green Bank, Ms. Aldridge served in the Office of the Secretary at the U.S. Department of Energy, where she helped develop finance and securitization policies to support growth in clean technology adoption. In 2012, she was also selected as an Environmental Defense Fund Climate Corps fellow, where she worked with PricewaterhouseCoopers to identify and implement efficiency projects worth over $1 million in annual energy savings. Ms. Aldridge worked in investment monitoring and reporting at Citi Private Equity, a business unit of Citigroup that managed more than $10 billion of private equity co-investment, fund-of-fund, and mezzanine products. She was also an analyst in single stock and portfolio trading, structured derivatives, and institutional sales in equities at UBS Investment Bank. Jessica holds a bachelor's degree in economics from Columbia University, a Master of Business Administration degree in strategy and finance from Yale School of Management, and a master's degree in energy and the environment from Yale School of Forestry & Environmental Studies.
www.linkedin.com/in/jessica-lynn-aldridge-a2885211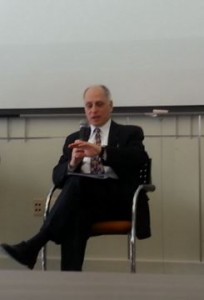 Robert Fischman,
Director of Commercial Programs at Energize NY, is a sustainability management professional providing leadership to innovative organizations that aspire to implement environmentally and economically responsible business solutions. His knowledge and skill sets include such diverse aspects of sustainability as energy markets, energy efficiency programs, green building design, renewable energy technologies, metrics for carbon accounting & greenhouse gas emissions reporting, environmental, social & governance reporting, corporate social responsibility policy & reporting, financial project analysis, materials management & recycling, climate resilience & mitigation strategy, responsible land use policies and environmental climate science. Robert is also a project management professional, experienced in directing capital building programs consistently geared toward delivering effective solutions that meet client needs and enhance value through the responsible oversight of planning, schedule, budget, design, contracting and commissioning in the private, non-profit and public sectors. Mr. Fischman brings three decades of professional experience in the building industry, having directed more than $500 million in capital construction programs for commercial, residential, educational and cultural institutions, municipal facilities, research laboratories, hotels and athletic facilities. Robert holds a BS in Civil Engineering from Union College and a MS in Sustainability Management from Columbia University. He also has extensive experience in Capital Program Management, Construction Management, Real Estate Development, Facility Services, Engineering, Not-for-Profits, Small Business Operations, Consulting and Sales & Marketing.
www.linkedin.com/in/robert-fischman-1276a43
Bruce Kahn Ph.D, 
Portfolio Manager at Sustainable Insight Capital Management and Lecturer at Columbia University, has over 26 years of relevant academic, environmental and investment management experience. From 2008 – 2012, Bruce was a Director at Deutsche Asset Management where he served as an investment strategist conducting analytical research on sustainable investing. Mr. Kahn also managed a Sustainable Investment portfolio at Citi Smith Barney, across a broad mix of sectors including sustainability leaders, agri-business, clean tech and renewable energy companies. Bruce is a Lecturer at Columbia University's Earth Institute in the Sustainability Management Program and holds a PhD in Land Resources from University of Wisconsin, Madison. He is a recipient of both a J. William Fulbright Scholarship and a National Science Foundation Fellowship in ecological economics and served in the United States Peace Corps in the Republic of Cameroon, (1989-1993). Currently, he serves as the Chair of the Finance Committee of the Robert and Patricia Switzer Foundation, previously served as Trustee of the Jesse Smith Noyes Foundation, and is a member of the Board of Visitors for the Gaylord Nelson Institute of Environmental Studies at the University of Wisconsin, Madison.
www.linkedin.com/in/brkahn
Time and Place
Date: Tuesday, February 9th
Time: 6:30pm – 8:00pm with networking afterwards
Location:  Steven Winter Associates, 307 7th Ave., 17th Floor, NYC 10001
If you have any questions, please contact the GHNYC Green Careers group at