January 30, 2019
By Jenny Dranetz
Photos by Rishika Shrivastava
January's Green Careers panel featured three professionals working to design and create built environments that not only work to meet sustainability goals but also positively impact the health and well-being of their occupants. Specifically, this month's panelists' work focuses on active design, universal design and building standards looking at the built environment's impact on occupant health.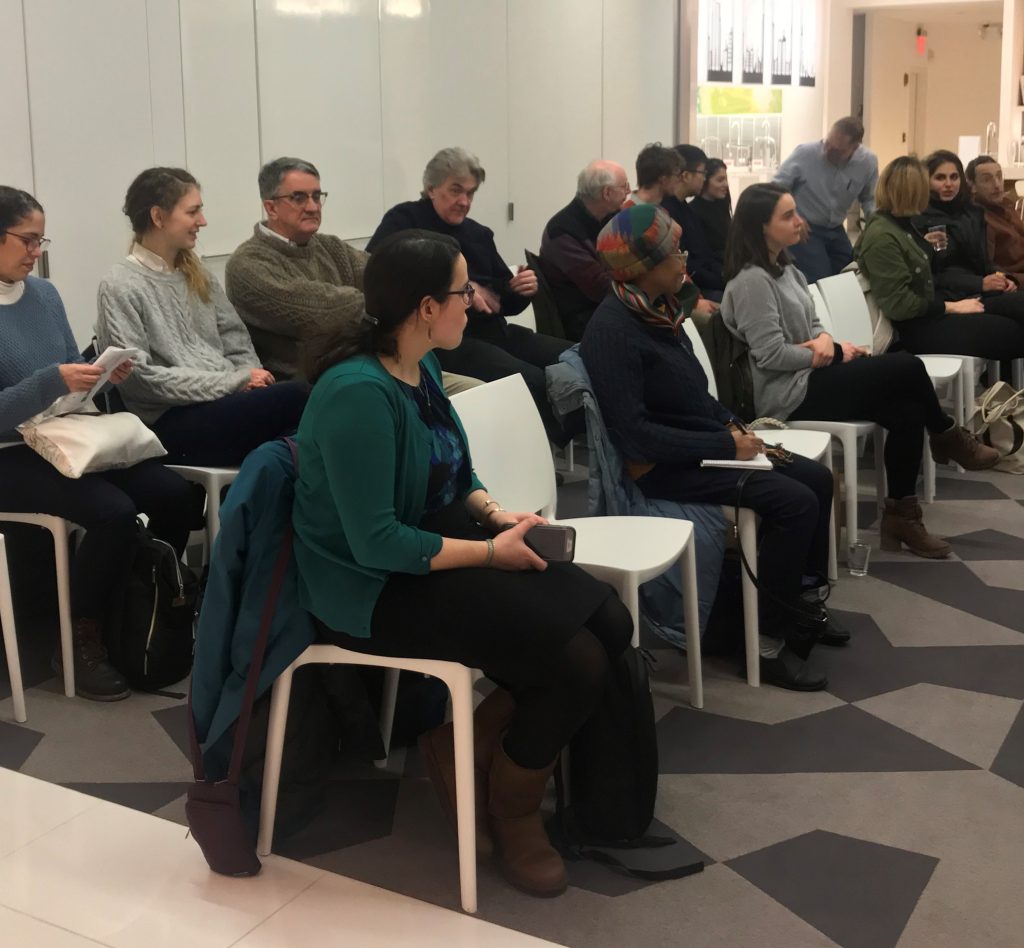 Melanie Koch, a Senior Associate with the International WELL Building Institute (IWBI), kicked off the panel by explaining IWBI established the WELL Building Standards in 2014 as a multidisciplinary framework to help occupants thrive in their built environment. This framework is based on research from scientists, designers, architects, engineers and others creating a point system. This system scores clients based on criteria across different categories those clients choose to focus on to meet their specific end-goals.


Prior to joining IWBI, Melanie completed her undergraduate work in environmental studies and public health at Tulane University before working with the Clinton Global Initiative on their Built Environment track. This work experience, along with knowledge of the Center for Disease Control's (CDC) four criteria for measuring public health and the fact that humans spend 90% of their lives indoors, peaked her interested in the public health & environmental sector. Melanie then went on to pursue a Masters in Global Environmental Health Science.

In her current role with IWBI, Melanie acts as a project-facing representative and assists in answering client questions across all the categories WELL looks at. In the first version of WELL, there were seven of these categories (air, water, nourishment, light, fitness, comfort, and mind), however, in the second version, WELL expanded to include three additional concepts (sound, materials, and community).


Although still a fairly, new program, WELL has been around long enough for IWBI to have started a follow-up program to evaluate how successful the standards have been and where adjustments can be made. Clients that have been following WELL standards for 3+ years are now eligible for review.  IWBI has since found success in projects where clients were willing to put in the work to meet the standards.


Melanie shared that she is WELL AP certified, and advised that anyone interested in pursuing a career with a WELL focus, obtain this certification to increase their expertise and stand out from other candidates.


Nadine Rachid is currently the Director of Product Development to another building standard certification program, FITWELL, through the Center for Active Design, whose mission is to promote health through design. The FITWELL standards measure and verify the use of active design, which involves using evidence-based approaches to design a built environment that protects the health of its occupants. Originally created as workplace standards, FITWELL standards have grown to cover both new projects as well as existing built environments.


Nadine started her career in interior designer and spent 10 years working on luxury & hospitality projects in Europe where she started to take a closer look at exactly how humans interact with their built environment. This led her to pursue a Master's in Urban Ecologies at Parsons. Once she completed her masters, Nadine joined the Center for Active Design, who take research and translate it into guidelines for the built environment. The FITWELL standards take these guidelines and assign point-values for different criteria based on the strength of the evidence supporting them. Clients can gain certification by earning points across different categories that best fit their own needs.


FITWELL also takes the greater community impact into account when scoring points, such as increasing walkways, that can benefit the community beyond the occupants. Additionally, FITWELL encourages occupants to take advantage of their surrounding community to increase their physical, social and mental wellness.


Additionally, FITWELL aims to teach clients about how their buildings affect occupants through their Ambassador program and provides free materials online for tenants to educate themselves on their environments. FITWELL further encourages landlord and tenant communications since, while projects can originate through either stakeholder, success of the project often includes involvement from the other. By educating landlords and tenants, they both become champions of the program.


Similarly to WELL, FITWELL, which started in 2017, is a new certification program so it is continuing to develop not just in the scope of what type of built environments the standards can be applied to, including multi-family housing and campus buildings, but also in their follow up program to evaluate program success. Also like WELL, FITWELL has found that public health goals are often complementary to sustainability goals and clients are consequently encouraged to pursue dual certifications due to the overlap.


In addition to building standards and active design, the built environment can also be influenced by universal design. Mary Jo Peterson, an interior designer and the owner of Mary Jo Peterson Designs, ensures her projects follow the criteria of universal design.


Mary Jo, who focuses on kitchen and bathroom projects across the country, explained that universal design works universally across many different groups of people. In other words, universal design is "design for everyone" and actively takes people's differences into account.  Mary Jo noted that universal design is not the same as accessible design, which aims to solve a specific problem. Universal design aims to support everyone and is performance based making it unquantifiable, where as accessible design is in fact quantifiable and therefore codifiable as well.


Mary Jo has been a pioneer in the universal design movement for 30 years, and now trains and exposes other designers to universal design. Universal design adds flexibility into designs from the beginning so that structures will not need to be redesigned and rebuilt in the future, which is ultimately better for occupants, landlords and the environment. Universal design is incorporated in projects more and more these days due to the increase in population age as well as millennials' shift towards "cohabitation" living that results in many types of people living in the same built environment. There are also increasingly more incentives to follow universal design standards as local governments and insurance companies tend to cover more costs from universal design repairs and designs.


From the beginning of her interior design career, Mary Jo has been a part of professional organizations and trade groups that helped open many doors for her and enabled her to become an expert in what was an emerging field. Through these organizations for example, Mary Jo gained opportunities to take on many large-scale projects, including ones for GE and Betty Crocker, and the chance to write a book on universal design. She advised that joining volunteer, shared-interest, and education groups can be invaluable to advancing your career.


Across the panel, all three speakers advised that getting involved in the industry and networking are great ways to start your career and to help you learn what opportunities are available. Panelists also suggested looking into emerging areas like WELL or FITWELL where you can become a pioneer and expert in a growing field.