September 24, 2016
By Matt Gerson and Katie Schwamb An elevator pitch is defined as "a succinct personal summary used to capture the interest of a potential employer." The name comes from the idea that this speech is delivered within the brief timeframe of a typical elevator ride; it raises one of the most important questions you need to ask yourself:
What do I say in those 30 seconds to make the biggest impact?
To help answer this question, the GreenHomeNYC Green Careers group invited two stellar moderators to the September 13th Green Careers – Elevator Pitch Workshop, hosted at the 
Grohe Live! Center Showroom
:
Gina Piesco
, Manager of Human Resources at Kenneth Cole Productions, and
Andy Padian
, President at PadianNYC Consulting. Gina and Andy moderated, as attendees presented their elevator pitches to the group. After each pitch, the presenter received constructive criticism identifying areas of strength and weakness, so the pitch could be refined and improved. This group analysis made for a dynamic and mutual learning experience for everyone who attended. During the workshop, the group was able to identify attributes of a successful elevator pitch…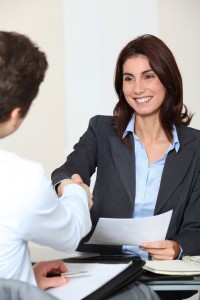 First and foremost:
An elevator pitch should always begin with a clear introduction of your first and last name along with a FIRM handshake.
Always be doing something:
Next, state your current position and employer, even if you're looking for a career change. If you're unemployed, just out of school or in any type of transition period, identify what you're doing to stay active while you look for that dream job. Temporary positions, hospitality work, volunteer projects, etc. are opportunities to show that you're putting your skills and experience to use. Look for opportunities to show that you're staying sharp and engaged even though you might be currently between careers.
Highlight your important skills or attributes:
The organization of your elevator pitch can be just as important as the content itself. Provide a brief explanation of what makes you unique and why you are an excellent candidate for the role. By prioritizing your strongest skills and attributes, you ensure that you relay the most important information to your potential employer.
Mind the body language:
Posture and presence are crucial for a strong elevator pitch. Don't slouch over or talk to the ground. Stand tall and look the person in the eye.
Keep it simple and be articulate:
Throughout your pitch, be sure to watch for your "umms" and "ahhs" because you don't want to detract from what you are saying. Practice your enunciation. If you trip up on a word, consider changing it for the next elevator pitch. Find the words and phrases that work best for you and use them to your advantage, that way you'll be comfortable and natural during your speech. Don't over-complicate your message. In general, it should be simple, direct, and easily understood by any audience…even a 6-year-old.
Pause for the cause:
Take a deep breath and a moment's pause if you find yourself stumbling over words or drawing a blank on what to say. Even though you have limited time, it's worth taking a second to compose yourself and collect your thoughts.
Make it memorable:
One of the main goals of the elevator pitch is to pique someone's interest. Look for positive ways that you can separate yourself from the crowd and/or for opportunities to relate to your audience. If you're able to, draw connections to show how your own attributes align with the potential position or how your skills would be an asset to the company. Did you attend a distinct school? Hold a position at a recognizable company? Develop a unique skill? Do you have a mutual colleague?Did you and your prospect happen to attend the same recent industry event?
Be mindful of your closure:
End your pitch with a strong statement that reflects your end goal and provides the opportunity for continued conversation or a future follow up. Adapt a closing from the examples below or create your very own! — I'm very interested in hearing more about your company's current needs. — I'm inspired by the position opening and would love to discuss the opportunity in greater detail. — I'm looking to gain a more thorough understanding of the industry and would appreciate getting your input. — I would be happy to identify ways in which we can collaborate on future projects. — I'm looking for my next career move and would be grateful to be considered for the job.
"Here's my card":
Time is short, so be sure to have business cards readily available to hand out at the end. Never rely on the concept that "you can always find me on social media." The best strategy is to keep cards in an accessible clothing or bag pocket.  You want to make it easy for the person to find you after your conversation. If you don't have company business cards, get your own personal cards. Vistaprint or MOO Business Cards provide relatively inexpensive options. You can also make cards by printing them at home or at a printing center such as Kinkos or FedEx. Printing on cardstock or a paper that's higher quality than regular printer paper is always recommended. Remember, just like your elevator pitch, keep you business cards simple yet informative.
Fake it till you make it:
This doesn't mean that you should fabricate your skills and previous experience. This means, speak with confidence even if you're not feeling confident at that particular moment. "Pretend" that you're self-assured for the time that you're engaging your potential employer or client. You can take a sigh of relief and shake off your nervousness afterwards when you're not in front of the individual you're trying to impress.
Practice, practice, practice!
Remember, unless you are riding to the top of the Empire State Building, you're going to have roughly 30 seconds from start to end. Practicing will not only help you develop a succinct and impactful pitch, but will also ensure that you're prepared for any opportunity that comes along.
Be sure to attend our next Green Careers meeting schedule for October 18, 2016*. To learn more, please visit www.greenhomenyc.org.
*Note that the October meet-up will be held on the 3rd Tuesday this month in order to accommodate Yom Kippur observance on October 11th.
GreenHomeNYC is an all volunteer, nonprofit that promotes energy efficiency and sustainability in New York City. The GHNYC Green Careers meet-ups are typically held on the second Tuesday of every month and provide informational resources and networking opportunities for those pursuing careers in the green sector.