November 11, 2013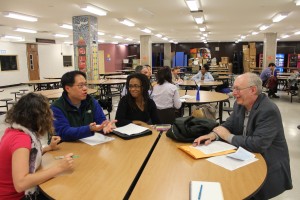 On Tuesday, November 5th, the GHNYC Green Careers group held another Speed Up-Dating your Resume workshop at the
Urban Assembly for Green Careers
on the Upper West Side. The event attracted a wide range of attendees — including those looking for career change to sustainability, veterans in the industry, as well as young professionals preparing their graduate school applications — all  looking to improve their resumes. Prior to the event, attendees were asked to bring several copies of their resumes which were circulated amongst professionals in the sustainable and energy-efficiency industry for review.  The workshop was conducted in a "Speed Dating" format where resume advisors were able to offer commentary and constructive criticism to one individual within a 10-minute interval before moving on to the next attendee.
The workshop offered Green Careerists a variety of perspectives on their existing resumes and provided effective advice on ways to improve their curriculum vitae, such as overall formatting guidelines and strategies to highlight the strongest qualifications. The GreenHomeNYC
Green Careers
group has had a long history of providing opportunities and empowering those trying to break into the sustainability field. If you're interested in volunteering with the Green Careers group or if you'd like to join our listserv, email Katie Schwamb at
[email protected]
.
Article and photos by Ariel Fan.