April 26, 2019
How is New York City Tackling Food Waste? 
Effective Solutions to a Serious Urban Issue
By Louise Lauren
GreenHomeNYC March Forum at WeWork, 12 East 49th St Nearly four million tons of waste get sent to the landfill per year just in New York City, and 30 percent of that is food waste. As a country, the US sends nearly 40% of its food supply to landfills. That equals approximately 240 pounds of wasted food per person per year, yet one  out of seven people in the US are considered "food poor" (Feeding America, 2016). The magnitude of this issue and its impact on the environment and on society is apparent. That's why GreenHomeNYC hosted a Food Waste: Upcycling and Impact forum on March 20th at the WeWork space in mid-Manhattan to discuss what is happening in the New York City food waste space. The event had over 60 attendees spanning all ages and backgrounds. The invited speakers represented a wide array of expert perspectives, including not-for-profit, private entities and government programs. Pat King, Volunteer at
Rescuing Leftover Cuisine
Alissa Westervelt, Senior Food Donation Coordinator at
donateNYC Food Portal
Richard Day
, Enrollment Coordinator at NYC's
Organics Collection Program
– NYC Department of Sanitation
Delaney Sondag
, Sustainability Coordinator and
Stephanie Cardenas
, Sustainability Specialist at
Baldor Speciality Foods
Daniel Ratner
, Partner and Head of Growth at
YourLocal
Shane Hardy
, Senior Land Manager at
Stone Barns Center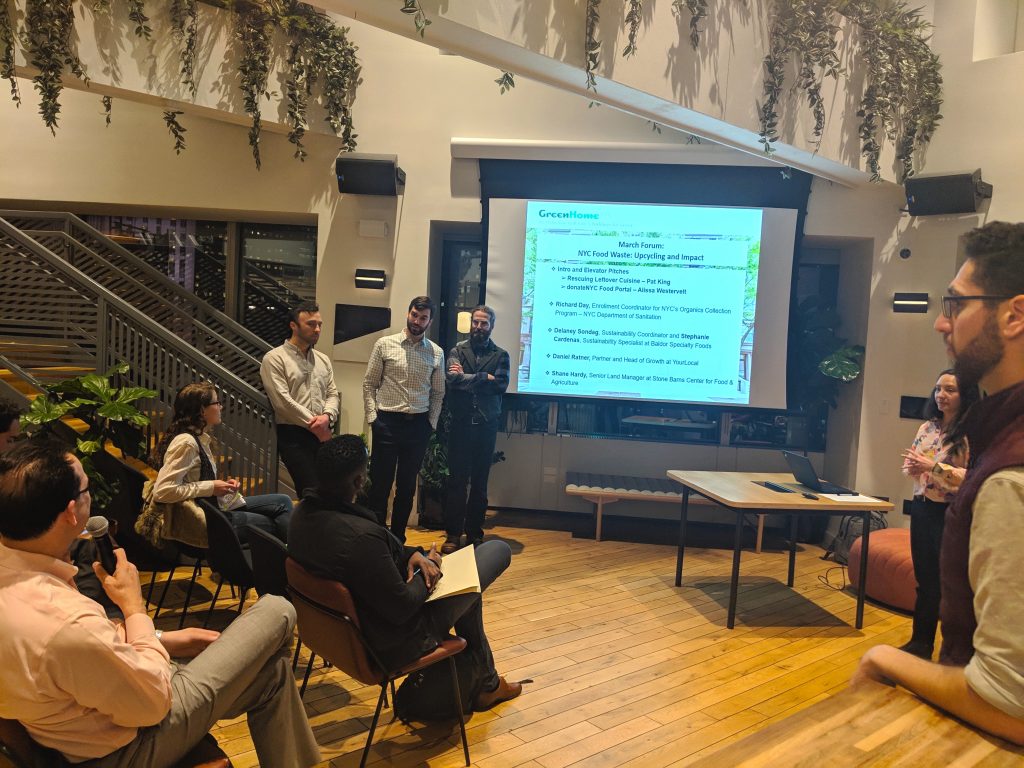 Speakers Q&A All of the speakers highlighted the scale and impact of the food waste issue in New York City, agreeing that this is not a topic that should be taken lightly. They shared with the audience the amazing efforts of individuals and organizations that are focused on addressing this issue and on creating the space to educate and empower more people to get involved. Below, in order of presenting, is a synopsis of each organization, their mission statement, some of the actions they are taking, and ways that you can get involved.
Rescuing Leftover Cuisine
is a national 501(c)3 not-for-profit organization that links  volunteers who want to pick up leftover food from local registered partners with nearby food shelters and other registered groups in need of food donations. Located in 16 cities, they also provide services such as food waste consulting, co-branding services and tax credit assistance. As a volunteer, you can help reduce food waste and feed people in New York City. Rescuing Leftover Cuisine has a food collection and delivery system that caters to all types of volunteers, from spontaneous volunteers with an irregular schedule to more committed team members who want a set schedule. Rescuing Leftover Cuisine aims to be flexible because they believe in what they are doing and want you to know that you can help tackle food waste and food poverty in NYC in any capacity that you have to offer.
donateNYC Food Portal
is a digital food donation platform that enables businesses and non-profits to reduce the amount of edible food that is sent to the landfill. Alissa Westervelt, the Senior Food Donation Coordinator, is in charge of the recent initiative that was developed in response to local law 176. The donateNYC Food Portal enables donors to easily post available food donations and an algorithm matches donations to recipients, first by food type and then by distance, starting with the closest organization first. Visit the
portal
to learn more.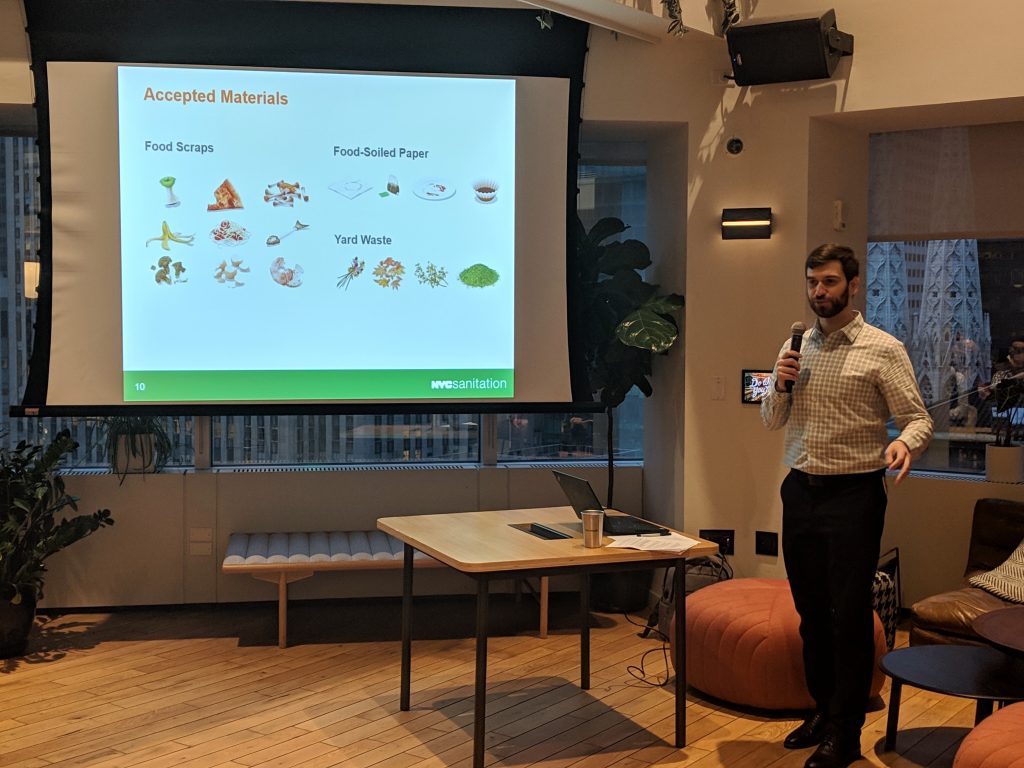 Richard Day, DSNY Organics
NYC's Organics Collection Program
is part of the NYC Department of Sanitation (DSNY). Richard Day, the Enrollment Coordinator for the city's organics collection program, is responsible for increasing food scrap recycling in high-rise buildings across the five boroughs. Since its inception in 2013, 3.5 million New Yorkers have access to the organics program, making it the largest in the country. The program aims to collect food scraps, food-soiled paper, and yard waste from residents to turn it into compost or renewable energy. Have you seen the brown bins in your building? Do you know if
your neighborhood
is currently signed up for the program or if there is a
food scrap drop-off
near you? Are you a bit confused about what you can and cannot dispose in the brown bins? Well, DSNY has compiled all of this information and more on their
website
, and it's in 16 different languages, enabling more people in your building to learn how to recycle their waste. In summary, food waste, food-soiled paper, and yard waste can all be placed in the brown bin, separate from materials like metal, plastic, and animal waste. To find out more about what can and cannot be placed in the bin, check out
educational materials
on the DSNY website.
Delaney Sondag and Stephanie Cardenas, Baldor Specialty Foods
Baldor Specialty Foods
is one of the largest food distributors in the Northeast taking action to reach zero organics to landfill by 2020. Delaney Sondag, Sustainability Coordinator, and Stephanie Cardenas, Sustainability Specialist, both utilize their experience and passion to implement creative strategies to catalyze a sustainable farm to fork food system. Baldor has made sustainability a high priority for their business operations strategy. Actions they have taken include: implementing a companywide composting program to divert post-consumer food waste from landfill, reducing food loss on farms, and changing the concept of what is seen as 'imperfect' food. To accomplish this, Baldor focused on understanding the economic benefits as well as the environmental impact that efficiency and food waste reduction would have on their own business model. As a restaurant owner or food retailer, you can learn more about Baldor's commitment to sustainability, the programs they have for their customers and how you can get involved.
YourLocal
is an app-based social enterprise that has created a profitable solution to food waste by enabling restaurants to sell their excess food to local consumers. Initially founded in Copenhagen, Denmark, YourLocal has now expanded to New York City, and partner and Head of Growth Daniel Ratner is championing the growth of the app in Brooklyn and NYC. Are you a restaurant owner or a food consumer? You can enjoy saving money on meals and reducing your carbon footprint by
signing up
to YourLocal, which connects consumers to restaurants that have a surplus of food. Right now the app is predominantly based in Brooklyn, but it is quickly expanding. You can be part of their solution by downloading the YourLocal mobile app to create a higher demand for restaurants in your area.
Shane Hardy, Stone Barns Center
Stone Barns Center for Food & Agriculture
works to steward all organic materials on the farm toward their highest value use – and in doing so, reduces waste across their entire regenerative farm. Shane Hardy, the Senior Land Manager, works on more than 350 acres of diversified pastures, cropland and forest both at the farm and within the neighboring Rockefeller State Park Preserve, where Stone Barns farmers are grazing livestock. Shane emphasized the importance of healthy soil for humans, animals and the environment. Stone Barns Center is located about an hour up the Hudson River, and hosts a number of
educational events
for people who want to learn more about sustainable agriculture and support young farmers. You can also come by for a visit or take a tour of the farm.
You Can Make a Difference
The inspiring evening drove home the message that individual consumers have the power to make a difference. You can choose where you spend your money and you can voice your opinion, because as highlighted at the GreenHomeNYC Monthly Forum by Stephanie from Baldor Speciality Foods, the companies and supermarkets will hear our concerns and with time adapt to the needs of the consumer. The space will be changed by individuals who vocally express that they want a more sustainable food chain. Although the problem with food waste may appear overwhelming, these are few of the actions you can take to help reduce your own waste: Donate a fraction of your time collecting and delivering food to shelters such as Rescuing Leftover Cuisine or the new program by donateNYC Food Portal. Check to see if your building is signed up to the DSNY curbside collection (brown bin) for food waste and compost, and if it's not then ask your superintendent if they can sign you up. Download mobile applications like YourLocal to check out where you can save money for delicious food in your area and help reduce food waste. As a restaurant owner, you can choose food distributors like Baldor Speciality Foods that focus on reduction of food waste, food sustainability and economic efficiency. Additionally, you can ask your current food distributor what actions they are taking to become more sustainable. Visit places like the Stone Barns Center to see and experience how this New York based farm is curbing food waste and using technological innovation to farm sustainable products. Support event spaces that value sustainable business practice. For example WeWork, aims to reduce their consumption of single use plastic to zero by using metal, glass or compostable items for food catering. Finally, follow GreenHomeNYC for more insightful forums on topics related to all things green and join our volunteer-based organization to see how you can
get involved
.
GreenHomeNYC Audience Thank you to WeWork for hosting us and for doing your part to promote sustainable practices through your use of reusable cups at the event! Source: 
https://www.feedingamerica.org/sites/default/files/about-us/financials/2016-feeding-america-annual-report.pdf
-End-