March 10, 2019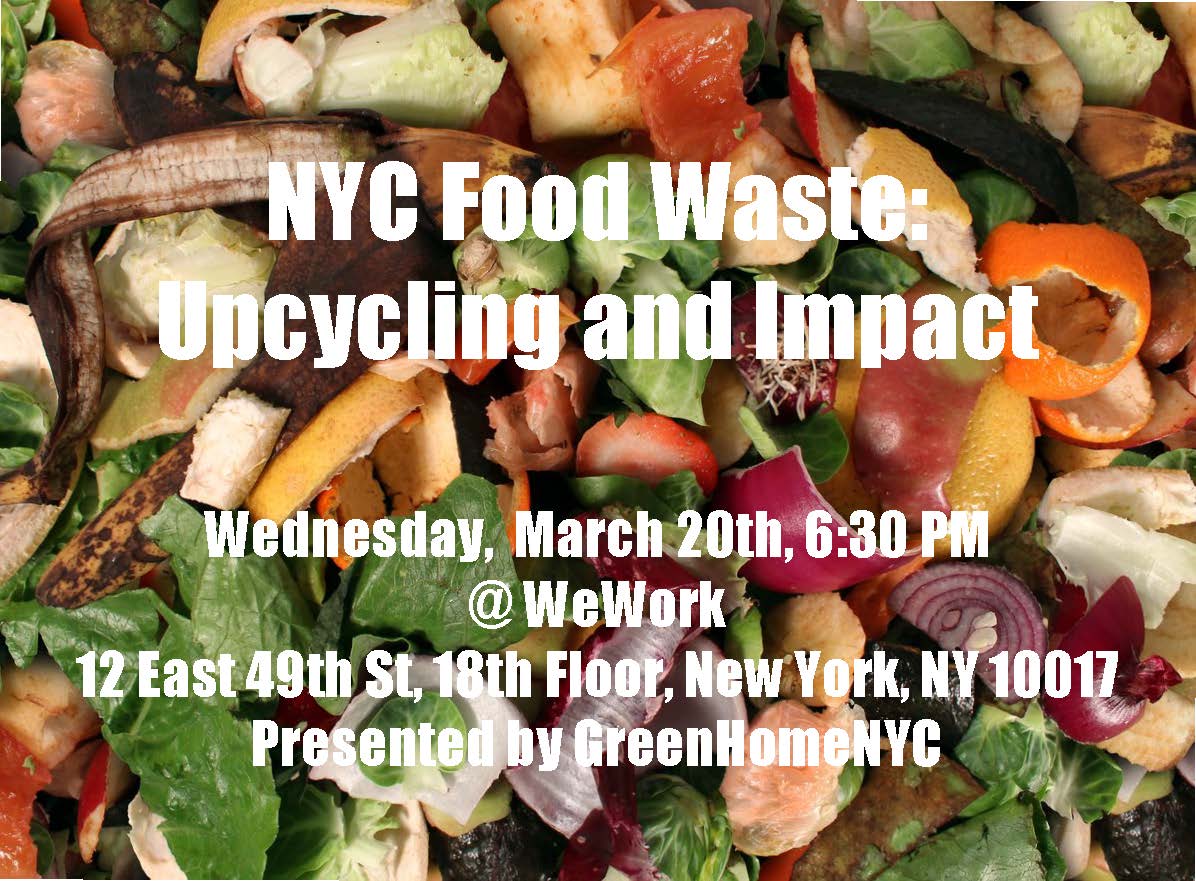 How much food do you think goes to waste each day in NYC? How can we create a more sustainable food ecosystem that addresses the environmental, social, and financial realities of food waste? How can we curb food scraps from landfills, prevent avoidable food spoilage, and get food to those in need?   Come join us at GreenHomeNYC's March forum to hear from innovators tackling the most difficult food waste challenges in NYC. Our diverse mix of presenters will provide ideas and insights into how our city is tackling food waste on the public, private, non-profit, academic, and individual level.
Date:    
  Wednesday, March 20, 2019
Time:    
  6:30 PM – 8:00 PM
Venue:
    WeWork 12 East 49th St, 18th Floor, New York, NY 10017
Featuring:
NYC's Organics Collection Program | Baldor Specialty Foods | Stone Barns Center for Food & Agriculture | YourLocal | Rescuing Leftover Cuisine
CLICK HERE TO REGISTER!
Speakers:
Richard Day
, Enrollment Coordinator for NYC's 
Organics Collection Program – NYC Department of Sanitation
 /// collecting food scraps, food-soiled paper, and yard waste from residents to turn it into compost or renewable energy
Delaney Sondag
, Sustainability Coordinator and 
Stephanie Cardenas
, Sustainability Specialist at 
Baldor Specialty Foods
 /// one of the largest distributors in the Northeast taking creative and impactful approaches to reach zero organics to landfill
Shane Hardy
, Senior Land Manager at 
Stone Barns Center for Food & Agriculture
 /// curbing food waste on the farm; technological and biological innovations for resilient farming
Daniel Ratner
, Partner and Head of Growth at 
YourLocal
 /// enabling restaurants to sell surplus food to local customers through an app-based market place.
Rescuing Leftover Cuisine
 /// helping the hungry by rescuing and donating leftover food to homeless shelters
CLICK HERE TO REGISTER
In addition, our volunteer orientation will take place right before the event, starting at 6 PM. If you're interested in joining GreenHomeNYC as a volunteer, please sign up at https://greenhomenyc.org/get-involved/ or
click here
. We encourage attendees to register in advance, as fees increase at the door. If registering at the door, credit/debit card is preferred.
More About Our Speakers:
Richard Day, Enrollment Coordinator
NYC's Organics Collection Program – Department of Sanitation (DSNY)
Richard Day is the Enrollment Coordinator for the Department of Sanitation's Organics Collection Program, situated in the agency's Bureau of Recycling and Sustainability. In this role, he is responsible for expanding food scrap recycling to high-rise buildings throughout the five boroughs as part of the country's largest organics program, which currently serves more than 3.5 million New Yorkers. He has an MPA in Environmental Science and Policy from Columbia University, a BA in Environmental Policy from Fordham University, and has previously worked for the Department of Transportation, as well as the Parks Department. He lives in Bay Ridge, where he serves as a member of Brooklyn's Community Board 10.
Shane Hardy, Senior Land Manager
Stone Barns Center for Food and Agriculture
Shane Hardy is the Senior Land Manager at Stone Barns Center for Food and Agriculture, working on over 400 acres of diversified pastures, cropland, and forest woven throughout the Rockefeller State Park preserve. He oversees ecological monitoring, waste and energy cycles, compost systems, farm infrastructure, and equipment training and safety. He coordinates with the diverse vegetable, livestock, and landscape operations to create and implement innovative solutions to growing food while learning from the land to grow our agroecosystem.
Stephanie Cardenas, Sustainability Specialist
Baldor Specialty Foods
Stephanie is the Sustainability Specialist at Baldor Specialty Foods and has more than 7 years of experience in the field. In her current role she strives to align corporate strategy with sustainable practices and expand Baldor's influence in the food system. She has worked as a consultant in Sustainability and Corporate Social Responsibility at Deloitte and has specialized in Green Finance for the Latin American region. She received her master's degree from Bocconi University in Green Management, Energy and Corporate Social Responsibility. She has lived in 8 cities and 3 continents around the world and is passionate about food, traveling and tennis. Her objective is to engage both businesses and individuals in sustainability to create synergies across industries and drive meaningful impact.
Delaney Sondag, Sustainability Coordinator
Baldor Specialty Foods
Delaney Sondag is a passionate sustainability professional who specializes in food waste reduction strategies across the agricultural supply chain. In her current role as Sustainability Coordinator at Baldor Specialty Foods, she works on a variety of projects to eliminate waste within Baldor's operations, such as implementing a companywide composting program to divert post-consumer food waste from landfill. Additionally, Delaney focuses on reducing food loss on farms and changing cultural norms around what is considered 'sellable' food. This focus resulted in Baldor's Imperfect Produce program, a partnership with local farms to glean otherwise wasted fruit and vegetables and sell this product to chefs at a reduced market price. Building on her professional work, Delaney promotes the adoption of a 'zero waste' mindset and has worked with non-profits to incorporate zero waste principles into the planning of fundraising events. Delaney has a Bachelor's Degree from Emory University in Environmental Science and Anthropology and enjoys hiking, bouldering, and cooking vegetarian food.
Daniel Ratner, Partner and Head of Growth
YourLocal
Dan Ratner is a partner and Head of Growth at YourLocal. YourLocal is a social enterprise that offers a profitable solution to food waste by enabling restaurants to sell their surplus food to local customers through an app-based market place. Dan's passion to find value in items typically discarded has taken him from the FoodBank of Monmouth & Ocean Counties to Move For Hunger with a focus on diverting food away from the landfill into hungry stomachs. With the goal of growing an idea that's meaningful, Dan has refined his sales acumen as Sales Manager at The Muse and now leads YourLocal's growth across Brooklyn & NYC.
Rescuing Leftover Cuisine
Rescuing Leftover Cuisine is a national 501(c)3 non-profit food rescue organization, operating in 16 cities and headquartered in New York City, that provides solutions to prevent excess wholesome cuisine from being wasted. RLC provides services such as food waste consulting, excess food delivery, co-branding services, and tax credit assistance.