August 28, 2015
by Pamela Berns
It's back to school time, which is also time for our second installment of "New York City's Future Green Leaders." This series looks at two new public high schools that are rethinking education in order to prepare engaged and committed students as our green leaders of the future. Both aim to turn out graduates with excellent critical thinking and communication skills, but each comes at sustainability education from a very different angle. 
In our last installment, we covered Maspeth High School in Queens, where student clubs are the mechanism for involving students in green projects.  But at the Urban Assembly School for Green Careers, the focus is on curriculum and, as stated on the school's website, integrating "new instructional ideas with rigorous academics to prepare graduates for success in the 21st century workplace."  UAGC is one of four demonstration schools selected by the NYC21C research and development initiative for testing innovative approaches to Career and Technical Education (CTE).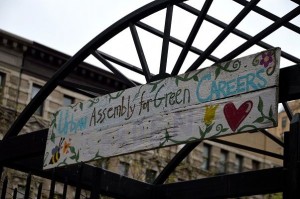 Overcoming our Planet's Challenges
The High School for Green Careers hopes to build on the strengths of the CTE model, where the focus is on getting students ready for "careers that are really solid," says Michele Landry, who has served as Partnership Director for the school. The "vision-driven" green careers component is designed to "engrain in students the notion of sustainability as a belief system," says Andry. The school's mission statement elaborates on this theme: "The Urban Assembly School for Green Careers recognizes that overcoming our planet's environmental challenges is the biggest task facing the world today. We understand that as our economy becomes increasingly more green, many of the future's most promising careers will focus on solving the challenges of environmental injustice, and in ensuring equitable access to quality living and resources for all citizens. Our students will only be able to activate this mission if they are equipped with collaborative problem-solving and reasoning skills, empathy and awareness of how to interrupt injustice, and the knowledge of green industries and environmental issues."  
Green Career Education: An Evolution
Not all students who come to the school start out with a strong interest in green careers. They are not screened for interests or aptitude, and bring a wide variety of prior academic experience and performance levels. A number of students are English as a Second Language learners, and some have special learning needs. The school has been experimenting with innovative instructional models to address these needs while accomplishing their academic goals and green career objectives, and simultaneously meeting the requirements of the Board of Regents. The school now employs the Learning Cultures model, which focuses on student-centered learning and real-life application. Students work on projects in self-directed groups of peers and have regular one-on-one meetings with their teachers. And so far, this seems to be working.
The green and sustainability element "which we are still tweaking," says Andry, starts in the ninth grade, when students are required to take a full-year foundational course encompassing the environment and social justice. These subjects are integrated into the curriculum and augmented by hands-on projects, field trips, site visits, guest speakers, and internships. So, in addition to gaining access to rigorous academics and the solid vocational training expected of a CTE school, students get to experience the workplace in real time. Students have been exposed to a variety of green endeavors, including passive house training, urban horticulture, and city park management. The hope is that these activities will give students real-world job experiences and help students foster relationships that will lead to employment later on. Since opening in 2009, the school has explored a number of green career paths, searching for the right fit for the student body. "We are inching toward green buildings and green spaces," says Andry. The school hopes to prepare students for college programs that will move them toward careers in construction and facilities management. They want the students to not only excel in hands-on aspects of the work, but also to fully understand "on a deep level" how buildings are designed and operated.
Tapping into Professional Expertise
The school develops partnerships to help accomplish its goals, including the American Society of Landscape Architects, New York Chapter; the Association for Energy Affordability; CUNY New York City College of Technology; Grow NYC; the New York Botanic Garden School of Professional Horticulture; GreenHomeNYC; and the NYC Department of Parks & Recreation, among others.  Conversations are underway with Local 94, the operations engineers union, as a first step toward building relationships with several unions. Faculty selection is also a key component of the school's strategy. While many teachers still come from the usual ranks of science, math, social studies and language arts, UAGC also recruits CTE teachers and industry professionals.
Independence and Initiative Pay Dividends
Unlike Maspeth, the extracurricular activities at UAGC don't draw on formal clubs but rather on the drive of individual students who seize opportunities presented by the school, and sometimes through connections they make on their own.  And so far, this appears to be paying off. A good proportion of UAGC graduates have gone to college, and a number of these graduates are inspired by their high school experiences to pursue majors in engineering, architecture, and environmental science.
This kind of success doesn't come easy to all of UAGC's students; it is a result of diligence, hard work, and passion. One ESL student from the Dominican Republic had witnessed natural disasters a little too close to home when she was younger. The school helped her tap into her resulting interest in architecture and climate change. After interning at Steven Winters Associates, she came back to UAGC to help graduating seniors transition to college. Another student was featured on the talk show
Green Gotham
.  Originally from Haiti, he came to the school with no particular interest in green careers. However, after  a number of internships, including one with the Parks Department, and hands-on experiences that exposed him to building renovations and rooftop gardens, he went on to pursue his burgeoning interest in engineering at Ithaca College.
A Wellspring of Future Green Leaders

Clearly, the Urban Assembly School for Green Careers is already helping students to become important players in addressing "the biggest task facing the world today."  As it enters its sixth school year, UAGC continues to fine-tune its programs. If these two graduates are any indication of where the UAGC is headed, the school may well be on its way toward becoming a wellspring for future generations of green leaders. GreenhomeNYC is committed to sharing information about green education.  If you are a member of the educational community, we'd love to hear from you about innovative programs and curricula, student success stories, and new ideas that will help build the sustainability and green leadership of the future. Send your comments to:
[email protected]
.