August 19, 2019
By Jenny Dranetz
New York City is regarded as one of the best American cities for public transportation. GreenHomeNYC's July Monthly Forum focused on the sustainability of the city's mass transit, a system that moves over 5 million people each day. The three speakers shared insights into how government, architecture, design and planning come together to create a mass transit network that keeps the city and it's people moving—and sustainable. Transit Infrastructure Goes a Long Way Toward Sustainability 
Thomas Abdallah
, the Deputy VP & Chief Environmental Engineer for the MTA, discussed how the MTA is working to make mass transit even more sustainable through its infrastructure.  Mass transit not only decreases pollution and gas consumption, but it also presents an opportunity to become sustainable in and of itself. Infrastructure that creates energy storage and renewable energy is one of the best solutions towards sustainability. While the MTA is well known for the subway, Thomas pointed out that mass transit and its infrastructure go well beyond just the trains and tracks. Tracks, located below ground, elevated above ground and at grade, also include switches, an essential part of the system that allow trains to change between local and express tracks. Infrastructure also includes tracks that run along the coast and over rivers, and although the public does not see them, maintenance yards and third rail substations.
MTA infrastructure includes the public bus system as well. In addition to bus stops and bus lanes, there are 25 depots for fuel, maintenance and cleaning. The MTA was one of the first transportation agencies to use hybrid electric buses back in the 1990s and research from the program has been used to improve hybrid electric bus fleets. While New York does not currently have the infrastructure (such as charging stations) or capacity needed to support an entire electric fleet, the MTA does aim to have their entire fleet fully electric by 2040. On the subway, regenerative brakes are one way to conserve energy. Trains get energy from the third rail when they need it, but with regenerative brakes, when the trains brakes, polarity is reversed so that the energy returns back to the third rail. Unfortunately, this energy is lost if there is not another train on the track in need of that energy in that moment, so some cities such as Philadelphia have combatted this by adding a battery to the line where the energy returns to and is stored for later use. The MTA is currently working on adding batteries to get the most out of regenerative braking. Another example of MTA utilizing renewable energy is through their use of solar technology. For example, Stillwell Avenue Terminal Station in Brooklyn has solar panels built into the roof. The MTA also uses thin film solar panels, which are thinner and more flexible than traditional solar panels, on outdoor station canopies at the 74th Street/Roosevelt Ave Station in Queens. MTA solar panels also power lubrication houses, which sense when trains are coming and release a biodegradable lubricant to decrease the friction and resulting noise of the wheels on curved tracks.
The Corona Maintenance facility uses traditional solar panels and was the first transportation maintenance shop to be LEED certified back in 2007. As a LEED building, it was designed to let more air in when there is more wind so there is no mechanical ventilation needed. It also has a white roof that keeps the building much cooler than traditional black roofs. The MTA has three green roofs that insulate the building, reduce greenhouse gases, and filter the air. In an effort to use existing structures and resources, one roof was even built in an employee building in an old station platform. In addition, the MTA has bus depots that are LEED certified. Mother Clara Hale bus depot was the first LEED Gold inner city bus depot. The building is made with 99% recycled materials and has one of the larger green roofs in the city. Where they do not have a green roof, there is a white roof to keep the building cool. Further, rain is collected from the roof and used to wash the buses. The building also has a living wall also helps to insulate and heat the building.
The Role of Design
Jeffrey Dugan
AIA
, the co-chair of AIANY's Transportation + Infrastructure Committee and a principal architect with Dattner Architects, looked at how we build our space to accommodate and encourage the use of mass and sustainable transportation. In transportation design, architects consider the mobility, or the range, of the transportation system and its priorities. In New York, we have shared mobility while prioritizing pedestrians. To prioritize pedestrians, architects have transformed traditional spaces for cars into places for pedestrians and social interaction. For example, Time Square, which once allowed traffic through, has been transformed into a car-fee pedestrian space. While creating these spaces, architects use responsible resources and aim to develop sustainable infrastructure. Architects also use transit oriented design to create a sustainable environment. Hudson Yards, for example, was designed to coordinate infrastructure, including the new Gateway Tunnel and the subway. Architects aim to build smart, which includes preserving and modernizing existing infrastructure, a guiding principle in sustainable design. In New York, this has included raising bridges and expanding our existing transit network by opening the 2nd Avenue subway line. Jeff also mentioned that to accomplish sustainable transit mega projects, public private partnership's are a go-to project delivery system, like the one between LaGuardia Gateway Partners, Delta Airlines and the Port Authority of NY and NJ.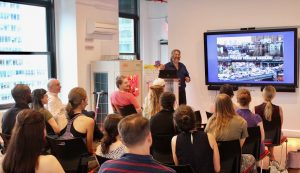 Planning to Reflect the Times
Maulin Mehta
, from Regional Plan Association (RPA), talked about their long-term plans and how they have outlined projects and policies to improve infrastructure, transportation, the environment, housing, and other areas to help the region prosper. RPA is an independent non-profit covering the tristate area that has developed four regional plans since the 1920s. Each plan is shaped by the issues of the time, with the most recent Fourth Regional Plan taking a look, among other things, at transportation in the face of new growth patterns, climate change, escalating costs, and declining reliability. The first plan from the 1920s looked at a transportation network based on immigration and density, and included plans for the George Washington Bridge and Port of Newark. The second plan, published in 1968, looked at creating better transit networks to connect urban centers while addressing sprawl and urban decay. The third plan, from 1996, addressed changes to the transportation networks and infrastructure with a focus on the environment, economy and equity. In putting the most recent plan together, research revealed a shift in job growth back to NYC beginning in 2005 that was not equally met with investment in infrastructure. In New York City, the outer boroughs have seen 50% of the share of jobs, so the plan looks at how to address this change. One project discussed in the plan is the Gateway Program to improve the Hudson River tunnels which have been getting worse. RPA researched how a shut down of the Hudson Tunnel would affect the rest of the transit network. With diverted traffic, the economy suffers as people spend more time in transit. Pollution increases and there are more missed days of work due to health problems. The shutdown would also place further strain on other parts of the transit network. Federal funding is needed for this work but the current political climate is making that difficult. Penn Station's renovation is another project addressed in the plan since it is currently operating at three times its capacity and increasing, which creates safety issues. Madison Square Garden's contract is coming up in 2023, so RPA is researching the economic impact of renovating Penn Station with or without an MSG relocation at that time. The Triboro Line, which has been gaining support, is another project included in the plan. That project would introduce passenger service to an underutilized freight line to create a North-South transit network to connect the Bronx, Queens and Brooklyn. Because some infrastructure already exists, it would decrease the time and cost of implementing the project. RPA is currently advocating for the MTA to complete a formal feasibility study of the project to include how passenger service could commingle with current and expanded freight uses.
Another project discussed was congestion pricing, which would affect drivers in Manhattan entering below 60th Street. Case studies of successful congestion pricing programs include London, which saw a 15% decrease in traffic, and Stockholm, which saw a 22% decrease in traffic and 50% reduction in child asthma cases. In implementing congestion pricing, effects outside the zone must be considered. For example, researchers are studying how this may affect the BQE and "toll-shoppers" who pick their route to avoid tolls. The Traffic Mobility Panel will be presenting their recommendation next year, which will include their recommendations on proposed exemptions. Advocates are pushing to make sure the money raised from congestion pricing goes towards the modernization plans that New York City Transit, Metro-North, and the LIRR have already put out. After speaking, the three presenters took questions, including what are the best ways to increase ridership. The panel noted that reliability and convenience are the two biggest factors to getting people to use mass transit over personal vehicles. Another big question was about bicycling and how the city is planning and designing for increased cyclists. Citi Bike stations are now close to most subway stations to help close the "last mile" gap that helps some residents actually get to the subway. But as Citi Bike expands and more people are biking, presenters agreed that we need better infrastructure to increase safety for cyclists. We'd like to thank Fujitsu Airstage for generously hosting this event. ********************************************************************************* Check in again soon for information on our upcoming Monthly Forums, Careers, and Tours  events!