May 29, 2016
by Kimberly Stempien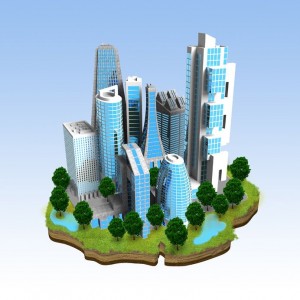 Until recently, little attention was given to toxic chemicals that lurk in construction products. Few building manufacturers disclose a full list of what is in their products because US law does not require it. But as scientific studies continue to link these chemicals to such health issues as cancer, reproductive issues, fetal toxins, autism, and asthma, the issue is gaining much needed attention. Construction is an important sector to analyze when thinking about trying to reduce environmental toxins. The reason is simple; people are exposed daily, and over many years, to the chemicals that went into the materials that were used to build their own homes. That's why it's becoming much more prevalent for builders, architects, and designers to consider an approach that mitigates potential effects on human health and the environment, and they are increasingly turning to certifications and declarations, such as
Health Product Declaration
,
LEED,
Cradle to Cradle,
and
Green Seal,
which employ a risk-based approach to consider use of and exposure to harmful chemicals.
Lack of Effective Regulation
The U.S. has, unfortunately, been very lax on proper regulation and enforcement of chemicals that go into products. The Toxic Substances Control Act (
TSCA
) is the nation's primary safe chemicals act. It was implemented in 1976, but has become widely recognized as an inadequate system of regulation for ensuring that chemicals are safe. It grandfathered the 80,000 chemicals that were on the market in the 1970's, but in thirty years only a few hundred have been tested. TSCA does not require chemical companies to prove that the chemicals they make are safe before they end up in products. In fact, manufacturers routinely keep basic information a secret, making it difficult for the consumer to make informed choices because there is no regulation on product transparency. As of March 2015, the Senate passed its reform legislation of TSCA, updating the law. It has yet to be determined if enough steps have been taken to protect human health and insure proper regulation of product materials through the law.
Potential Health Concerns
Building materials that have been studied and shown to omit toxic chemicals that may be harmful to humans are insulation, particle board, pipes, paint, flooring, countertops, windows, roofing, fire retardants on materials, and asbestos.  Many materials contain proven harmful chemicals such as phthalates, isocyanates, polypropolene, BPA, epoxies, and lead, to name a few. Paint alone can contain volatile organic compounds such as benzene, formaldehyde and toluene. Fortunately, VOC-free paints are now an alternative. Carpets may contain a flame retardant but an alternative is a fiber-like wool, which is naturally flame retardant. One of the most ubiquitous and potentially harmful chemicals is phthalate, which is included in construction materials, such as plastic piping and vinyl flooring, and numerous other products, including cosmetics. These are the compounds that make plastics pliable. When exposed to heat, they omit harmful gases which may enter the bloodstream through ingestion, inhalation, and absorption through the skin. Studies have shown them to have significant and worrisome health concerns, especially to infants and young children. Phthalates are known endocrine disruptors, meaning they may change the body's hormones and can wreak havoc on development, cause reproductive harm, and may even be related to obesity. According to
The Mt. Sinai Environmental Health and Icahn School of Medicine at Mt. Sinai
, "In children, scientists have found an association between phthalates and changes in reproductive hormones and increased allergies, runny nose, and eczema. In adults, phthalates are associated with changes in sperm quality." The health benefits of low toxicity in a home environment was illustrated in a
recent study
designed to evaluate the impact of environmentally-friendly, affordable housing on asthma symptoms.   It was noted that homes built with low toxicity materials, with features aimed at improving indoor air quality and eliminating mold and pests, have the potential to improve symptoms of asthma and other respiratory diseases.  One of the researchers, Elizabeth Garland, MD, MS, of Mt Sinai Hospital, spoke about the study at a recent GreenhomeNYC indoor air quality forum.  She noted that over an 18 month period, there was a significant difference in asthma episodes in residents who were relocated from less environmentally friendly affordable housing to a LEED Platinum building in the South Bronx called Melrose Commons. This is just one example of the benefits to having less toxic materials in our homes
.   
Market Innovation and Resources
So which organizations are moving the market towards healthier materials? The
Healthy Building Network
has helped launch many successful projects in this area. The HBN "was founded to reduce the use of hazardous chemicals in building products as a means of improving human health and the environment". HBN has collaborated on many projects including
Health Product Declaration
, and two databases –
Pharos
and the
Quartz Project
. The Health Product Declaration (HPD) collaborative is developing standard disclosure forms that allow consumers to easily compare building product ingredients and their associated hazards. HPD has become widely used by many architectural firms in the U.S. for specification of products through its Pharos  building material library. Pharos "consists of a comprehensive database for identifying health hazards associated with building products, and has succeeded in elevating the issues of human health and well-being to a top priority in the building industry. The Pharos Project encourages manufacturers to disclose all ingredients in building products; helps architects, designers and building owners avoid using products that contain harmful chemicals; and creates incentives for product redesign and modification to reduce the impacts of hazardous materials use throughout the lifecycle of building products." One company that has already made the commitment to healthier buildings is Google. In collaboration with the Healthy Building Network, and through the use of Pharos, Google has committed to using the highest standard of specification of building materials for its New York City corporate office and its global sites.  Google is also a participant in the Quartz Project, an open data initiative that promotes transparency of building products and their impact on human health. Although market research on health impacts and innovation show that healthier materials are penetrating the market, it's still a small segment of the overall building industry. Proper regulation, oversight, and commitment to production of materials without harmful chemicals has yet to become mainstream. The first step has been through LEED certification of large multifamily residential buildings and office spaces. There is still a premium on pricing for these materials and lack of information for the average consumer. With the new US chemical reform, support of large corporations, and market innovation, hopefully one day in the near future, all New York City buildings will provide the safest materials for health.