November 14, 2015
By Gemma Raye Photos by Pamela Berns With the upco
ming climate talks in Paris, many of us are thinking globally about how world leaders will work to halt the damage that's been done to a fragile planet that is now in serious danger. As New Yorkers, we also think locally as we continue to ponder the impacts of Superstorm Sandy. We know that such extreme weather events can easily disrupt life as we know it, and wonder what effects climate change will continue to have on our city. Over 3,700 scientists from 130 countries who form the Intergovernmental Panel on Climate Change (IPCC) recently concluded that climate change is indeed affecting the Planet and all the communities that inhabit it. We know we need to drastically change the way we produce and use energy to ameliorate the effects of climate change, but many New Yorkers may not realize the extent to which climate change is bound to make an impact on their daily lives. These are just a few of the changes we can expect to occur if we do not put a stop to climate change:
Higher temperatures:
The US Climate Network estimates
 that the temperature in the City will rise by around 5ºF by 2100 and by the 2080s, the temperature could jump to almost 9ºF. In addition to material damage, New Yorkers would have to live through five to seven heat waves yearly (compared to two currently) and the number of soaring hot days (over 90º) could double.
Sea level rise:
 There will also be stronger rains and more hurricanes. The amount of rainfall could increase, by around 13 per cent. The effect would be that daily high tides in areas like Queens would cause daily flooding, 
leading to considerable damage of homes
, vehicles, etc. Sea levels are predicted to rise up to 21 inches by the 2050s, up to 39 inches by the 2080s and up to 50 inches by 2100. In practical terms, the flood zone of the city would increase, covering 99 square miles and causing similar disasters to those imposed by Sandy.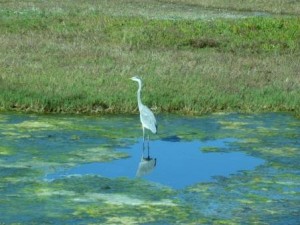 Damage to coastal and lake habitats: 
The rise in the sea level would affect the lives of the many birds and turtles who converge and nest on the shorelines, and also negatively affect rare plants that live by the beach. The drop in water levels in Lakes Erie and Ontario, meanwhile, would fall owing to evaporation, threatening wildlife and reducing the amount of water used to generate our electricity. Numbers of freshwater fish would decline considerably, since issues such as altered stream velocity, high water temperatures and higher turbidity levels would reduce the amount of oxygen available to fish such as trout. Ocean fish (such as sea bass) would also dwindle in numbers, losing their habitats as temperatures continue to soar. And dwindling fish populations have major impacts on other animals as well.
Quantity and quality of drinking water: 
Rapid rises in sea levels would enable seawater to travel up freshwater systems like the Hudson River, in a process known as saltwater intrusion. A big economic cost would be imposed by the search for alternative sources of fresh water.
Loss of trees and forests:
 Many of us still mourn the loss of over 500 trees in our parks from a microburst that tore across the city in 2010. Various tree species, including the sugar maple, could end up disappearing from New York altogether if the temperature continues to rise. Many species would be forced to migrate to cooler climes and many of our most well know species (including spruce and maple) could disappear from forests as the temperature continues to warm.
Health threats:
 There are many health issues associated with extreme temperatures, including heat stroke, which can result in death when the body is unable to adapt to rising temperatures. Hot air also exacerbates the pollution problem, 
increasing asthma rates
 considerably. Older people are particularly susceptible. Furthermore, statistics indicate that around 30 per cent of childhood asthma can be attributed to environmental exposures. They also show that pollution can lead to the development of asthma in previously healthy individuals. The culprits include particulate matter, sulfur dioxide and nitrogen oxide. Ground level ozone (a toxic compound in smog) is an asthma attack trigger and can cause children to develop asthma. The American Lung Association reports that in 2013, almost four out of every 10 people in the US lived in areas with dangerously high ozone levels. All these health impacts could also add to the financial burden of increased health care costs.
You can make a difference:
Climate change is bound to affect New Yorkers in real, palpable ways, from our waters to our air, from our farms to our forests, from our plants to our animals, in our families and in our homes. But we don't need to sit back idly even as we wait for our world leaders pull together and make the right decisions for our planet. To make change, start with your own habits: buy from environmentally sustainable companies and do your best to reduce your carbon footprint by recycling, taking public transport or a bicycle to get around the city, and managing the energy use in your home. And make sure your voice is heard. Join local advocacy and conservation groups, and help place greater pressure on our politicians.  Communicate actively with government representatives to be certain they address the issue of climate change through sound policy. As New Yorkers we most certainly have the collective power to turn the warnings from science into critical action. Edited by Pamela Berns XX