September 12, 2011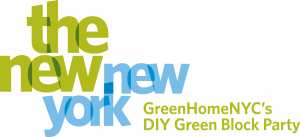 Saturday October 1st 11am-5pm 11th Street and Wythe in Williamsburg
GreenHomeNYC is bringing to the street new ideas for a better, brighter future. The New New York will be a day of action filled with hundreds of DIY activities of the latest education, products and visions for a greener New York City. GreenHomeNYC expects thousands of people to join us on Saturday October 1st and we need volunteers to help ensure a successful event. Volunteers will commit to a 3 hour shift performing a variety of roles and can then enjoy the block party for the rest of the day.
Click Here to Volunteer Now
Volunteer shifts:
10am – 1:00pm 12:30am – 3:30pm 3pm – 6pm 5:30pm – 9pm
Deadline:
Submit your volunteer request by Monday Sept 26th
Confirmation:
You will receive a confirmation by email 24 hours after submitting your request.
Training:
GreenHomeNYC will conduct a brief conference call training meeting on Thursday Sept 29th at 7pm.
Materials:
You will be outside, so wear comfortable shoes and prepare for sun or rain appropriately. Free The New New York T-shirts will be provided to each volunteer.
Position Descriptions
Greeter
Responsibilities * Welcome all attendees. * Provide them with any necessary event materials or information. * Inform incoming attendees of upcoming schedule of events. * One greeter will also assist with the secure bike parking location. Ideal for people who are outgoing, approachable and full out energy.
GreenHomeNYC table attendant
Responsibilities * Staff the GreenHomeNYC/Information table. * Provide general event information about vendor locations, event times and sign ups * Promote GreenHomeNYC and our other events * Sell The New New York related merchandise/take donations Ideal for people who are organized, detail minded, want to engage with the public, and are comfortable handling money.
RSVP event coordinator
Responsibilities * Conduct event sign ins for any of our RSVP events. * Walk the street fair engaging with attendees. * Other tasks as needed. Ideal for people who want variety, are flexible, willing to engage with the public, and are on time and can maintain a schedule.
Kids area attendant
Responsibilities * Assist with any of the child education events. * Maintain general safety of kids area. Ideal for people who are full of energy, enjoy children and want to educate.
Recycling/Compost Stations attendant
Responsibilities * Staff the recycling/compost stations. * Ensure that attendees dispose of their waste properly. * Educate attendees about waste stream and our zero waste event. Evening Fundraiser Event * Work the door. * Provide drink and food tickets. * Provide drink service. Ideal for people who are patient, want to educate, don't mind getting their hands dirty. If you have any questions about volunteering for The New New York please email Erik Nevala-Lee at elee@greenhomenyc.org.
Click Here to Volunteer Now