April 28, 2018
As the solar energy industry continues its breakneck growth, more questions arise around how we can use this intermittent source of energy and still have reliably consistent power. This issue becomes even more critical in an era of more frequent and catastrophic climate events that can and have taken down the electrical grid.
In 2018, we are seeing the rise of Resilient Solar: the pairing of solar energy systems with complementary technologies to provide stable, continuous power to buildings and communities even when the electrical grid is down as we experienced in the aftermath of Superstorm Sandy and Hurricane Maria, among other events in recent years. We're talking about energy storage technologies, community solar, on-site generation, microgrids, cogeneration (combined heat & power) and more. As startups, developers, tech companies, governments, utilities, and community groups dedicate themselves to creating new solutions towards building a resilient energy infrastructure, we invite you to join the conversation on May 16th at GreenHomeNYC's May forum hosted by Urban Future Lab, to meet experts, ask questions, and learn about what's happening here in NYC and beyond.
Date
: Wednesday, May 16th, 2018
Time
: 6:30 PM – 8:00 PM
Place
: Urban Future Lab, 15 MetroTech Ctr, 19th Floor, Brooklyn, NY 11201
Register here!
We highly encourage attendees to register in advance, as fees increase at the door. If registering at the door, credit/debit card is strongly preferred. Speakers for this event will include:
Travis Tench, Director of Outreach at PowerMarket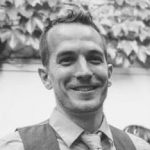 Travis manages outreach, partnerships, and education initiatives to support community solar projects on the PowerMarket. His background is in education and non-profit management, having co-founded the environmental non-profit EcoStation:NY, where he developed and oversaw programs at Bushwick Farmers Market and Bushwick Campus Farm. He joined PowerMarket in 2017 after studying renewable energy at NYU. He's also a musician and author of the critically-acclaimed 101 Ocelot Jokes, The Book.
Daniella Leifer, NY DG Ombudsman at Sustainable CUNY
Daniella is the project manager of the Sustainable CUNY Smart DG Hub, which is leading efforts to streamline costs and reduce barriers to market growth of energy storage in NYC and to leverage results outside of NYC through the development of tools, planning resources, and educational materials. Prior to joining the Smart DG Hub, Daniella was a project manager for energy efficiency workforce training programs. Daniella holds a Bachelor's degree in Environmental Studies from Cornell University and an MBA from the CUNY Baruch-Zicklin School of Business.
Jamin Bennett, Director of On-Site Generation at Bright Power
Jamin leads
Bright Power
's On-site Generation team and has extensive experience in safe and efficient solar, hydrogen gas, cogeneration, and cryogenic fluid projects. Since he started at Bright Power in 2016, he has worked on Arverne View, Archer Green, Ocean Bay, and Via Verde – all projects that have received wide acclaim and notoriety for their innovative design and commitment to resiliency. He has been instrumental in the creation and installation of our
Resilient Power Hub
, an on-site generation solution that integrates solar energy, cogeneration, and battery storage technologies to provide resilient power that pays for itself over time. Jamin was the lead feasibility consultant for onsite generation technologies, including solar PV, energy storage systems, and combined heat and power systems, for 25+ multi-family buildings in New York City before moving into his current Director role. About our venue:
The Urban Future Lab
(UFL) is New York City's hub for smart cities, clean energy, and smart grid technology. Our programs include ACRE, a business incubation program for pre-seed to series A startups; PowerBridgeNY, a proof-of-concept center commercializing research from local universities; and Clean Start, an advanced diploma program from NYU for professionals transitioning into the cleantech sector. The UFL is part of the NYU Tandon School of Engineering and is located in downtown Brooklyn.