April 3, 2017
Food waste. Food surplus. Whatever term you use, we throw away a lot of food! In total, New York City's waste stream is roughly one-third organic material.
According to the food hierarchy from the EPA, the highest and best use for food is human consumption and the least preferable option is landfill or incineration. As concerned citizens and active sustainability practitioners, what can we do to improve how food cycles through our city, keeping it at its highest and best use? What's being done to develop regenerative, closed loop systems consisting of local resources? This month's Forum is targeted to those who are interested in the food and organics issues that cities are facing amidst a trend toward zero waste goals and sustainable materials management. Five experts will discuss how they're designing and implementing sustainable urban food systems that will help NYC achieve it's "0x30" goal to send zero waste to landfills by the year 2030.
Date:
 Wednesday, April 19, 2017
Time: 
6:00-8:00pm. Networking 6-6:30pm. Forum begins promptly at 6:30pm.
Place:
Project Farmhouse, 76 East 13th St, New York, NY 10003
Speakers:
Michael Hurwitz – Director, Greenmarket Program, GrowNYC
Thomas McQuillan – Director of Food Service Sales and Sustainability, Baldor Specialty Foods
Clare Miflin – Associate Principal, Kiss + Cathcart; Leader, AIA Design Guidelines for Zero Waste Advisory Committee
Christina Grace – Principal, Foodprint Group; Co-leader, AIA Design Guidelines for Zero Waste Advisory Committee
Maya Shenkman – Director of Hotel Services, Great Forest; Member, Hotel Association of NYC Sustainability Committee
After the event we'll be heading to a nearby bar for networking and connecting. Location to be announced at the forum. Please join us! About Our Speakers…
Michael Hurwitz
 – Director, Greenmarket Program, GrowNYC Michael Hurwitz is the Director of Greenmarket, a 40 year-old program of GrowNYC that operates 53 producer-only farmers markets throughout the five boroughs of New York City, as well as the Wholesale Farmers Market located in the Hunts Point section of the Bronx. Michael has an MSW from UPenn and a JD from Yeshiva University, NYC. He came to food from a social work perspective, when in 2000 he discovered the power of agriculture through a community garden in Red Hook, Brooklyn. His favorite food policy book is Stolen Harvest and his favorite food is brussel sprouts after the frost has hit them a few times.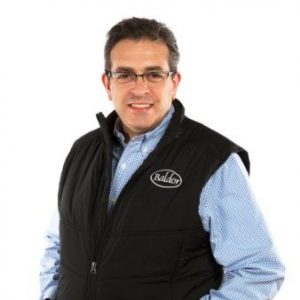 Thomas McQuillan
 – Director of Food Service Sales and Sustainability, Baldor Specialty Foods Thomas McQuillan is a transformational executive with 25+ years of successful business leadership experience and a demonstrated skill for turning around underperforming organizations and spearheading acquisition and business integration initiatives. In 2015, Thomas joined Baldor Specialty Foods, Inc. located in the Bronx, New York. Tasked with creating a strategic plan to make Baldor more Sustainable, Thomas spearheaded the SparCs (scraps spelled backwards) initiative to reduce food waste throughout the company. Baldor's sustainability initiatives are also focused on overall waste reduction throughout the organization and the company has launched a number of initiatives to become more energy efficient, as well.
Clare Miflin
– Associate Principal, Kiss + Cathcart; AIA, LEED AP, Certified Passive House Designer; Leader, AIA Design Guidelines for Zero Waste Advisory Committee Clare is an architect at Kiss + Cathcart, Architects — a firm well known for their philosophy of "productive" architecture in terms of human, environmental and economic benefits. She considers buildings within the larger systems of which they are part, integrating energy production, vegetation and even agriculture. She is currently working on a large mixed use passive house project and design guidelines for architects to aid NYC's goal of zero waste. She is active in the local green building community, being part of Urban Green Council's Monthly Programs Committee, NYC Living Building Collaborative, and Sustainability Coordinator for her local food cooperative. Fascinated by natural systems, she is also studying for her Masters in Biomimicry. Kiss + Cathcart, Architects, along with ClosedLoops, Foodprint Group and the AIANY COTE are developing Design Guidelines for Zero Waste. This project, an initiative of the Center for Architecture, is made possible with support from The Rockefeller Foundation, and will include multidisciplinary workshops to develop guidelines to be issued in Fall 2017, followed by a symposium and exhibition at the Center for Architecture in 2018. The guidelines will help building owners / managers, developers and architects modify existing buildings and design new buildings to reduce waste, improve diversion rates and reduce recycling contamination. The Advisory Committee for the effort includes staff from DSNY and other city agencies, architects, developers, building managers, sustainable and recycling consultants, product designers and more.
Christina Grace
– Principal, Foodprint Group; Co-leader, AIA Design Guidelines for Zero Waste Advisory Committee Christina Mitchell Grace is a "farm to food waste" food systems consultant with over 20 years of management experience including 14 years dedicated to developing sustainable and healthy food infrastructure. Christina has participated in regional food systems projects in New York, Oregon, California and Virginia as well as local and national food policy development and advocacy. Prior to launching Foodprint Group, Christina managed the Urban Food Systems Program for the New York State Department of agriculture. Christina helped institutionalize local food procurement in New York City. She was responsible for promoting New York State farm products to the metro-NYC marketplace, managing the state's Farm to School program, and launching its Community Gardens and Urban farms program. Before entering the food and agriculture sector, she was a marketing executive for First Call, a Thomson Reuters Company and AMR Research (now Gartner Group). She works and lives in Brooklyn, NY, where she is raising her two daughters to cook and eat healthy delicious food.
Maya Shenkman
 – Director of Hotel Services, Great Forest; Member, Hotel Association of NYC Sustainability Committee Maya Shenkman is the Director of Hotel Services at Great Forest (a NYC based sustainability consulting firm), and a graduate of  The New School NYC. Sincer 1992, Maya has worked on promoting numerous environmental initiatives in New York. She joined Great Forest in 1995 and in her role as Director, Maya is responsible for overseeing all aspects of sustainability, waste management and recycling compliance for hotel clients. In addition, Maya has assisted Pure Earth, the nonprofit that Great Forest helped to establish and continues to support, through coordination and administration of various projects in Eastern Europe.
About Our Venue…

Project Farmhouse
is a state-of-the-art sustainability center and event space that allows New Yorkers to explore environmental issues through the lens of food, horticulture, the arts, and more.     Operated by GrowNYC and steps from their iconic Union Square Greenmarket, Project Farmhouse hosts workshops, galas, speakers, community meetings and interactive exhibits.
About Our Sponsors….

Toast Ale
is brewed with fresh, surplus bread that would otherwise be wasted. All profits go to the charity Feedback to support the fight against food waste, making Toast the best thing since… well, you know. So by enjoying Toast, not only are you rescuing bread but you're helping to make our food system work for people and the planet.
Bruce Cost Ginger Ale
is an audaciously unfiltered ginger ale made with real ginger pieces in every bottle. Drink it with your banh mi sandwich, mix it in your Dark & Stormy, pair it with a wedge of ginger molasses cake. We are proudly made in Bushwick, Brooklyn, and actively looking for warys to repurpose our spent ginger syrup mash and reduce our food waste stream.