October 31, 2019
GreenHomeNYC and the NYC Fair Trade Coalition bring you a curated panel discussion on sustainable fashion. While the fashion industry and its practices have been shifting more into public awareness, the challenges to better the industry are great. Through the lens of design, community organizing, and science, our panelists will touch on their own work, progress made within the industry and the issues they are working to tackle. This panel will be moderated by Nataliya Makulova, Founder of Conscious Fashion Tech. Come along to November's forum with your questions ready! In addition, a volunteer orientation will take place right before the event, starting at 6 PM. If you're interested in joining GreenHomeNYC as a volunteer, please sign up at 
https://greenhomenyc.org/get-involved/
Date: Wednesday, November 20, 2019 Time: 6:30 PM – 8:00 PM Place: Fujitsu Airstage | 1450 Broadway | 42nd Floor | New York, NY 10018 Speakers for the event will include: [Moderator]
Nataliya Makulova //
 Founder, 
Balanced Fashion
Deanna Ansara // 
Owner/Designer, 
Vincetta
Andrea Reyes // 
Chair, 
NYC Fair Trade Coalition
 & Founder, 
A. Bernadette
Daniela Blanco // 
PhD Candidate, NYU Tandon School of Engineering & Co-Founder, 
Sunthetics
Ozgem Ornektekin // Founder, KO2 Consulting & Petit Pas
Click here to register
Nataliya Makulova
 is a conscious fashion business expert and futurist. She specializes in responsible fashion & tech, consults and writes on these topics at the intersection of fashion, tech and consciousness. Her background is in fashion buying, merchandising, brand management, sales, public relations, event production and technology. She worked in companies like Moda Operandi, Vince, Kirna Zabete, Marc Jacobs, Tinker Tailor and Spring. Nataliya believes that advancements in technology, specifically Artificial Intelligence and consumers embracing more organic and ethical lifestyle choices, are changing the way the fashion industry operates, and she is passionate about being at the forefront of this meaningful shift.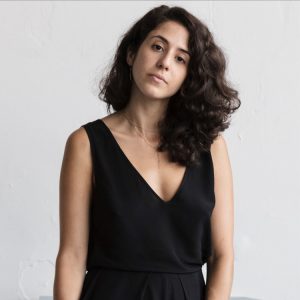 Deanna Ansara
My story starts in Detroit. I come from a multi-cultural family and my mother took her life when I was four years old.  She is my muse and the essence of what Vincetta has become.  In a way, this brand is a love letter to her.  Vincetta's prioritization of community stemmed from never feeling safe my whole life. The mission for Vincetta is to address mental illness, true inclusivity, and expecting more from the brands you purchase from.  I have always been angry towards the fashion industry for its lack of size inclusivity and transparency along with the incredible amounts of waste created.  With Vincetta I have spent years perfecting our signature fit that makes people of all sizes and shapes feel like their truest self. I am always finding new ways to communicate, express through imagery, touch on provocative subjects, and connect with people on a human level.  Vincetta's community is ever growing and continues to feel like home.
Andrea Reyes
is a fair trade advocate, educator and small business owner. She is the Chair of the 
NYC Fair Trade Coalition
: a network of small ethical business owners and advocates. She is the founder of 
A. Bernadette
: a fair trade fashion brand in Uganda which hosts educational study abroad programs. Lastly, she teaches fashion marketing, international trade, and business development classes at Baruch College, LIM College, and the Fashion Institute of Technology.
Daniela Blanco
is a Venezuelan 3rd year Ph.D. student in Chemical Engineering at New York University and the co-founder of 
Sunthetics
. She obtained her B.S. in Chemical Engineering from Universidad Simon Bolivar in Caracas, Venezuela, back in 2016. She has focused her Ph.D. studies on the development of sustainable and efficient production processes for useful chemicals. Daniela has now developed a technology to make Nylon 6,6 intermediates using 30% less raw material and 30% less energy, while releasing 30% less emissions and reducing manufacturing costs by 20%. Daniela co-founded Sunthetics in 2018 with the goal of commercializing a more sustainable and cost-effective path to manufacture Nylon, and is now working on the integration of artificial intelligence for the development and implementation of sustainable chemical processes. Together with her founding team, she has raised $400K in non-dilutive grants and competitions, which has allowed Sunthetics to begin the scale up phase of their technology. In the longterm, she envisions Sunthetics becoming a platform to transform the chemical industry, one reaction at a time.
Ozgem Ornektekin
is co-founder and president of Petit Pas New York Inc., an upcycled accessories brand focusing on used pointe shoes. She is also the Founder and President of KO2 Consulting providing strategic sustainability and energy planning, implementation and management services for large public and private organizations. Prior to founding KO2 Consulting, she served as Chief Energy Management Officer (Deputy Commissioner) of the City of New York, Director of Office of Sustainability at New York University and first Director of Sustainability at NYC Department of Education. Before her leadership roles at the City and NYU, Ozgem was mechanical/energy engineer and project manager at Parsons Brinckerhoff and AECOM. Ozgem is adjunct faculty at New York School of Interior Design teaching building system courses. She holds an MBA from Columbia Business School and Bachelors of Science Degree in Mechanical Engineering from University of Denver. We highly encourage attendees to register in advance, as fees increase at the door. If registering at the door, credit/debit card is strongly preferred. About our collaborator:
NYCFTC
: The NYC Fair Trade Coalition is a grassroots organization that promotes fair trade businesses and retailers in New York City and educates consumers on the importance of fair trade. It partners with ethically-aligned businesses, retailers, NGOs, and citizens in New York City to host events and engage the public in dialogue. It offers its members advertising support through its social media channels, coordinates sales events, and fosters networking among ethical and fair trade businesses.