July 31, 2019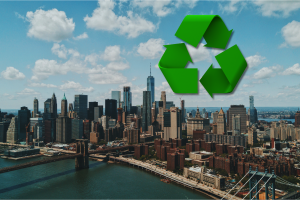 The NYC Department of Sanitation (DSNY) picks up over 10,000 tons of garbage and recycling each day!  There's a lot of things that you throw out each day that can be recycled– about 77% of your waste – that you are not aware of.  On top of that, some of the recycling in New York City is done so efficiently, it will literally recycle your entire brain about the possibilities. Please join us to meet two of our best urban recycling leaders so you can become a better leader of the NYC and world recycling community.
Register Here
Speaker Information:
Kara Ayn Napolitano
 Outreach and Education Coordinator, Sims Municipal Recycling Kara is currently the Education and Outreach Coordinator at Sims Municipal Recycling Facility in Sunset Park, Brooklyn, the largest Materials Recovery Facility in the country. At Sims, Kara offers educational tours to student groups grades 2 – 12, along with college, adult, and corporate groups. As a Licensed Master Social Worker, her interests revolve around environmental social work and the circular relationship between human action, environmental wellness, and human wellness. She is a regular animal care volunteer at Earth Matter Farm, teaching children about the joys of composting and animal care. Prior to sustainability education, Kara was a theatrical teaching artist and administrator. Along with her work at Sims she is also a voice and TriYoga teacher. On the weekends you might find her leading story time for children in Bryant Park, inspiring young people to improve literacy, confidence, and musicality. She is passionate about offering engaging education to children (and adults too, why not?), and is thrilled to be spreading the message of recycling and sustainability through the interactive Recycling Education Center at Sims. If you'd like to know more about recycling in NYC, or to book a tour of Sims, email 
[email protected]
, or visit 
www.simsmunicipal.com
.
Joan Byrnes-Daly
 Senior Manager, Zero Waste Communications Bureau of Recycling and Sustainability Joan Byrnes-Daly has worked in government for over 13 years, at both the State and City level in New York.  She has a Master's Degree from Brooklyn College and taught at Kingsborough Community College for five years. For the last five years she has been an integral part of the Zero Waste Communications team at the NYC Department of Sanitation (DSNY), shaping the way we talk about recycling through website, social media, correspondence, and print materials. In her role with DSNY, she has become acutely aware of issues NYC residents face when recycling and loves to answer questions to increase recycling compliance and in turn our city's environmental impact.  If you'd like to help improve our city's environmental impact, visit 
nyc.gov/recycle
 or email 
[email protected]
.