October 1, 2012
GreenHomeNYC and NESEA Invite you to our Fall Green Building Tour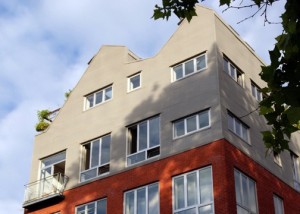 The tours are an opportunity to visit a varied collection of buildings and learn about the energy efficient and sustainable building methods directly from building professionals such as the architect, engineer, developer or owner. You'll experience firsthand the inner workings and design details, as well as the challenges and accomplishments that were faced by the professionals involved with these commercial and residential buildings.
This year's tour will feature: Passive homes, wind turbines, Intello Membranes, private green roofs, a natural pool, recycled material composition and more!
Date: Saturday, October 13th 2012
Time: Between 10AM and 3PM
Cost: $7 before October 8th; $10 after October 8th
Choose from a range of exciting tours — click the link to register for the tour via EventBrite.
o This tour of a passive solar building will enlighten you to photovoltaics, net-metered, low VOC paints adhesives, low flow fixtures, dual flush toilets, radiant heating.
227 East Third Street Apartment House
o This building achieves EXTREME energy efficiency by combining conventional materials with better design. Features: minimum efficiency boiler, R-13 wall insulation, standard aluminum frame windows, and concrete block walls.
o Result: the first energy efficient building built for the same cost as code minimum construction.
o Step into 90% recycled materials worth of evidence that green building can be done below normal building costs.  Green roof, on demand boilers, high efficiency appliances and more.  After visiting so many features you'll probably want to cool off in the natural pool.
o Envision yourself relaxing in the first passive condos in the United States, on the open market.  The four-story brick building was renovated according to Passive House EnerPHit standards.
o As an added bonus, there will be a screening of Charlie Hoaxie's Passive Passion after the tour. The film's running time is 20 minutes.
o A double catch with both LEED Silver Certification and Energy Star Certification
o A grey water retention system and green roof and garden for optimal water conservation
o Solar voltaic system that takes advantage of good Southern exposure
o From roof-to-table, experience the power to grow in these apartments equipped with their own 30-square foot rooftop garden plots for residents to cultivate whatever they may crave.
o The Delta is the 1st building in NYC to be 100% powered by solar and utilizes many renewable energy and energy efficiency technologies that significantly decrease its energy use by more than 75% compared with the average building.  There is even a wind turbine on the roof!
o Come see this 2-Family, 4-story plus cellar brick townhouse being renovated to EntreFit Passive House Standard. The building is currently under construction, with completion expected in early 2013. Includes extensive solar thermal system on the roof!
Sign up today! Space is limited.