November 2, 2017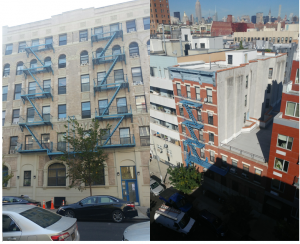 As the region observes the 5th anniversary of Hurricane Sandy, GreenHomeNYC's November tour will explore the topic of building resilience. The tour will feature two buildings on the Lower East Side of Manhattan, 
334 East 8th Street
 and 
327 East 8th Street
, both of which were severely damaged by the storm. The tour will be led by Henry Gifford of Chris Benedict, R.A., whose work on resilient design has been featured in the 
New York Times
, and who was directly involved in salvaging the buildings. Gifford will speak about the specific steps he took to rehabilitate the sites as well as discuss the greater implications for resilient building design. At 
334 East 8th Street
, guests will be able to visit the boiler room that was moved from the basement to the roof, learn about the change from direct electrical metering to master/submetering, and view the improvements in sewage management. At 
327 East 8th Street
, Gifford will discuss the process of moving the direct electric meters upstairs. Don't miss this great opportunity to get a firsthand look at the nuts and bolts of building resilience!
Date/Time: Monday, November 13th at 2:30pm