May 8, 2015
GreenHomeNYC INVITES YOU TO 
DISCOVER GREEN AFFORDABLE HOUSING IN THE BRONX.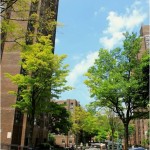 Our May Tour is almost here, but we've had a change of venue!  The tour will now be held at the newly renovated West Farms Square, a 526-unit affordable housing development located near the intersection of East Tremont and Bryan Avenues in the Bronx.
Growth, Sustainability, Resiliency, and Equity.  These themes form the foundation of the Mayor's newly announced
OneNYC Plan
.  Building on the previous PlaNYC, this updated blueprint for the City's future seeks redress for social and economic inequity as part of a broader definition of Sustainability.   Join GreenHomeNYC on
Saturday,
May 30th
  to learn how two key issues – sustainability and affordability – are being bridged through innovative housing developments and preservation in the Bronx.  The event will begin with a brief discussion from key stakeholders, including policy leaders and housing developers.  After the discussion, we will see, first-hand, one of the City's greenest re-development projects, West Farms Square, which recently completed a $50 million renovation that resulted in deep energy savings and improved outdoor spaces, all while preserving affordable homes for New Yorkers.
Date:  Saturday, May 30th 2015
Time:  10:30AM – 12:30PM
Location: The event will begin at 2 West Farms Square Plaza, A short walk from the West Farms Sq-E Tremont Ave metro stop (2,5)
Cost:  $15 Early Bird; $20 Procrastinator – Register
Speakers will include:
Christopher Mahase
, Director of Sustainability, New York City HPD
Claire Donnelly
, Project Manager Fordham Bedford Housing Corporation
The Tour: 
West Farms Square
is a 526-unit affordable housing originally constructed in the early 1970's.  In May 2011, Fordham Bedford Housing Corporation (FBHC) teamed up with University Neighborhood Housing Program (UNHP) to begin a much needed overhaul, addressing deferred maintenance items and renovating the buildings inside and out.  With financing from Low Income Housing Tax Credits and tax exempt bonds, the project included: Micro-turbine co-generators, for onsite electricity Conversion from steam to hot water heating system High efficiency boilers Electrical submetering Efficient lighting and appliances New planted areas Three new playgrounds with recycled, permeable surfaces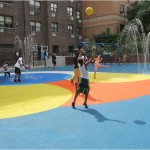 Space is limited. RSVP Today!