September 4, 2019
By Jonathan Oriondo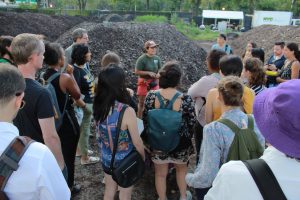 On August 15th, GreenHomeNYC hosted a tour of the East River Compost Yard in Manhattan, where participants learned what it takes to compost on a community-wide scale. Lia Lucero, the outreach coordinator for NYC Compost Project, personally guided us throughout the site.  At first glance it was not obvious that this facility's main goal was community education. Right on the river, in the middle of a park, this place was huge! There were piles of compost at various stages of the digestion process. Most of the facility was outdoors with a small administrative building towards the road, and it was all surrounded by a formidable fence. It was very impressive—even the smell.  Before we entered the grounds, Lia gave us some background. The compost yard is run through a partnership between the Lower East Side Ecology Center, which is a local environmental non-profit, and the New York City Compost Project, which is funded by the Department of Sanitation of New York. There are actually six other compost facilities under the same management, all of which have the goal helping New Yorkers get involved with community composting, but, like this facility, they do not actually produce large quantities of compost. Instead they focus on education. The East River Compost Yard is specifically focused on community composting and not industrial composting, which means they try to engage with individual citizens and keep everything local. Lia clarified that, "the food scraps… [are] collected in nearby neighborhoods. [They don't] travel more than five miles [to] this site." As we walked inside the front gate, Lia pointed to some very large bins near the entrance that were meant for drop-off of veggie and fruit scraps that are accessible 24/7. They don't accept other types of food scraps, such as dairy and meat, because they are "limited by space and by our neighbors in terms of the smell [and] aesthetics…We also have a huge rodent population." By not accepting meat or dairy, the facility is less likely to attract rats. In all facilities, first step of the compost process is collection. Other than the drop-off bin in front of the actual yard, the Lower East Side Ecology Center maintains many collection locations all over lower Manhattan. In a year, they collect about 450 tons of food scraps from the local communities. Although this sounds like a lot, Lia explained that it's actually a small percentage of the overall New York City waste stream. The  average New York household generates about 4 to 5 pounds of food waste per week, according to Lia, most of which goes straight into landfills instead of being used as a resource to make healthy soils.
But the benefits of composting go deeper than just the soil. Composting also reduces the amount of methane being produced in landfills by decomposing organic matter. It reduces pollution from the trucking industry carting it around, and finally it alleviates the strain on taxpayer dollars that are spent on waste.  New York City spends "1.3 billion dollars just to handle… residential and institutional waste, and that's excluding the commercial end." After our introduction to the facility, Lia gave us a crash course on what composting actually is. "So in composting we have what we call our 'greens' and 'browns'," she explained. The "greens" are materials that contain more nitrogen like food scraps, lawn clippings, and other high-moisture materials, while "browns" contain more carbon, like wood chips, dried leaves, and newspapers. Composting is a balance of greens and browns, air and moisture, "and you need a good mixture of them in order to create favorable living environments for microorganisms like fungi, bacteria, and [invertebrates]." What Lia's coworkers do is attempt to perfect that environment to attract decomposers to the piles of material so that they can feast on them and create the healthy soil product. A local cemetery provides most of the site's brown materials from pruning their trees often. Lia told us that they receive enough wood chips from them to fill up thirty hot tubs each week! The rest of their browns come from the woodworking and furniture industries. The greens are mostly food scraps from the surrounding communities. The composting process includes three stages: mesophylic, thermophylic, and then curing. The difference between the first two stages is basically the temperature at which the center of the pile is maintained. Different temperatures attract different digesters. The curing phase is when digestion slows down, and the compost is nearly finished.  For the rest of our tour, Lia pointed out the different piles across the yard. The largest pile near the gate was called the receiving and mixing area. The staff in the yard begin the process by layering—wood chips, then food scraps, then wood chips, and so on. They use a Bobcat skid steer to then mix the materials. During this stage, they are also scanning the green materials for any contaminants that don't belong, such as plastic bags or meat.
Lia was very excited to show us the next pile, and this part of the tour actually elicited audible oohs and ahs from the crowd  She prefaced her explanation by saying it was experimental, "We're piloting an ASP pile, which stands for aerobic static pile." Indeed, this pile looked quite different. It was particularly strange because next to it stood what looked like a giant version of a leaf blower and was actually a machine normally used to inflate bounce houses! Connected to it was a network of perforated PVC pipes that led to spots inside the pile. "The idea is when we turn this on, it will blow air into the pile… and why that's beneficial is that within the first thirty days of the composting process, we don't have to turn it." This process is far less labor-intensive for the staff, and it also allows for the facility to use less diesel fuel in the large Bobcat machine that turns the other piles. They've been experimenting with this for six months, and judging from how proud Lia was as she explained it, it seemed successful so far. The rest of the piles were separated by the length of time they had been decomposing. Lia passed around samples to illustrate the different stages of compost digestion. We also got to see where the materials are processed during the curing phase, when volunteers sift through the nearly finished product to check for contaminants one more time in huge wooden sifting pans, and the staff makes the final call on whether or not the product is ready and finished. This area was reminiscent of an 1800's setup for panning for gold. Our walk concluded at the site's drain garden, where they manage standing water after rain and where we saw an impressive number of bags of finished product.
Lia's tour of the East River Compost Yard was much more than a walk of the site. It was also an engaging class on what compost is and how community members can help, and each of us left the tour a little smarter and more motivated to take part in the city composting process. For this, we would like to give sincere thanks to the Lower East Side Ecology Center and to Lia especially. Thank you for your dedication to the community and to the planet. If you are interested in composting with the city, you can check out www.NYC.gov/dropfoodscraps. ******************************************************************************** Check Out our website for information on our upcoming events! Registration is now open for Green Careers: Energy Efficient Buildings and Monthly Forum: Diversity in Green PechaKucha.