Tag:
green-products
July 31, 2015
by Lisa Bonanate
Buildings designed like termite dens. Insulation made from mushrooms. Panes of glass structured like spider webs. Mother Nature is the ultimate architect – one with a few billion years of experience. Her designs are efficient, innovative and conducive to sustaining life. Increasingly, mankind is looking to these time-tested engineering strategies to answer the sustainability issues we're facing. Biomimicry, meaning "to imitate life", is a design discipline that looks to solve man-made sustainability challenges by emulating the most effective patterns and systems found in nature. Bio-inspired design is nothing new. As far back as the 15th century, Leonardo DaVinci based his flying machine on the anatomy of birds. But modern applications are reflecting exciting new innovations.
(more…)
January 3, 2011
Join GreenHomeNYC as we head down the catwalk of new ideas in green building, at our first forum of 2011! We'll hear from architects, designers and product specialists for five minutes each on their newest product, invention, technique, or discovery from the cutting edge. 
RSVP!
(more…)
December 15, 2008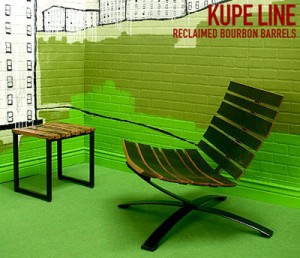 Did you guess this chair was first an old bourbon barrel?? If you're anything like me and want to combine your love affair of modern contemporary home furnishings with a desire to be green, you should definitely check out 
Uhuru
(Pronounced: oo-
hoo
-roo) in Red Hook, Brooklyn – yes in NY!! I came across this place a while ago. Uhuru is a small, design build furniture company that uses materials that have been reclaimed, recycled, re-purposed, reused, or otherwise rejected from their original function. Uhuru has recently been named one of Greenopia's Distinguished sustainable companies for New York City for 2008-2009.
GreenHomeNYC does not receive fees from the purveyors of products or services mentioned in its blog posts.