Tag:
indoor-air
November 16, 2005
Healthy and Breathable Buildings
When:
Wednesday, November 16th, 6:30-8pm
Where:
Hafele Showroom
Speakers:
Wendy Meguro, MIT and Wayne Tusa, USGBC-NY Thanks very much to Ms. Meguro and Mr. Tusa for their presentations at our November forum. Wendy Meguro of the Massachusetts Institute of Technology discussed how recent technological developments and concern for the environment have propelled the design of large-scale naturally-ventilated buildings and will provide three case studies: the San Francisco Federal building, London's Swiss Re building, and the Genzyme building in Cambridge, Massachusetts. Wayne Tusa, founder and President of Environmental Risk and Loss Control, Inc. and a Board Member and Liaison/Communications Committee Chair of the NY Chapter of the USGBC, talked about indoor air quality and health. As an environmental consultant with over thirty years of uniquely broad based environmental expertise, Mr. Tusa provided an in depth presentation on the health impacts of suspected environmental building hazards as well as strategies for mitigation and avoidance.
February 20, 2004
Toxics, toxics, toxics. They are all around us, especially in our homes and offices, according to speakers Cameron Lory and Paul Novak at GreenHome NYC?s monthly forum, Non-toxic Building Materials. To a crowd of nearly 40 people at the Herman Miller Showroom, the speakers identified toxics in everyday materials and suggested ways to mitigate exposure to them. Cameron Lory is a green building specialist at Inform, an organization that partners with government agencies and private organizations to promote cost effective, innovative and environmentally responsible practices. Her specialty is chemical hazards prevention. During her presentation, she focused on lead, mercury, polychlorinated biophenyls (PCB) and arsenic, chemicals that are persistent, bioaccumulative, and toxic, which means they cause harm to humans and the ecosystem. Ninety-two percent of persistent, bioaccumulative, and toxic (PBT) chemicals leave manufacturing facilities through products shipped to consumers, not through emissions out of smokestacks. These include building products, such as HVAC components, lighting systems, textiles and furnishings, roofing, pipes, and interior finishes. Therefore, awareness of these chemicals and knowledge of alternatives is critical during the designing, construction, and maintenance phases and is emerging as an important component of green building standards. Mercury, for instance, can be found in thermostats, switches, gas and water flow meters, boilers, standing pilot lights, and other equipment. Ms. Lory suggests specifying mercury free systems when possible. Where unavailable, she stressed the importance of requiring mercury disclosure and ensuring proper disposal of the product at the end of its life. Mercury is also found in fluorescent, compact fluorescent and high intensity discharge lamps. However, use of these systems is essential for energy efficiency, and there are products with lower mercury content, such as Philips Alto lamps. For lighting, Ms. Lory recommends retrofitting old lighting systems with energy efficient technology, purchasing ?energy star? products, purchasing lamps with the lowest mercury content, and recycling spent lamps. Brominated flame-retardants also affect indoor air environments. Due to building codes and other fire standards, concentrations of brominated flame-retardants, which have a similar structure as PCBs, are rapidly increasing. The retardants are used on furniture, upholstery, drapes, and electronic products. To date, the best solution is to request disclosure and, when possible, alternatives. Audience members suggested some emerging alternatives, which are more popular in Europe. Hopefully legislation to outlaw certain types of brominated flame-retardants will lead to more sustainable technologies for fire prevention. Ms. Lory concluded her presentation with a passionate description of the hazards of Polyvinyl Chloride (PVC). Throughout the PVC life cycle, from manufacturing, product use, and disposal or destruction by fire, it releases some of the most toxic substances including dioxins, hexachlorobenzene, metal stabilizers, and phathalates. Products containing PVC are ubiquitous including resilient flooring, carpet backing, scrubbable floor coverings, shower curtains, acoustical ceiling tiles, roofing membranes, window and door frames, gutters, pipes, and, of course, siding. Luckily alternatives for some of these products are easy to find and can be found on the Inform website (www.informinc.org). Paul Novak, founder of Environmental Construction Outfitters (E.C.O.), offered more solutions for healthier buildings. E.C.O.?s mission is to provide people with building/interior design materials and home products that are environmentally friendly, safe, natural, recycled and sustainable. The company also strives to offer the means of attaining good indoor air quality in home and office, and especially, to assist chemically-sensitive people. E.C.O. makes available the highest quality sustainable products for developers, contractors, architects, and homeowners in four product categories: natural, sustainable, recycled, and healthy. Mr. Novak caries water-based, formaldahyde free, and ones that use non-solvent glues. After over 13 years in the environmental construction materials business, Mr. Novak has seen a significant increase in demand for these products. This is largely due to education through the internet and product and health warnings on the news. The majority of his customers are young families that are educated on the topic. When working with contractors, he stressed the importance of ensuring they use the materials correctly. One wrong decision, whether the glue or finishing, can eliminate the health benefits of the other material decisions. E.C.O. offers free phone consultation to discuss the concept of healthy buildings. Listing sustainable products in not sufficient since different people have different needs and sensitivities. However, E.C.O.?s product categories are listed on the website, http://www.EnvironProducts.com. Mr. Novak concluded his speech by presenting some of his favorite building materials. These include the following: Wall insulation made out of old jeans. The denim out performs fiberglass in R-rating and acoustics. Natural wools and fibers for carpeting. Nontoxic glues Natural cleaning agents Pre-consumer recycled rubber Bamboo, which is especially good for chemically sensitive people. Cork. However, due to the popularity of cork, which grows back on oak trees in seven to nine years, the supply has not been able to keep up with demand and, "the trees are taking a beating." Sustainably harvested wood from Maine or felled lumber. During a question and answer period, the speakers spoke of Green Seal, costs, and legislation. Green Seal, similar to LEED, is a good start, according to Paul Novak, but it needs to be more discerning. As for the costs of non-toxic building materials, he estimates today that prices on average are three to five percent greater, however, a decade ago it was around 30 percent. The prices for the glues, paints, and wood are competitive, but his choice for insulation is twice as expensive due to the cost of shipping. Cameron Lory mentioned the importance of building standards, not just legislation to promote the use of healthier building materials. Both speakers did speak of emerging regulations in the region. Currently Westchester County (and soon in New Jersey), tax breaks are available for the use of products that are listed as sustainable alternatives. It is important to be careful when following these lists as they may contain materials that while more sustainable than the standard choice, are still toxic products. Please join us next month at the Hafele Showroom for the March forum on Energy Efficiency.
May 21, 2003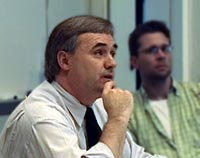 The
Knoll Furniture Showroom
hosted Wayne Tusa's presentation on indoor air quality. Thank you to all of you who came and to the Knoll Furniture Showroom for hosting us. Unfortunately, due to poor sound quality, the video recording of the presentation is not available for download, but Wayne's PowerPoint presentation is available below: