September 30, 2016
by Jennifer Lauren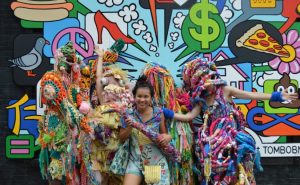 How can community organizations address sustainability through creative and inclusive means in an ever-changing city? For Fourth Arts Block NYC (
FABnyc
), it means weaving sustainability into programs that support the vibrant artist community on the Lower East Side. Founded in 2001, the neighborhood non-profit is a coalition of arts and community groups serving the East 4th Street cultural district. According to Director of Programs Nadia Tykulsker, "FAB's mission is to strengthen the cultural vitality of the Lower East Side. All of the programs we run attempt to work towards this mission. We're not here to come up with solutions all on our own — we are here to help community members find the resources they need to do their best work and enact the solutions to problems that they think will be most successful." Inclusion is an important aspect of FAB's mission. Most of the programming is free and meant to be for a wide range of community members. Another area of focus – sustainability.
A Creative Take on Sustainability
In partnership with The Cooper Union Institute for Sustainable Design and through an award from the Rockefeller Foundation Cultural Innovation Fund, FAB launched SUSTAIN: Steering Urban Sustainability Through Action, Innovation & Networks. Targeted largely at students, artists and local residents, SUSTAIN is a suite of projects designed to increase environmental awareness, sustainability, and money-saving green efforts. According to the FAB
website
, a body of research supports the idea that "the most successful sustainability initiatives rise from the 'bottom up,' rather than being imposed from above. There is also increasing interest from scientists in partnering with artists to creatively and emotionally engage people in active and prolonged behaviour change." Past projects like
Model Block
included waste, energy and water reduction programs, the installation of whiteroofs in the neighborhood, and public art installations to raise environmental awareness.  One on-going and popular event is Load OUT.
"This is our annual reuse & repurposing market," Tykulsker explained. "It establishes a local distribution spot for organizations and businesses to share materials they no longer need with artists, while providing free, responsible recycling opportunities to the community at large. We collect sets, props, costumes, household items, office and art supplies from cultural organizations and redistribute." FAB partnered with Downtown Arts for this year's September event, which included sustainable art-making workshops that encouraged textile recycling and addressed the question, 'How can you use the objects you found in the market to create art?'
"
The workshops were supplemental and fun!" Tykulsker said. "We hope that people will expand their thoughts around recycling and repurposing. Sharing resources and outlets on waste and reuse will affect our community positively. Also, it's a great way to network and meet your neighboring organizations and individuals!"
A Rich History for the Arts
While the East Village has a remarkable history of being a welcoming home for artists and immigrants seeking their path and making their mark, the relentless march of real estate development has the potential to displace the neighborhood's cultural heritage. According to Tykulsker, "Displacement is a real part of the conversation we are having on a daily basis, but how to maintain the vitality which continues to exist in this neighborhood is our priority. The resources and programming that FAB provides, like Load OUT!, the Sustainable Artist Toolkit Workshops, and Dance Block, our subsidized rental program for dance makers, seek to maintain a space for artists and long-time residents and businesses to continue to make their best work here on the Lower East Side." FAB is showing how organizations can take a holistic view of sustainability. Through its creative and colorful approach, FAB is staying true to its mission of addressing the needs of the East 4th Street neighborhood, while engaging the community in making change happen.