April 17, 2017
by Thomas Storck This year's Pa
tty Noonan Memorial Forum on Policy addressed concerns over proposed policy changes made by the current White House administration to undermine ongoing sustainability initiatives. Drawing inspiration from the legacy of founding GreenHomeNYC member Patty Noonan,
Andy Padian,
President, PadianNYC Consulting, joined
Marcia Bystryn,
President, NY League of Conservation Voters, and
Charles Komanoff,
Director, Carbon Tax Center/Komanoff Energy Associates, to share past experiences and to offer insight into how to be an affective environmental advocate.
THIS IS WHAT AN ADVOCATE LOOKS LIKE
It was 14 years ago that a group of 30 affordable homes in the South Bronx became the first of their kind in New York State to be built to Energy Star standards. Compared to typical affordable housing in the area, the project cost $1.36 more per ft2 and used one-fifth the energy. Today, all affordable housing is built to similar standards, but we didn't get there without a fight. "This was thought of as completely berserk," said Andy Padian. "[The developer] wouldn't have done it without Patty kicking really hard." To provide some historical context, Padian recalled the mood among his colleagues at Mayor Ed Koch's Energy Office when President Reagan was elected. "We were horrifically depressed." Yet despite the President zeroing out both weatherization funding and the Home Energy Assistance Program in every budget, he encountered push back from a variety of groups who worked together to voice their opposition. As a result, funding for these programs actually increased under Reagan. When NY Representative Bill Green opposed federal solar and conservation tax credits because his low-income constituents failed to take advantage, Padian called Green's Legislative Assistant on Housing and Energy and explained how these credits could be useful. Much to Reagan's disappointment, Green was persuaded to change his vote. "This is what advocacy is about," Padian said.
MANDATES OR THE MARKET?
But what kind of policies should we be advocating for? Marcia Bystryn began her talk by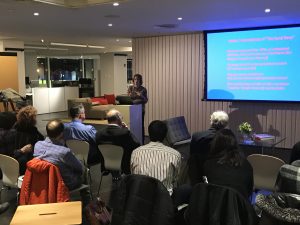 challenging the conventional wisdom surrounding mandates and market-based solutions to environmental issues. While she acknowledged their importance, Bystryn admitted she does not expect the Clean Power Plan or the Paris Agreement to have dramatic impacts anytime soon. Regardless of federal mandates, states and cities are already moving aggressively to meet climate goals. "I think New York is a real trendsetter," she said, praising Governor Cuomo's Reforming the Energy Vision (REV) strategy for its emphasis on the market, aggressive clean energy standards, and benefits for upstate nuclear facilities. But what works in New York might not work elsewhere. Most "red" states have cancelled their renewable portfolio standards in recent years, yet some of these states are today's leaders in renewable energy. These investments aren't driven by mandates, as people in these states tend to not like being told what to do. Lower costs offer new opportunities to invest in wind and solar resources, and entrepreneurs have taken notice.
PUSHING ON AN OPEN DOOR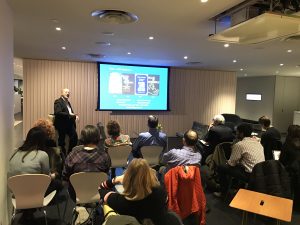 President Obama's Clean Power Plan mandated a 32% cut in electricity-sector emissions from 2005 levels by 2030. We're now over 80% there. The prevailing narrative credits the fracked gas boom for most of this reduction, but Charles Komanoff's research suggests that a greater role (58%) was played by a combination of electricity savings and an upsurge in wind and solar resources.
Electricity use
doubled every decade for most of the last century, but flattened after 2005. If not for this unheralded change in demand, fracked gas would have been additional to coal rather than in place of it. U.S. electricity use flattened because of our shrinking manufacturing industry, more efficient products, stricter codes and standards, digital technology allowing for less waste, an emerging energy efficiency business sector, and more people living in cities. It could be said that reductions in electricity-sector emissions would have happened regardless of federal mandates. "My metaphor," Komanoff added, "is that the Clean Power Plan is tantamount to pushing on an open door". This is reassuring because it signifies the emergence of a new and more efficient energy economy.
A CARBON TAX
This does not mean that we can now sit back and watch emissions drop by themselves. They need to drop MUCH faster. While there are several ways to achieve our climate goals, Komanoff explained why a revenue-neutral carbon tax would be the most effective. De-subsidizing fossil fuels will have miniscule effects, subsidizing clean energy becomes expensive as we scale up renewables, and efficiency regulations have limited reach due to their inability to affect human behavior. In addition to electricity, a carbon tax would also address methane released from natural gas extraction and emissions from the transportation sector. A robust carbon tax would influence consumers' decisions about how and how much to drive. Plus, Komanoff believes, it would instill a conservation mentality because people would understand that prices are trying to tell them the truth about fossil fuels.
(NOT ALWAYS) THE USUAL SUSPECTS
A carbon neutral tax was on the ballot in Washington State, but it went down after the environmental community fought it because they couldn't direct the proceeds to their liking and wanted more say in how it developed. Even among environmental groups, interests don't always align and groups working together can find themselves in conflict. Marcia Bystryn reminded the audience that we have to recognize that and figure out our priorities. "I think one of the biggest problems with a carbon tax is not going to be Republicans," Bystryn said. "It's going to be Democrats." There is reluctance among environmental groups and Democrats to let go of the federal government's strong regulatory role, which won't be necessary with a revenue-neutral carbon tax. Many environmental groups dismiss the idea of a carbon tax on the grounds that is politically unrealistic. While that may be true, Charles Komanoff encouraged the audience to persuade fellow green groups to lay the groundwork now so that we'll have broad support for it when the moment comes. "We have to fight, but we have to do it in a very, very logical manner," urged Andy Padian. "We can't be screaming advocates and we can't be left wing loonies, because everything that's good for the environment is good for business. Business knows this, so we have to fight it with facts and figures. Know all of your elected officials and talk to them. Give to organizations that can do more than you can. Any amount helps."