November 27, 2017
by Claire Brown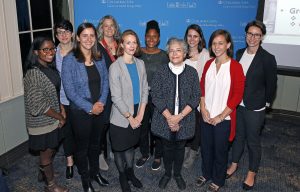 During GreenHomeNYC's October Forum, eight women of green led us on a tour of their green building career paths. Through the Pecha Kucha style of presentation, the speakers used timed-slides to guide us through their search for their dream careers in engineering, sustainable design, new construction, and more. In addition to sharing their stories, the speakers offered advice to those seeking green careers. The forum was co-hosted by GreenHomeNYC and the
Center on Global Energy Policy's Women in Energy program
at Columbia University.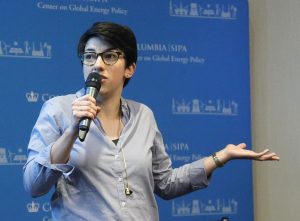 Lucie Dupas, Entersolar
Dupas had engineering built into her genetic blueprint, with both of her parents working as IT engineers.  She finished her formal education in engineering by completing a Master's program in France, and was proud that the program was comprised of roughly 42% women.  Surrounded by so many women in her field, she felt that being a female engineer was "the normal thing to do."  In search of her dream internship, Dupas moved to New York City and joined a renewable energy consulting startup at the NYU Poly Acre Incubator where she built her first photovoltaic system.  The internship ultimately led to a full-time job at 
Sollega
, a solar equipment manufacturer where she did "all the things that you think an engineer does".  According to Dupas, "I did a 3-D design of a racking part and tested it in a laboratory and I trained some 200 pound electricians."  Next she worked at 
Bright Power
, where she helped bring solar power to affordable housing and managed the installation of several solar thermal and photovoltaic systems.  She is now the Engineering Director at the nationwide solar installer 
Entersolar
 where she works on commercial projects with a specific focus on solar PV technology.  Lucie is an avid proponent of training programs.  "You know how you think you know something, but then you go through a certification program and you realize there's so much that you don't really know.  And having the certification on your resume is so useful to show yourself as an expert in the industry."
Sharon Gaber, North American Passive House Network
Gaber titled her presentation "Diverse Paths," referring to the disparate interests that drove her career path in sustainable design. She has an educational background in art history, loves teaching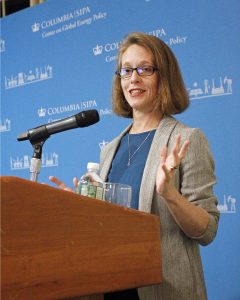 and spending time in nature, and is inspired by sustainable design.  After graduate school, she worked as an Assistant Manager at a high-end luxury antique trade showroom and was struck by the large amount of building waste that is a byproduct of installations. She thought to herself, "Can't this be reused?" The moment was a "lightbulb" for her. Seeking to become active in the green building field, she joined GreenHomeNYC and coordinated the organization's educational forums and says, "It has forever changed my career path and my life." She loved the organization's focus on green building. She also enjoyed being involved in the coordination and planning of the forums and the constant exchange of ideas that the planning cultivated. Sharon then founded her own sustainability consultancy called CLEED (Cloverleaf Energy and Environmental Design), which helps museums become greener and more energy efficient. She now divides her time between consulting and managing the North American Passive House Network. During the forum, Gaber advised the audience to become an "Expert-Generalist" and gain mastery in two to three areas in order to be successful. For Sharon, this meant combining her interests and expertise in art and sustainability to pursue a career in sustainable building design.
Alison Kling, Con Edison
Kling discussed how through hard work and networking she found her current career at Con Edison. She holds an undergraduate degree in literary studies and got into the publishing industry after graduation. She quickly recognized that she also had interests in public service and environmentalism.  Seeking a career change, she completed a Master's degree in urban planning and at the time was interested in many environmental fields.  Through her work in the energy policy group of the 
New York City Economic Development Corporation
, she learned that her environmental interests gravitated mostly strongly towards the solar industry. In her next job at City University of New York, she dove deep into solar.  "I learned about permitting, interconnection, solar mapping, policy, zoning, fire codes, you name it." When 
Con Edison
 was seeking someone with experience in solar, Kling jumped at the opportunity. As a project specialist in Distributed Generation, she assisted customers in developing solar projects.  She recently moved to another department to integrate solar into Con Edison rooftops to generate power for low-income customers.  Kling reflected that each step in her career path started with "a slightly terrifying leap of faith," but from taking risks, she learned a lot both about green building and about herself.  She advised the audience to be professional, supportive of good people, and to be civil.  She also emphasized the importance of networking and building relationships. "You're only going to learn by talking to people."
Andrea Mancino, Bright Power
Mancino has worked at the energy management firm 
Bright Power
 for five years, first as an Existing Buildings Intern and was recently promoted to Director of New Construction.  Mancino recalled
that her big break came when she was volunteering at a symposium hosted by 
The Garrison Institute
. There she met GreenHomeNYC board members Andy Padian and Bomee Jung, who told her about the organization.  Mancino became a GreenHomeNYC volunteer and the Women of Green forum was the first event she attended as an emerging professional.  Mancino succeeded in landing a position at Bright Power, starting out in the existing buildings group and then, with a fellow female colleague, she co-founded the New Construction group, which works in building rehabilitation and high-level new design construction.  Mancino said working in new construction has made her a "jack of all trades."  "You have to know everything from ventilation flow rates to lighting fixture controls, to HVAC, to insulation strategies."  In offering advice to emerging professionals, Mancino emphasized the importance of getting your hands dirty in the field.  "There is a lot you can learn in school but in this industry there is a lot you have to learn by experience."  While she is pleased to have seen a shift of more women in the green building industry, particularly in engineering, she said women's representation in construction needs work.  "Women generally don't hold powerful/leadership roles in the construction industry and I'd like to change that."   She encouraged female professionals to get involved in women's industry groups and is herself a part the 
Women in Construction
 advocacy group.
Jacquie Ottman, We Hate to Waste and J. Ottman Consulting
Ottman spoke about her lifelong love of "finding treasures in the trash", and she has spent most of her latter career fighting inefficiency, promoting waste reduction and establishing new career habits.  After graduating from college with a degree in Art History, she first worked in advertising and learned the ropes of marketing consumer goods.  When the modern day environmental movement reignited her interest in waste issues, she combined her latent environmental passion with her marketing skills and became a green marketing consultant.  She spent the next twenty-five years advising companies on how to market green products. She now considers herself a "waste reduction catalyst." She founded the website 
We Hate to Waste
, through which users share what they do to reduce waste and thereby help envision what a resource-efficient lifestyle would look like. When New York City introduced its 
Zero Waste program
, Ottman decided to narrow her focus and is now a self-proclaimed "New York City Zero-Waste Influencer." She was appointed to the Manhattan Solid Waste Advisory Board by the Borough President and regularly testifies before City Council. She recently travelled to Denmark at the invitation of the Danish government and is starting to give presentations on best practices that can be adopted here in New York City. In offering advice to those on the job search, Ottman shared a technique that people can use to find a career that best suits them. "Draw a dot in the middle of the page with a number of intersecting lines emanating from it.  Then, label the intersecting lines with what you like to do, what you do well, how you like to work, etc. Look for the different jobs that represent the intersection of three of those lines." She also advised the audience to be "prepared to pivot", adjusting their work and skill set in order to respond to the most pressing needs of society.
Katie Schwamb, Steven Winter Associates, Inc.
As the former lead volunteer of the GreenHomeNYC Green Careers program, Schwamb was especially excited to share her story and career advice at this year's
Women of Green forum. Schwamb received her Bachelor of Architecture from the University of Texas, Austin. After undergrad, she first worked for an architecture firm and then applied to be an AmeriCoprs VISTA with Habitat for Humanity International to help develop the Neighborhood Revitalization Initiative, a program focused on rehabilitating existing buildings for low-income families. Following her year of service at Habitat for Humanity, she decided to take her new skills and appreciation for green building to New York City where she began work at a construction firm. In order to maintain her passion for sustainability, she joined GreenHomeNYC. Her big break came when she met Steven Winter of 
Steven Winter Associates, Inc.
 (SWA) at a GreenHomeNYC Green Careers event.  With encouragement from her mentors she applied for and was selected for a job at the firm. She described SWA as an energy efficiency, sustainability, and accessibility consulting firm that seeks to improve the built environment and support high-performance buildings. Schwamb is part of the Sustainable Housing Services department and works in both the design and construction phases of multi-family new construction projects in NYC and the surrounding area. Her duties include evaluating architects' and engineers' designs in relation to performance standards, conducting site inspections as well as onsite performance testing. As for lessons learned, Schwamb recommends being adaptable. "You're going to get curveballs in your career. The key is to figure out how to adapt and try to use them as learning experiences."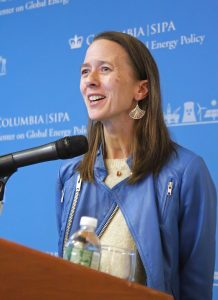 Lisbeth Shepherd, Green City Force
Shepherd brought the perspective of a social entrepreneur to the panel. At twenty-two, she founded the organization Unis-Cité that is based in France and which became a national movement inspiring legislation to allow 250,000 young people to do a year of service in France. After ten years of working to build Unis-Cite, Shepherd returned to the United States to help "develop a vision for a national clean energy core towards building an inclusive green economy." Upon returning to New York in 2009, she founded 
Green City Force
 in order to realize that vision. Green City Force enlists young residents of public housing with a GED or high school diploma, called Corps Members, in a year of service to address city sustainable goals. The organization is aimed at preparing Corps Members for green careers by bringing them together on large-scale projects in transforming land use and building practices, enabling them to distribute these practices across public housing. Corps Members work in teams and learn skills and receive technical training alongside professionals in the field. "My current passion is working with graduates and Corps Members who have their own projects." She gave an example of a Corps Member who manages his own hydroponic farm. "The opportunity to transform the New York City Housing Authority (NYCHA) while creating employment opportunities and career paths for young people in NYCHA is why I'm so passionate about this."
Laura Tajima, New York City Mayor's Office of Sustainability 
Tajima described how in her job she must "think big" in order to develop solutions that engage New York City as a whole in order to address environmental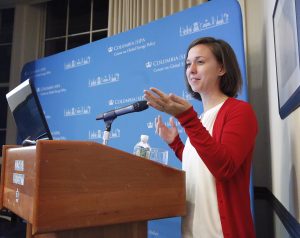 issues. Tajima's career path began in education, first as an English teacher in Japan and then as a director of 
Global Classroom
, a citywide international student program in New York City public schools.  She also said a lot of her work in education dealt with sustainability.  "I got to see sustainability through different perspectives and innovative solutions in other countries."  After teaching for a few years, she decided to make a career shift while maintaining her interest in sustainability.  She ultimately landed a job at the 
NYC Mayor's Office of Sustainability
 on the buildings team where she currently works.  Tajima discussed how the City has set a goal of reducing NYC greenhouse gas emissions by 80% by 2050 and has recently released its 
1.5° Climate Action Plan
 which outlines New York City's responsibility in keeping global temperatures below 1.5°C.  She also works on the City's Community Retrofit NYC program which provides free advisory services in energy retrofitting to building owners. Additionally, she works with partners to set policy and provide agencies with the necessary resources for implementation. "Of course what I do is think big and that's what we all have to do.  This is a huge problem and we need every single person to change how they're living, how they're working, and to work to change their buildings."