October 31, 2018
By Radhna Saxena
Photos By Jessica Bartolini
On October 9, Green Careers hosted a Career Tracks panel on NYC government jobs.  Professionals working to advance sustainability causes in various government sectors discussed their educational background, first steps in the sustainability industry, and job roles and responsibilities, while offering advice to those seeking a career in governmental sustainability.
Environmental Remediation
Kestana Anokye is a Project Manager in the NYC Office of Environmental Remediation, the agency that designs and operates municipal programs for cleanup and redevelopment of vacant contaminated lands. Anokye has a background in Geological Sciences and worked with two environmental consulting companies after college. Two years into her second job, she realized her growing passion for sustainability.  When a colleague suggested that she attend forums, like those hosted by GreenHomeNYC, to learn about opportunities in the field, it seemed a bit intimidating that almost every speaker had a degree in engineering.  But she was determined to find a way to combine her skills and training with her interests to find the right job. While networking is invaluable, Anokye advised that persistence in your job search is most important, even when things don't work out immediately.  That tenacity and patience led to her current position at the NYC Office of Environmental Remediation.
Energy Management
Michael Roos graduated with a liberal arts degree in economics and geography, and didn't foresee his current role as a Building Performance Analyst for the NYC Department of Citywide Administrative Services Division of Energy Management. While pursuing his master's degree at Columbia University, Roos learned about the role that local governments play in advancing urban sustainability, with Mayor Michael Bloomberg's PlaNYC serving as a case study. One of his professors encouraged him to apply for an internship in the Energy Department of the New York City Housing Authority (NYCHA). Interning with the largest public housing authority in North America was a valuable introduction to the field of energy management in city government. Roos returned to the Energy Department in a permanent capacity as an Energy Analyst, deploying his data analysis skills to work extensively with the Utility Management Information System (UMIS), NYCHA's utility bill database. He working with technical consultants to conduct energy analyses of NYCHA's 2,500 residential buildings and facilitate energy benchmarking in compliance with New York City's local laws. After a few years, he transitioned to his current role at the Department of Citywide Administrative Services, which serves as the hub of energy management activities for over 4,000 municipal buildings across the five boroughs. His role involves managing energy and performance in alignment with Mayor DeBlasio's goal of a 35% reduction in greenhouse gas emissions from municipal buildings by 2025. Roos advised job seekers to set up a keyword search on the city's job
website
and
DCAS Energy Management
to stay abreast of new opportunities in city government. He noted that networking is an effective way to connect with the tightly-knit community of energy and sustainability professionals in New York. He added that the DCAS-administered
Energy Management Institute
offers continuing education classes for city workers to enhance their technical knowledge.
Sustainable Communities
As Director of Strategic Alignment & Implementation for NRDC's Healthy People & Thriving Communities (HP&TC) Program, Lindsay Robbins works to foster the development of healthy, sustainable communities for all.  While studying film and TV production at NYU, she discovered a love for urban studies and decided to pursue a master's degree in urban planning. During this period, she became involved with several environmental groups at NYU that banded together to advocate for an environmental program at the university and the adoption of sustainable practices. Leading the effort with a few fellow students, Robbins successfully advocated to set up the program and bring other sustainability initiatives to the campus. After graduation, she was hired by NYU to assist in the planning, design, and renovation of university buildings. Robbins moved into government work when she was hired to work on multifamily efficiency programs at NYSERDA. Working in NYSERDA's then-small NYC office was a great advantage, as it helped her take on a lot of responsibility quickly. Subsequently she worked for the state of Maryland, managing an energy assistance program for low income households, where she worked to weave energy efficiency into the mix. Now at NRDC, Robbins works on energy efficiency for the affordable housing sector, helping the HP&TC program achieve its broader goals. She advised job seekers not to be discouraged by the lack of a technical degree; this is a field that requires a variety of skill sets and there are ample opportunities to learn, if you remain curious and keep asking questions.
Housing Development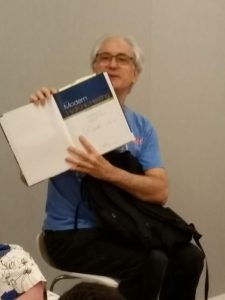 Tom Sahagian has had extensive experience working in private, non-profit, and governmental jobs, including the NYC Department of Housing Preservation & Development. He obtained a degree in journalism, later deciding to make the move into energy efficiency.  But he noted that his ability to write well has been a huge advantage over his entire career. Although there are pros and cons to working in government, he felt one compelling advantage is that government organizations are not driven by profit.  The tendency to care more about the work, rather than gains or paybacks, can be a rewarding experience. Sahagian's advice is to be willing to start at the bottom, work hard, and learn new things every day to steadily climb up the ladder. He recommended pursuing continuing education for technical topics, and reading magazines on energy efficiency to stay abreast of the latest tools, technologies, and concepts. A few other important qualities for success:  Be smart and committed.  Be ready to do a lot of reading, and don't be afraid to ask questions. The panelists noted there's often a long period between applying for a government job and getting an interview, so it's important to be patient and persistent. And they agreed that regardless of your educational background, keep learning, keep reading, and keep applying until you find your dream job in sustainability.