September 12, 2019
Forums Recap: Recycling Today, How It Works and What You Can Do To Improve It   By Pamela Berns   If you're a New Yorker who actively recycles, you probably know that when it comes to recycling in New York City, tissues count as garbage, not paper, ice cream containers can't be recycled, and film plastics, such as grocery and freezer bags, shouldn't share a bin with rigid plastics. You're no doubt aware that you should donate hard cover books and old vinyl records not only so others can enjoy them as much as you did, but because they're not recyclable in NYC's recycling program. And you certainly know that New Yorkers recycle not just because it's the right thing to do, but because it's the law.
How'd you do?  If you missed our August Monthly Forum, read on to learn what you need to know to fulfill your
Zero Waste pledge
in New York City.
(more…)
September 4, 2019
By Jonathan Oriondo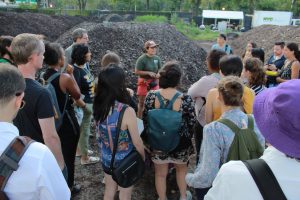 On August 15th, GreenHomeNYC hosted a tour of the East River Compost Yard in Manhattan, where participants learned what it takes to compost on a community-wide scale. Lia Lucero, the outreach coordinator for NYC Compost Project, personally guided us throughout the site.  At first glance it was not obvious that this facility's main goal was community education. Right on the river, in the middle of a park, this place was huge! There were piles of compost at various stages of the digestion process. Most of the facility was outdoors with a small administrative building towards the road, and it was all surrounded by a formidable fence. It was very impressive—even the smell. 
(more…)
April 3, 2017
Food waste. Food surplus. Whatever term you use, we throw away a lot of food! In total, New York City's waste stream is roughly one-third organic material.
According to the food hierarchy from the EPA, the highest and best use for food is human consumption and the least preferable option is landfill or incineration. As concerned citizens and active sustainability practitioners, what can we do to improve how food cycles through our city, keeping it at its highest and best use? What's being done to develop regenerative, closed loop systems consisting of local resources? This month's Forum is targeted to those who are interested in the food and organics issues that cities are facing amidst a trend toward zero waste goals and sustainable materials management. Five experts will discuss how they're designing and implementing sustainable urban food systems that will help NYC achieve it's "0x30" goal to send zero waste to landfills by the year 2030. Date: Wednesday, April 19, 2017 Time: 6:00-8:00pm. Networking 6-6:30pm. Forum begins promptly at 6:30pm. Place: Project Farmhouse, 76 East 13th St, New York, NY 10003
(more…)