February 3, 2011


On February 16th, GreenHomeNYC will host a discussion of the design innovations in the three Melrose Commons North projects, which will be built on the last remaining large City-owned underutilized sites in the Melrose Commons Urban Renewal Area (URA). Together, the three projects will deliver more than 750 units of green affordable housing, bringing the total number in the Melrose Commons URA to 3500 units — a terrific milestone for an area that was synonymous with disinvestment and urban flight in the 1970's. All three projects will meet the Enterprise Green Communities Criteria, a green standard designed for affordable housing. The speakers for this forum are veterans of the decades long effort to turn the Bronx around — they'll give us a look behind the scenes to how the three Melrose Commons North projects combine program and design in the service of rebuilding a vibrant, healthy community in the neighborhood that they've cared for and worked in through these years. Event Details:
Wednesday, February 16, 6:30 – 8:00 PM
Please arrive early – We will start promptly at 6:30!
Gunlocke Co.
NYC Showroom
257 Park Ave S.
, #14 (between 20th and 21st)
Please RSVP. AIA credits available, scroll down for details.
Speakers: Welcome by GreenHomeNYC board member
Bomee Jung
, Enterprise Community Partners
Ted Weinstein
, New York City Department of Housing Preservation and Development
Karen Hu
, Phipps Houses and
Bill Stein
, Dattner Architects
Nancy Biberman
, WHEDCo, and
Guido Hartray
of Rogers Marvel Architects
Isaac Henderson
, CPC Resources, with
Magnus Magnusson
and
Fernando Villa
, Magnusson Architecture & Planning The Green Building Forum is held on the third Wednesday of each month (except December) at 6:30 PM and features presentations by green building practitioners followed by discussion. The events are always free and open to the general public.
About the Speakers and Projects
Ted Weinstein
has devoted most of his career to the preservation and improvement of the neighborhoods of the Bronx, the last fifteen years as Director of Bronx Planning for the New York City Department of Housing Preservation and Development (HPD). In that role, he has been an advocate for affordable and mixed income housing and for increased homeownership opportunities throughout the South Bronx and has been instrumental in the site selection and approval during that time of much of the new housing development in those neighborhoods. In one way or another, he has been involved with every one of the 25 new construction projects thus far completed or currently in construction within the Melrose Commons Urban Renewal Area, development which will total 2817 units of new residential housing, as well as the over 800 units still in the planning stage. Prior to his current position, he served for fifteen years as Director of HPD Neighborhood Preservation Program Offices in the Bronx as well as Director of Property Planning for which he was responsible for the status of the City's 146 urban renewal plans. Before joining HPD in 1980, Ted was Deputy Director for Research for the New York State Temporary Commission on Rental Housing and organized community merchant associations on Bronx commercial strips for the New York Chamber of Commerce. As a lifelong resident of the Bronx, he has also been active in his own local communities, twice serving on community planning boards and for nine years as an elected member of his community school board.
Melrose Commons North – Site A
The Phipps Houses Group will build approximately 216 units of lower-income housing within two buildings on Site A, along with the early childhood center sponsored by The City Administration for Childhood Services (ACS). The architect for this project is Richard Dattner Associates.
Karen Hu
manages the land use entitlement, site planning, architectural programming and environmental remediation processes for Phipps Houses' pre-development pipeline. Phipps is one of the nation's oldest and largest not-for-profit developer/owners of affordable housing. Since Karen has joined Phipps, she has rezoned and entitled over 1,000 units of housing which are currently in construction. In the past year, she worked on the refinancing and rehabilitation of a 99-unit HUD 202 project on the Upper West Side and the acquisition and financing of a 21-unit gut-renovation of a City-owned building in SoHo. Karen is currently working on over 350 units of housing that is scheduled to start construction in the next 18 months and the preservation of a 208-unit Mitchell Lama project through the City's Inclusionary Housing Program. Prior to joining Phipps, she worked at the NYC Department of Housing Preservation and Development, where she served as co-chair of the New Housing New York (NHNY) Steering Committee and managed the NHNY Legacy Project Request for Proposals, the first design competition in NYC for sustainable, affordable housing.
William Stein
FAIA is a Principal of Dattner Architects in New York City. Bill directs the firm's residential practice, emphasizing sustainable, affordable housing. Innovative projects include Courtlandt Corners and Courtlandt Crescent in Melrose Commons, Via Verde in the South Bronx, Dinkins Gardens in Manhattan and Coney Island Commons in Brooklyn. His design for Habitat for Humanity's Atlantic Ave. Apartments achieved LEED for Homes Gold certification. Bill is a Board member of the Citizens Planning and Housing Council and a Fellow of the American Institute of Architects.
Melrose Commons North – Site B
Blue Sea Development and WHEDco are developing the Bronx Music Heritage Center within 3 buildings on Site B. The development includes 293 mixed-income units with a set-aside for elder musicians. In addition to residential, the development will also include 54,000 square feet for a community Music Heritage Center, an arts-based high school in partnership with DreamYard, and a hydroponic rooftop farm. The architect for this project is Rogers Marvel.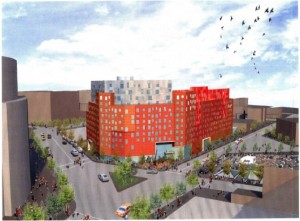 Nancy Biberman
founded WHEDco in 1991 with the vision of restoring the South Bronx to the beautiful, bustling place it once was. WHEDco's first project was the renovation of the abandoned Morrisania Hospital to provide low-income families with affordable homes and economic opportunities. In partnership with neighborhood leaders, Nancy developed the Urban Horizons Economic Development Center, which houses family support services, a Head Start center, a commercial kitchen that incubates small food businesses, and a primary healthcare center. With local parents, Nancy catalyzed the construction of the adjacent public school, PS/MS 218. Recently, Nancy led WHEDco in developing Intervale Green, the largest multi-family, high-rise, Energy Star certified affordable housing development in the nation. Nancy began her career as a Legal Services lawyer, after which she conceived and developed the West End Intergenerational Residence. She also developed over 700 units of affordable housing in the Highbridge section of the Bronx. Nancy's work has received recognition including the 2009 National Charles L. Edson Tax Credit Excellence Award for Green Housing, the Paul Davidoff Award for Leadership in Housing and Equal Opportunity from the American Planning Association (2008), a James A. Johnson Fellowship from the Fannie Mae Foundation (2007), and a Revson Fellowship to study at Columbia University's School of Architecture and Planning (1987). Nancy received her BA from Barnard College of Columbia University and her JD from Rutgers University School of Law. Nancy serves on the Board of Directors of Hostos Community College and the Freelancers Union Insurance Company. Since joining Rogers Marvel in 1997,
Guido Hartray
has led many of the office's most complex cultural and public spaces and streetscape projects. With expertise in design, management, and field representation, successful projects completed under his direction include Gowanus Green Public Place, Governors Island Park and Open Space, the award-winning MTA Flood Mitigation Street Furniture and Urban Plan, the Times Square Reconstruction, and 21st Century Streets. In addition, he has worked on numerous cultural and institutional projects including the Pratt Institute School of Architecture Higgins Hall, the Bread & Life community center, and the CREATE Chinatown Cultural Arts Center. Guido received a Master of Architecture degree from Harvard University Graduate School of Design, and studied urbanism as a Fulbright Scholar. He has curated exhibitions for the Museu d'Art Contemporani in Barcelona and the Architectural Association in London. Guido has been a guest juror and guest lecturer at numerous institutions including Columbia University, University of Illinois, and University of Portland. In addition, he is a visiting professor at Pratt Institute School of Architecture and an instructor at Harvard University Graduate School of Design's Career Discovery Program. He is a registered architect in New York.
Melrose Commons North – Site C
The team of CPC Resources, The Briarwood Organization and The Bridge will develop Site C with 3 buildings with a total of approximately 257 units along with approximately 27,500 square feet of commercial space. This development will target a variety of populations. The architect for this project is Magnusson Architecture and Planning.
Magnus Magnusson
, AIA, LEED AP, has distinguished himself as an architect who designs creative, award-winning projects. As managing Principal of Magnussion Architecture and Planning, Magnus guides a talented team of architects and planners through each step of the design and construction process. His design, planning, and management experience ranges from award-winning mixed-use developments to state-of-the-art commuity use facilities and innovative planning projects. Magnus received a Master in Architectural Technology from Columbia University and a Bachelor of Architecture from City College.
Fernando Villa
, AIA, LEED®AP BD+C is a licensed architect with over twenty years of experience in the design and construction of complex projects. His work covers a broad range of project types including affordable housing, sustainable and hospitality design, cultural institutions, historic preservation, adaptive re-use and residential work. At MAP, Fernando has leaded the design of a wide range of projects, including innovative green affordable housing such as Marcello Manors and Atlantic Terrace. Fernando is a member of the American Institute of Architects participating in the AIANY Housing and Architecture for Education Committees, The New York Chapter of the US Green Building Council, The National Trust for Historic Preservation, The Preservation League of New York State, The Sustainability Practice Network, and the Historic Districts Council. He served as the Chair of the Housing Committee for the AIA Queens Chapter. Fernando is also an honorable member of the Colombian Green Building Council.
AIA Learning objectives
The participant will be able to discuss what the collaborative process entails when architects work collectively with planners, city officials, local nonprofits, and community members, additionally what may be some of the challenges encountered when working with different stakeholders and strategies to address them. The participant will be able to enumerate what design considerations are needed when designing, renovating and building for specific populations such as students, seniors, musicians, low-income families and individuals with chronic mental illnesses. The participant will be able to define how sustainable housing can also be "affordable" and what energy and building technologies are utilized to maintain its affordability for low income families. The participant will be able summarize the sustainable design aspects of Melrose Commons North that will help it meet the criteria for Enterprise Green Communities.