April 24, 2016
By Katya Guletsky The term urban agriculture – growing food in an urban environment – can refer to anything from a few tomato plants in the backyard, to a community garden on a vacant lot, to an educational farm in a public park, to a for-profit enterprise. New York City with its dense population and high real estate values may seem like a strange choice for agriculture. Yet, it is a city full of entrepreneurs and people who make smart connections. Which is enough to make NYC a leader in the practice of urban agriculture. At GreenHomeNYC's March Forum, four individuals engaged in urban agriculture spoke about their farming projects:
Jason Green, CEO + Cofounder, Edenworks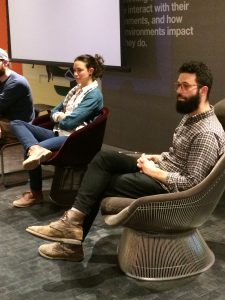 Jason started by talking about entrepreneurial opportunities in the local food market. The local food market is currently worth $7 billion and growing at 24%. NYC alone has unmet demand for local food worth $600 thousand annually. Yet, sourcing locally in NYC is challenging for stores and restaurants because of the limited growing season, and limited arable land. There lies a big opportunity for farmers who can figure out how to grow a year-round, reliable supply of fresh local produce. Edenworks' solution was to develop and build a vertical indoor aquaponics farm. An Aquaponics farm is a symbiotic system that combines conventional aquaculture (raising aquatic animals, such as fish, in tanks) with hydroponics (cultivating plants in water). The wastewater from the tanks, which is high in ammonia, is processed through a bio filter to convert ammonia into nitrate fertilizer, to be used for growing beds. Solid waste from fish is processed through a mineralizer, composting it into rich fertilizer. The aquaponics fertilizer delivers all 16 macro + micro nutrients, along with trace elements and mineralized organic compounds, which normally can be found only in the best soil environments. Thus, this system recreates the natural ecology of the soil system and allows produce growth with a well-rounded flavor profile. The produce generates 90% of the revenue. The fish, once grown to maturity, is also harvested and sold to restaurants. Prior to harvesting, the fish are sequestered in clean water for 2 days to cleanse their digestive track, which gets rid of the algae smell and taste common in pond fish. Everything is processed, packaged and stored in cold storage on site. Because it is an engineered system, it allows for a high level of standardization and automation, which lowers the cost enough to make Edenworks cost competitive with Dole. Within the world of local food, Edenworks focuses on ready-to-eat packaged salad. Salad is a good starter crop for local food: the crop-cycle is short and it's very perishable, therefore whoever can deliver salad to a point of sale within 1-2 days of picking and on a predictable schedule, has a huge advantage. Edenworks' big vision is create a fleet of modular and easily assembled systems that can be rapidly deployed to a wholesaler's particular geography where they cannot get stable supply for a certain type of produce, and allow them to meet that demand. Even though Edenworks' sells to wholesale buyers, they consider their business model B2B2C (Business to Business to Consumer) – sell to stores, but relay to consumers the value proposition, which is local, high quality, sustainably produced food.
Gwen Schantz, COO + Co-Founder, Brooklyn Grange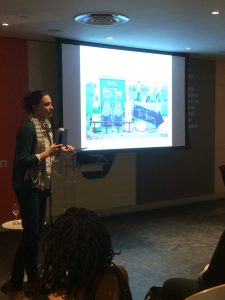 Brooklyn Grange is a roof-top urban farm, located on Northern Boulevard in Long Island City. Gwen started by telling us how in the summer of 2009, she and her partners met to talk about the concept, which was to build a fiscally and environmentally sustainable farm, that would be relatively inexpensive to build and easy to set up. It took six months to get financing, find the building and get the lease, and four weeks to build. By the spring of 2010, Brooklyn Grange Farm was built and growing vegetables. In its first season, it grew 15,000 pounds of produce. In 2012, their next farm was established in the Brooklyn Navy Yard. All that is needed to start an urban roof-top farm is a building with a strong roof and a large roof surface. Old factory buildings are great for this purpose. The roof is covered with a green roof system: protective membrane and drainage, that allows to put soil everywhere. Lastly, the soil is put in, as much as the building can bear. The more you have, the more vegetables you can grow. The LIC Brooklyn Grange location has 12 inches of soil in the growing beds, which allows to grow a wide variety of things. Both farms are seasonal businesses, but there are a couple of greenhouses for growing seedlings and microgreens. Brooklyn Grange's business model has several revenue streams. The main one is selling produce and prepared foods, such as sauces. They sell at farmer's markets, to restaurants, and operate a small CSA. They also partake in beekeeping, producing 500 lbs. of honey last year. Another source of income is consulting and construction projects: design and build farms for other people. Among the completed projects are: For Rosemary's restaurant in the West Village, Brooklyn Grange built a mini-farm on the roof. For FIT-Fashion Institute of Technology, they built a roof garden to grow plants for natural die-making. For Vice Media in Williamsburg – they built a green roof with a wild-flower garden. In the summertime, Brooklyn Grange organizes dinner series. Both farms are open to the public for events, workshops and weddings.
Nick Storrs, Urban Farm Manager, Randall's Island Park Alliance
Nick began by explaining that the Randall's Island Urban Farm is a program within a non-profit – the Randall's Island Park Alliance (RIPA). RIPA maintains all of Randall's Island park in partnership with the city. As with any NYC public park, the mission of Randall's Island park is to be accessible to all New Yorkers and to provide space for people to interact with the park in a way that promotes health and wellness. The Urban Farm is an educational facility designed to support this mission by offering local children and families the chance to experience agriculture in an urban setting. The Urban Farm has eighty raised growing beds, a flock of chickens, an apple orchard, and four rice paddies. Because it is not commercial, the farm can afford to grow 200 varieties of fruits and veggies, not all of them with commercial potential, but important for education. The farm's location near East Harlem and the South Bronx – communities with especially poor health records – gives it a great opportunity to teach children from these neighborhoods to explore how choices about food affect their health, the environment and their communities. Many of the children come from struggling academic backgrounds, therefore, there is focus on supporting academic learning. The programs teach children to understand how food is grown. They get to take care of food, harvest it, cook it together and eat it communally. In the future, this would hopefully enable them not only to pass a test, but to make better choices about their food, their health, and ultimately affect the food choices and health of their communities. Unfortunately, the demand for programs at the farm far exceeds its capacity. This spring, the farm has space to accommodate 27 schools, which left 143 schools on the wait list. Another type of activity happening at the farm are corporate drop-in programs, where a corporate group supplies materials and brings people for a big building project. A company wants its employees to get up and do physical work for 3 hours, and the farm gets materials and labor, which makes possible projects they wouldn't have been able to undertake on their own. For example, a group of Disney volunteers built the rice paddies. Overall, the drop-in programs allowed the farm to grow from 800 square feet to one acre over a couple of years. The farm's funding comes primarily through RIPA, and it also applies for grants especially in areas of education and working with underserved communities.
Onika Abraham, Director, Farm School NYC and Founder, A Farmer's Yoga
Onika started her presentation by engaging the audience to name human and environmental benefits of urban agriculture: access to good, fresh food, storm water management, cleaner and cooler air. This segued into the story of how the Farm School NYC started in 2007, as a collective vision of farmers, activists and educators who saw the need for education in food growing, and food justice. Food justice is a key concept for the Farm School, it refers to equal access to high quality, fresh, local produce. Food justice is closely connected to food sovereignty – the ability to provide quality food for yourself and your community. One of the School's main goals is to draw people from communities with the least access to healthy food, and provide them with the ability to grow their own food. The School's curriculum has 20 classes including soil science, carpentry, irrigation, crop management, rain-water catchment systems, and others. The School does not have one location. Students spend time on farms in and around the city, which gives them a sense of different scale of farms and how different farm systems work, as well as gives an opportunity for hands-on technical training. Skills learned at the school are transferrable to any farm environment. There are graduates from the certificate program who go on working, and even running, large rural farms. Anyone over 18 can apply to the school, and once accepted, take any classes. The tuition is based on the family income level. After the presentations, there was a Q&A session that raised some interesting questions:
Q:
Do you use greywater (greywater is any water from household appliances: sinks, dishwashers etc, except toilet)?
A:
None of the participants' farms currently use greywater. Brooklyn Grange is planning a system to catch and reuse the water run-off from the roof, which would save water and fertilizer. Edenworks designed a greywater catchment system with filtration, with funding from the EPA for diverting water from sewage. But they weren't able to implement it yet.
Q:
How does air quality and air pollution in NYC influence food quality?
A:
Edenworks uses MERV13 filters for their indoor greenhouse, so their air quality is very good. Brooklyn Grange, which is located on Northern Boulevard – a heavy traffic thoroughfare – is an outdoor farm and air pollution is a big concern. They partnered with Cornell on an air-quality study, and the main take-away is that the air pollution is a huge problem in NYC, however, most pollutants are heavy particulates that concentrate in the first 3 feet off the ground, so air quality on the roof is much cleaner. Urban farmers should test soils. Many colleges have affordable testing programs. Cornell has been spearheading Cornell urban soil program – setting standards and giving guidelines on what is an acceptable level of lead, and whether or not you can grow food in this soil. Still, it is very IMPORTANT to wash fruits and veggies, organics included, prior to eating!