Tag:
farming
April 24, 2016
By Katya Guletsky The term urban agriculture – growing food in an urban environment – can refer to anything from a few tomato plants in the backyard, to a community garden on a vacant lot, to an educational farm in a public park, to a for-profit enterprise. New York City with its dense population and high real estate values may seem like a strange choice for agriculture. Yet, it is a city full of entrepreneurs and people who make smart connections. Which is enough to make NYC a leader in the practice of urban agriculture. At GreenHomeNYC's March Forum, four individuals engaged in urban agriculture spoke about their farming projects:
Jason Green, CEO + Cofounder, Edenworks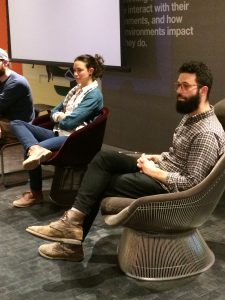 Jason started by talking about entrepreneurial opportunities in the local food market. The local food market is currently worth $7 billion and growing at 24%. NYC alone has unmet demand for local food worth $600 thousand annually. Yet, sourcing locally in NYC is challenging for stores and restaurants because of the limited growing season, and limited arable land. There lies a big opportunity for farmers who can figure out how to grow a year-round, reliable supply of fresh local produce. Edenworks' solution was to develop and build a vertical indoor aquaponics farm. An Aquaponics farm is a symbiotic system that combines conventional aquaculture (raising aquatic animals, such as fish, in tanks) with hydroponics (cultivating plants in water). The wastewater from the tanks, which is high in ammonia, is processed through a bio filter to convert ammonia into nitrate fertilizer, to be used for growing beds. Solid waste from fish is processed through a mineralizer, composting it into rich fertilizer. The aquaponics fertilizer delivers all 16 macro + micro nutrients, along with trace elements and mineralized organic compounds, which normally can be found only in the best soil environments. Thus, this system recreates the natural ecology of the soil system and allows produce growth with a well-rounded flavor profile.
(more…)