July 25, 2019
June Forum Recap:
Water Energy Nexus: Opportunities in our Water and Wastewaster Infrastructure
By Evan Mason, LEED GA
On June 19, 2019, GreenHomeNYC hosted a forum on the Water/Energy Nexus. We are used to thinking about energy and water conservation, but we often overlook the fact that conveying water to us uses electricity. Our two speakers helped us better understand that bringing water to our bathrooms and kitchens takes a lot of energy; once we embrace this concept, we can appreciate that conveying clean water to our homes and businesses presents myriad opportunities to reduce greenhouse gases.
Water and Energy—Real Life Strategies to Reduce Consumption, Save $ and Reduce GHGs
Mr. Padian brought the topic of water to our daily living and real-life situations, as only Andy can. Many people are not even aware that we are all charged for water, as these bills are included in common charges in most apartments. In fact, we are charged for water in two ways—by consumption at $3.81 per 100 cubic feet of water; and by sewer charges, calculated at a rate 159% of our consumption. Most buildings are charged $13.20 per 1000 gallons of water. It adds up—the average NYC apartment uses more than 300 gallons of water per day—and pays $1446/year. Did you know that most buildings pay more for water than they do for heat?
After setting these baselines, Andy reviewed the many ways we can all reduce our water consumption, and thus our buildings' water bills. Buildings can install low flo faucets, shower fixtures and toilets. Building management should be ever on the look-out to identify and repair leaks immediately. We can all be more mindful of turning off the taps while we do the dishes and utilize our dishwashers (only when they are full!) because energy start dishwashers actually saves more water than hand washing.
Fun Water Facts
It takes about 53 gallons of water to get a full portion of pasta to your plate, not including the sauce! There's the water you cook the pasta in (.5 gallons), the water that the truck takes to bring the pasta to your local grocery store (1.5 gallons), more than 3 gallons to process the wheat into the pasta, and more than 48 gallons to grow the wheat that eventually is made into pasta!
We are a lot more dependent on water than we realize. Even after such a wet spring (more than 7 inches of rainfall in May, as compared to the average 4.1), it behooves us to save water, not only to conserve this precious natural resource but also because when we do so, we are saving electricity, fuel, and money.
Behind the Scenes at NYC DEP
Jane Gajwani, PE ably explained to our audience some of the behind the scenes efforts NYC Department of Environmental Protection is making to save money, water, fuel and electricity, as it works to bring us clean, safe water. We are blessed with our upstate watersheds that convey this "champagne of waters," but NYC's DEP works hard to do this in an energy efficient, forward-thinking manner, never taking for granted this precious resource.
As Director of Office of Energy and Resource Recovery Programs, Jane oversees energy, greenhouse gas policy, planning, projects, budgeting and accounting. These efforts include extensive data analysis to track energy budgeting, forecasting, developing and monitoring a greenhouse gas inventory, managing projects and contracts, overseeing outreach and other initiatives such as policy, behavior management, energy reliability and research.
It's staggering—NYC's 6000 DEP employees bring all 9 million of us NYers 1.1 billion gallons of water a day, through 7000 miles of water mains, sourced complements of 2000 square miles of watersheds. Just as impressive, our 14 wastewater resource recovery facilities treat 1.3 billion gallons of waste and stormwater per day, through 7500 miles of sewer pipes.
DEP's aim, in alignment with the Mayor's goals, is to achieve carbon neutrality by 2050, energy-neutral wastewater treatment plants by 2050, send zero waste to landfills by 2030 and maximize DEP's participation in other citywide goals such as installing renewables at its facilities and increasing energy storage, among other initiatives.
Further illuminating the connection between Energy and Water, Jane presented data demonstrating the DEP is the city's 2nd largest emitter of greenhouse gases—just after buildings. Yes, it takes a lot of energy and greenhouse gases to bring us our water. DEP's annual energy usage totals 5.1 trillion Btu, 80-90% of which is due to the operation of 14 waste water treatment plants.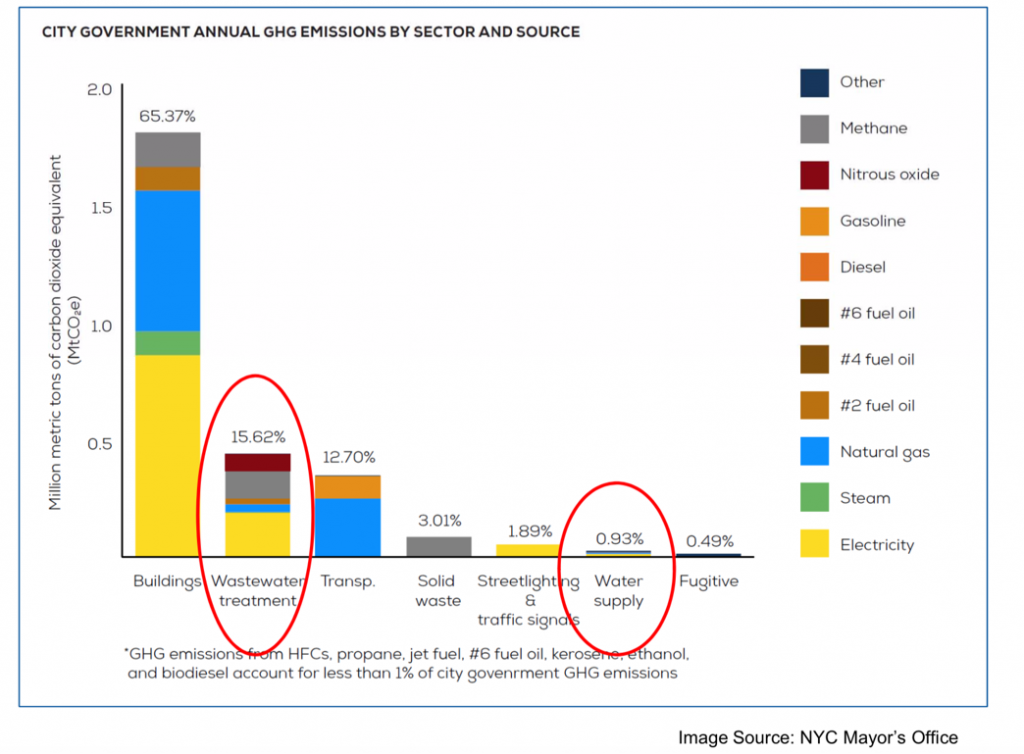 Figure 1:
Wastewater treatment is second only to Buildings in annual greenhouse gas emissions
DEP's greenhouse gas reduction strategies look to both the demand and supply sides, renewable sources of energy and offsets, such as the beneficial use of biosolids and biogas and sequestering water through green infrastructure, wetlands and watershed.
It Takes a lot of BTUs to Treat our Water
Annually, DEP uses 5.1trillion Btus! To reduce this consumption, several efforts are underway. As an example, improvements were made at the Hunts Point waste water treatment plant in late 2015, saving 5000 kWh daily, and we can see this in the graph below.

Planned supply side efforts to reduce GHGs are exciting and cutting edge—including on-site energy generation using anaerobic digester gases, switching fuel type and moving to electrification.
A 12 MW cogeneration system at North River WWTP at 145 Street and the Hudson River will use anaerobic digester gas from the plant (and some supplemental natural gas) to produce enough electricity and heat to power the entire plant. How many of our own homes and offices are net zero while serving so many? DEP is definitely not resting on its laurels. It's working hard to bring us clean, safe water, all the while reducing DEP's greenhouse gas contributions.
A note from the author:
NYC's water is clean and healthy, but sometimes our pipes and aging infrastructure isn't. Click
here
to find out how you can test your water—for free—for lead and other contaminates.
Speakers:
F.L. Andrew Padian is a private Building Science Consultant with 40 years of experience in the unique building science of multifamily buildings. He has performed detailed energy and financial analysis on thousands of buildings across the country. He has mentored dozens of professionals in the field today and is a co-founder of GreenHomeNYC.
Jane Gajwani, PE Director, Office of Energy and Resource Recovery Programs at New York City Department of Environmental Protection. Jane is a former Associate Vice President of AECOM and has deep experience in the intersection of water treatment and energy, as well as air quality analysis and GHG emissions planning.