October 2, 2017
Join GreenHomeNYC and the Center on Global Energy Policy's Women in Energy program for the "Women in Green" October Forum!
Several established experts in the "green" universe will take the stage to talk about the myriad paths that lead them to where they are now in the sustainable field.  The only catch is, the presentation will be Pecha Kucha format, where each presenter is allowed 20 images, each shown for 20 seconds – that's six minutes and forty seconds of fast-paced enlightenment before the next presenter is up! If you enjoy being entertained, enlightened and inspired, this forum is for you, so 
REGISTER TODAY!
Our speakers will include: Jacquie Ottman, We Hate to Waste & J. Ottman Consulting Sharon Gaber North American Passive House Lucie Dupas, Entersolar Lisbeth Shepard, Green City Force Andrea Mancino, Bright Power Laura Tajima, Mayor's Office for Recovery and Resiliency Allison Kling, ConEd Katie Schwamb, Steven Winter Associates Date: Wednesday, October 18, 2017 Time: 6:30-8:00pm Faculty House, Presidential Room 1 (3rd floor) 64 Morningside Dr. New York, NY 10027
REGISTER HERE!
SPEAKER BIOS
Jacquelyn Ottman, Founder and Principal, J. Ottman Consulting, Inc. & We Hate to Waste
Jacquie Ottman is an internationally recognized speaker, author and advisor to government and industry on positive strategies for advancing greener products and consumer behavior. She is the author of five books, including the award-winning, The New Rules of Green Marketing: Strategies, Tools and Inspiration for Sustainable Branding(Berrett-Koehler, 2011). In 2012 she founded WeHateToWaste.com with a specific goal: to help define a resource-efficient lifestyle that consumers would want to embrace. A graduate of Smith College and a non-stop brainstormer, she holds an advanced certification in facilitating creative problem-solving from the Creative Education Foundation. She was the first person in NYC certified by the U.S. Zero Waste Business Council as a Zero Waste Business Associate. She is a Secretary of the Manhattan Solid Waste Advisory Board, Chair of their Residential Recycling and Reuse Committee, and frequently testifies on zero waste issues to the New York City Council. Ottman and her colleagues bring their expertise to forward-thinking organizations, businesses and community groups by providing advice, and giving talks and workshops on strategies for helping consumers live better by consuming smarter and more responsibly, and aligning with zero waste.
Sharon Gaber, Manager at North American Passive House Network
Having spent a lot time outdoors as a child, Sharon Gaber has always been interested in the environment and protecting it. Being a seasoned traveler she was introduced to many different cultures and went on to get a BA in Art History/Anthropology. Her love of art and wanting it to be available to all, essentially led her to get her Masters in Museum Studies for Decorative Art. While working for various galleries and interior designers in NYC she became aware of the immense impact that sustainable products and design could have on the industry. She forged on and became a LEED AP and BPI certified to increase her knowledge and involvement. She now divides her time between managing North American Passive House Network and assisting cultural institutions to become more sustainable.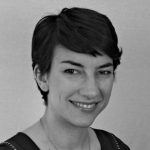 Lucie Dupas, Engineering Director, EnterSolar
Lucie Dupas is the Engineering Director for EnterSolar, the #1 Commercial & industrial solar installer in NY. Strong with 7 years of experience as an engineer in the solar industry, she manages a team of 8 project engineers and designers. She is passionate about sustainability and believes that it is everyone's job to participate in the global effort to preserve our planet (her most accurate nickname is the "Recycling Bulldog"). Aside from her role at EnterSolar, she is also the Vice President of the Board of GreenHomeNYC, a volunteer-run nonprofit that provides sustainability education and networking events for young professionals in NYC. Prior to joining EnterSolar, Lucie started her career in solar working with Sollega, a solar racking company, as a VP of product, and then as a Senior Engineer at Bright Power, a NYC-based energy management company. She graduated from INSA Lyon with a Masters Degree in Energy Engineering. She is a NABCEP PV Installation Professional since 2015.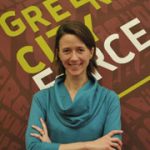 Lisbeth Shepard, Founder and Executive Director, Green City Force
Lisbeth Shepherd founded Green City Force (GCF) in 2009 to address the dual imperatives of youth unemployment and climate change. GCF leverages national service to create pathways to careers for young adults who are unemployed or in dead-end jobs, who reside in public housing. Named "NYC's Most Innovative Nonprofit" in 2013, Green City Force has engaged over 270 young adults aged 18-24 with an 80% graduation and placement rate in employment or college. GCF teams have coated or cleaned over 1 million square feet of rooftop as part of the NYC Cool Roofs campaign, built the city's first urban farm on public housing property in partnership with the New York City Housing Authority and Added Value, and educated thousands of public housing residents about changing behaviors in their homes that can lead to energy reduction, through the Love Where You Live campaign. GCF has been recognized as a national model by President Clinton and by the White House as one of five Youth Jobs+ Champions of Change in 2013. GCF Lisbeth previously founded Unis-Cité, the leading national youth service program in France which engages over 2000 annual corps members in 50 cities and inspired national legislation affecting 75K young adults. She is an Echoing Green alum, Draper Richards Kaplan Fellow, Audobon "Woman Greening the City," White House Youth Jobs+ Champion of Change, Yale graduate and mother of two.
Andrea Mancino, Manager of New Construction, Bright Power, Inc
As the Manager of New Construction at Bright Power, Andrea oversees daily operations and manages team members working on ground-up new construction and commissioning projects. Andrea also serves as a Senior Project Manager for high level, technical and unique projects that require deep experience, technical guidance and detail. Daily activities involve working with design teams to optimize design, conducting construction phase inspections and testing, as well as complying with relevant programs such as LEED, NYSERDA, Enterprise and Passive House. Ultimately, Andrea's mission is to continuously improve the standard of energy efficiency and sustainability best practices across the development, design and construction industries.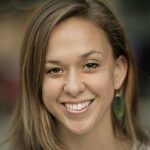 Laura Tajima Mayor's Office of Sustainability, Senior Policy Advisor
Laura Tajima is a Senior Policy Advisor at the NYC Mayor's Office of Sustainability where she focuses on greenhouse gas reductions in buildings through policies and programs. She manages Community Retrofit NYC, a program that provides technical guidance to small multifamily building owner in Brooklyn and Queens to scale energy and water retrofits. She is also involved in ongoing analysis to inform policy recommendations and the City's reports including One City Built to Last: Technical Working Group Report and New York City's Roadmap to 80×50.
Allison Kling, Project Specialist, REV Demonstration Projects
Alison Kling recently joined Con Edison's REV Demonstration Projects department. In 2013 she started at Con Edison in the Distributed Generation group, where she focused on solar customer communications, interconnection policy, and process improvements. Prior to working at Con Edison, Ms. Kling worked for seven years with New York City and the City University of New York on energy policy and renewable energy programs. She has a master's degree in Urban Planning from NYU.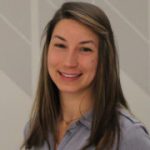 Katie Schwamb, Senior Sustainability Consultant at Steven Winters Associates
Katie is a multifaceted sustainability professional with experience in the design and construction sectors of the building industry, as well as non-profit program development and management. She possesses a passion for empowering people and projects that seek to improve the quality, health, and efficiency of the built environment.
REGISTER HERE!