Tag:
environmental-activism
March 27, 2015
by Lisa Bonanate Few people think about how green their wardrobe is, unless they're pondering what color to wear. But the apparel industry has an environmental impact that warrants deeper consumer attention. In the U.S. alone, the industry generates an estimated 14.3 million tons of textile waste every year. Toxic chemicals used in manufacturing impact the environment and the health of workers exposed to them. How can the industry move towards sustainability and what can consumers do to drive that change?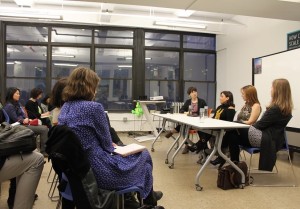 This month's GreenHome NYC forum
explored the subject of eco and ethical fashion through a panel discussion with several innovators in the field of sustainable apparel. The panel featured Kate Black, founder and Editor-in-Chief of 
Magnifeco
, the digital source for eco-fashion and sustainable living, Melissa Cantor, Co-Founder & Editor of 
Ethica
, an online ethical and sustainable fashion boutique, and Francisca Pineda, an award-winning fashion designer and creative director of 
BHAVA
, a cruelty-free footwear and accessory brand.
(more…)
February 23, 2015
It takes over 700 gallons of water to manufacture one cotton t-shirt and one-third of a pound of pesticides to grow the cotton used for its production. The manufacturing process for a pair of jeans uses approximately 400 mega joules of energy and emits as much carbon dioxide as driving 78 miles. And that is only the beginning, since almost half of the environmental impact of an apparel item comes from consumer use and "end of life," resulting in 14.3 million tons of textile waste generated every year in the United States alone. Curious to know what all this means and what we can do to limit the environmental and social impacts of the clothing we wear every day? This month, our forum will explore the subject of eco and ethical fashion. We will discuss the current state of the industry and introduce designers and manufactures working to build a greener future for the apparel sector. Don't miss this intimate conversation and have your questions answered by thought leaders in the field of sustainable apparel. Date: Wednesday, March 18, 2015 Time: 6:30-8:00pm Place: Bard MBA Classroom 1150 6th Avenue, 5th Floor New York, NY 10036.
Click here to register!
(more…)
August 12, 2013
Countdown to BE NYC!
With only

days until October 16th, GreenHomeNYC is shining the spotlight on the experts who will be making BE NYC  conference an exceptional industry event!
One of the professionals participating in the conference is
Erica
Brabon
.
Erica Brabon is a Senior Multifamily consultant at
Steven Winter Associates
. She is a frequent speaker at NESEA's Building Energy conference and GreenHomeNYC events.  Erica will serve as co-chair of the Multifamily Buildings track for the upcoming BuildingEnergy NYC conference.  She will also be speaking at the workshop, "What Local Law 84 & 87 Mean and How to Get the Most Out of it", at BE NYC.
What sparked your interest in sustainable building?
Environmental activism is something I've been involved in since middle school. When I realized what an impact I could make working to make buildings more efficient in their use of energy and water, but also providing healthier living environments, I jumped at the opportunity.
Please reflect upon your experiences in speaking at GreenHomeNYC forums and Building Energy conferences? What are your thoughts on the programs?
NESEA BE is my favorite conference because I not only learn from the pros but have a chance to meet them and talk shop in a unique environment. I'm a lifetime member and look forward to any NESEA events as well as GreenHomeNYC events. The connections made from both organizations have been integral in my professional development. The programs from both are great avenues for new ideas to not only reach the industry but the public.
(more…)