Tag:
green-jobs
June 27, 2020
By Jude Jussim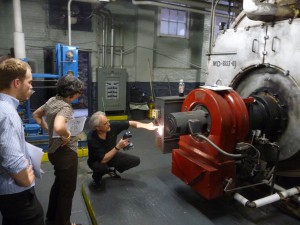 Tom Sahagian knows there's no time left to dawdle in controlling the greenhouse gas (GHG) emissions from New York City's buildings. The problem: There's a shortage of people with the right skills to do it. Sahagian is not talking about policy wonks. "The life of the mind is not what's going to get us to solving the climate crisis. Pontificating doesn't do it. You need people who can actually physically do what's required." Sahagian, a GreenhomeNYC board member with many years of experience as an energy efficiency consultant, believes that to dramatically decrease building-generated GHGs, the city's buildings will have to be powered with clean electricity (e.g. wind or solar) rather than fossil fuels. An Electrifying Challenge "New York City needs to convert a thousand buildings a year for the next 30 years," he says, "which will take hard work and coordination and commitment—and contractors and workers with the right skills. And right now, we have a shortage of those people."  
(more…)
June 2, 2017
By Nancy Anderson, Ph.D. With a tip of the hat to Jane Austen, let me tweak her famous observation "It is a truth universally acknowledged, that a single man in possession of a good fortune, must be in want of a wife." Today, "It is a truth universally acknowledged that a liberal big city Mayor must be in want of good jobs for all." I can't vouch that Austen was comedy-free, but I do believe that Mayor de Blasio is earnest in his commitment to good jobs for all as part of his OneNYC mission. In the Mayor's 2017
OneNYC Progress Report
, large print trumpets his credo laid out in the first
OneNYC Report of 2015
: "I believe fundamentally you can't have environmental sustainability without economic sustainability. Nor can you have economic sustainability without environmental sustainability." This is a good thing to believe, so let's see how this credo is getting expressed in concrete policy and actions.
(more…)