Tag:
heating-oil
February 21, 2012
GreenHomeNYC volunteers got an exciting opportunity to learn about energy audits by participating in a home energy audit demonstration by members of Power Concepts' Energy Division.  The group preformed an ASHRAE level-one audit on a four-story Brownstone in Park Slope.  While GreenHomeNYC does NOT offer energy audits, this was an excellent opportunity for our volunteer conservationists to join in on a thorough audit and better understand cost-effective energy saving measures firsthand. Here's what they learned: A typical ASHRAE Level 1 energy audit includes a visual inspection of the boiler room, the apartments, and the building envelope.  An
audit
identifies where why and a building is losing energy, and how to address the problems to increase resident comfort and save money.  From the one day site inspection, Power Concepts prepared a brief report for the building's residents detailing various measures the building could take to improve comfort and reduce energy costs.  Read more about the building and our audit after the jump!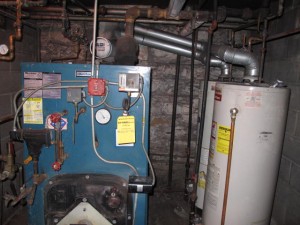 (more…)
February 7, 2011
Cleaner Heating Oil Coming to NYC?
Mayor Bloomberg and DEP Commissioner Halloway have proposed
new requirements
on heating oil for New York City's buildings.  About 10,000 buildings in New York use No. 6 heating oil – the cheapest but most polluting.  Under the rules, with some exceptions, boilers using No. 6 oil would have to convert to No. 4 (slightly less polluting) by 2015, and new boilers would be required to use the even cleaner No. 2 fuel or an equivalent low-emission fuel.  By 2030, all boilers would have to be modified to meet the No. 2 standard.  The public comment period on this legislation is open though February 28 – comments can be submitted through the
NYC Rules
site.
New Green Building/ Clean Tech Incubator
Yes, this information also comes from a press release from the Mayor's Office, but the City has opened the
NYC Urban Technology Innovation Center
– a collaboration between Columbia University, the Polytechnic Institute of New York University, and CUNY to foster clean technology innovation, promote best practices sharing between building management stakeholders, and attract and support clean technology entrepreneurs to NYC.  It's a great idea. 
Read more here
.