Tag:
monti-building
September 27, 2010
GreenHomeNYC hosts the NYC Green Buildings Open House
on Saturday, October 2nd, for the For the 8th consecutive year! The NEW New York is complementing a day of Green Building Open Houses located throughout the five boroughs.  Guests can visit a variety of green buildings, accompanied by the owners, designers, and engineers who built them.  Since 2007 GreenHomeNYC's tour has been organized as the New York City edition of the National Solar Tour due to our role as the New York City Chapter of
NESEA
. NESEA is a regional membership organization that promotes sustainable energy solutions by advancing a multi-disciplinary network of professionals, sustainable energy solutions for the built environment, and proven results in the field. Visit
this link
to see what open houses will be open in your neighborhood and around the city.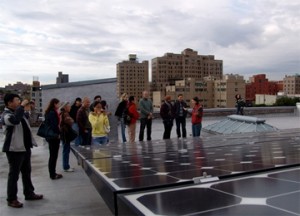 The solar installation atop the Monti building generates more than the amount of electricity needed during the day and sells it back to the grid. During the weekends, the almost the full amount generated is sold back as most of the commercial tenants are not using their offices during that time!