Tag:
nyc-parks
July 14, 2017
Two NYC Parks Expanding Park Area by Almost 8.5 Square Miles! Central Park, at a mere 1.31 square miles, is nothing in comparison to Freshkills Park and the Hudson River Parks Conservancy – two giants that are each over 4 square miles. NYC has been expanding park areas for decades, and these are two great examples of the repurposing of areas that many thought would never recover. Today, one is a shining example of success, the second might become one of our great wildlife sanctuaries…..who knew? Come listen to these two highly dedicated Parks experts, as they explain the day-to-day operations in their parks. Hudson River Park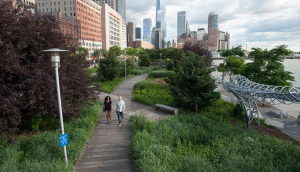 Freshkills Park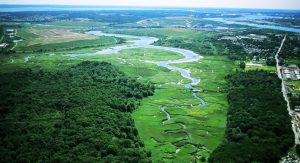 Date: Wednesday, July 19th, 2017 Time: 6:30 PM -8:00 PM Place: Fujitsu General America, 1450 Broadway, 42nd floor, New York, NY 10018
Register Here!
(more…)
July 8, 2014

INVITES YOU TO 
Date: Thursday, July 24th 2014
Time: 6:30 PM
Cost: Suggested Donation of $5
Bushwick Inlet Park.
Once a brownfield site located on the East River, this park has been transformed into one of the greenest spaces in the City and was recently honored by the American Institute of Architects (AIA) as one of
2014's top ten examples of sustainable architecture
.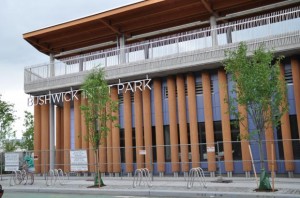 It is now home to numerous playing fields as well as Parks Department offices and various community spaces. Designed by the architecture firm Kiss + Cathcart, with landscape architecture by Starr Whitehouse, the site contains ground source heat pump wells, rainwater harvest and storage, and drip irrigation for the green roof. Half the total energy used by the main building is generated by an onsite solar pv system. The park site encompasses almost 30 acres of land and surrounds Bushwick Inlet, a narrow, protected remnant of Bushwick Creek.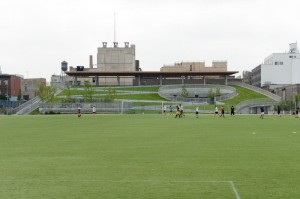 Guests will be treated to a behind-the-scenes look at the park's green amenities as well as an in-depth discussion of the design and implementation of the park's transformation. After the tour, guests are invited to continue the conversation over drinks at a nearby location TBD.
Space is limited.