January 2, 2016
by Tamanna Virmani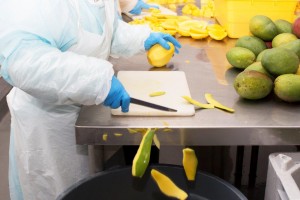 Idaho potatoes, a staple of the American diet, make a long journey from farm to plate. Physically and literally, the last stop on the train for this American native is
Baldor Specialty Foods
at Hunts Point Avenue in the Bronx. Hidden away in full view at Hunts Point is a sustainability success story that few know about but most are connected to, at least indirectly. Baldor started with a humble produce pushcart back in 1918, graduating to a consumer store in 1946 – the famous Balducci's of Greenwich Village. Today, it is the leading importer and distributor of fresh and specialty foods in the Northeast and Mid-Atlantic regions. The company curates and delivers ingredients from across the country and around the world, from Swiss Hot Chocolate to Belgian shallots. Baldor partnered with Dan Barber's
WastED
initiative, which used pineapple cores, mango peels, carrot shavings and other food items to create culinary masterpieces for Blue Hill restaurant. (1)  Baldor also supplies non-produce items, such as oils and sauces, to white tablecloth restaurants and grocery chains, including Eleven Madison, Daniel Boulud, Dan Barber, Payard Bakery, Telepan and Whole Foods. Anyone who has visited New York City restaurants or grocery stores has likely sampled its products.
A Focus on Sustainability and Community
It's no accident that Baldor decided to establish headquarters in the South Bronx.  The company believes "a business is only as strong as the most vulnerable members of its communities". By doing business in the Bronx, Baldor aims to provide necessary employment to local residents as well as build on its success through corporate partnerships with organizations that include
Part of the Solution (POTS)
,
Edible Schoolyard NYC
,
Food Bank of NYC
,
City Harvest
and others.
Baldor introduced sustainability measures in its operations to help reduce its carbon footprint, including solar panels and the
OorjaPac
system, which provides clean energy to run forklifts. (2)  But these days Baldor is in the news for its innovative efforts in reducing food waste while making that a profitable part of its business. Eliminating the hauling of waste to the landfill translates into cost savings – typically 5 to 8 cents per pound for the industry. (3)  The company hopes that through its large distribution network and new partnerships, it can influence positive change in reducing the city's large food waste footprint.
The Road to Zero Waste
Food waste is increasingly being positioned as a climate change issue. According to the
Environmental Protection Agency
, "in the U.S., food is the largest component of municipal solid waste and accounts for a significant portion of methane emissions and thus, any zero waste plan for NYC has to address this part of the municipal waste."  On Earth Day 2015, Mayor de Blasio presented the OneNYC plan, which set forth a vision of sending zero waste to landfills by 2030. At Baldor, the person leading the zero waste effort is Thomas McQuillan, a business analyst and manager of Baldor's food waste reduction initiative, called SparCs.  A long-time entrepreneur at heart, he joined Baldor Specialty Foods about a year ago with little food experience but a strong background in distribution.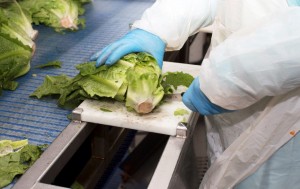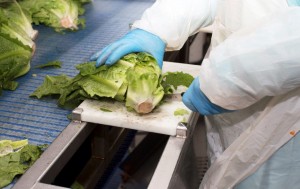 In July 2015, Baldor's President, Michael Muzyk, asked him to do something about the company's food waste issue and McQuillan hasn't stopped coming up with creative solutions ever since – all with an ambitious goal of making Baldor a zero food waste facility by April of 2016.  In an interview with Restaurant Hospitality, McQuillan said, "Baldor processes more than a quarter of a million pounds of produce each week. That process produces tens of thousands of pounds of what have long been called trimmings, scraps, peelings or byproduct: carrot tips and greens, celery cores, fruit skins, fennel shavings or ugly potatoes." (4) The journey from food waste to alternative food offerings has been interesting. Initially, Baldor only had an
Enviropure system
that broke down food waste and turned it into water. That reduced the landfill burden, but didn't provide any other benefits – and the company soon realized it had more food waste on its hands than Enviropure could handle. This is partly due to Baldor's strict food quality standards and partly because of its exceptional customer service, which offers a 100% satisfaction guaranteed return policy.  It was clear something more had to be done. The result was a comprehensive plan to eliminate all organic waste destined for the landfill. SparCs – that's 'scraps' spelled backwards – was the name given to the program, which "offers trim, tops and peelings from the company's processing facility to chefs and manufacturers to incorporate these usable ingredients into their operations into products such as broths, juices and soups which can be resold or reused."
Corporate Partnerships
A few of Baldor's corporate partnerships have been instrumental to the program.
MISFIT Juicery
in Washington, DC, produces cold-pressed juice from 'misfit' shaped, 'ugly' and surplus fruits and vegetables. Other partnerships in the works are with New York-based pig and cow farms.  Pig farmers are able to feed their animals with raw organic food products, while products for cow consumption must be dried and then mixed with other ingredients. This mix may include SparCs from Baldor and from other companies who have food products deemed as waste that are destined for the landfill, such as potato chips and whey from cheese production. This initiative will be tested in January 2016. Of course, any food waste solution is secondary to ensuring that all food fit for human consumption is first brought to market. Baldor is HACCP accredited and SQF Level 2 certified (Safe Quality Food) which illustrates the company's commitment to food safety.  First and foremost, all produce meets quality assurance tests before it is sold to Baldor's customers, who rank as some of the best restaurants and food service companies in the world. Food products that do not meet Baldor's standards are sold on consignment at the Hunts Point Avenue market, as well as in-house to employees, at very affordable prices. This is in line with Baldor's overall food waste strategy: excess food is first made available for feeding people, then animals, then finally supplying the rest for anaerobic digestion, a system that decomposes organic matter into an energy source. Sending food to an anaerobic digester is a partnership in the works with the NYC Department of Sanitation and Waste Management, where a portion of the food waste will go to the Newtown digesters. (5) Overall, Baldor Foods has shown how a business can be viable and still have a potent sustainability focus that is part of an environmental solution. Here's to more corporate success stories in 2016. (1)
Foodtank
(2)
The Packer
(3)
Restaurant Hospitality
(4)
Ibid
(5)
Business Wire