January 24, 2016
by Thomas Storck
Last year was a big one for the climate. Not only was 2015 the warmest year on record, we also witnessed the first universal agreement on climate change, negotiated at COP21, the global climate change talks held in Paris last December. The agreement includes a global warming limit of "well below 2°C", with "efforts" to limit it to 1.5°C. Chinese President Xi Jinping said of the conference, "It is not a finish line, but a new starting point." While his tone was optimistic, the language is tough to swallow and leaves many of us wondering why it took 21 years to arrive at the beginning. Meanwhile, our "safe threshold" for global warming has proven to be lower than predicted and our goals and policies remain so disconnected that it's hard to discern what options remain at our disposal. So it begs the question: how much time do we have left to make the changes necessary to avoid catastrophe and what should be prioritized? We know that the amount of emissions it will take to bring the planet to 2°C warming is 1,000 gigatons of CO2 above 2012 levels. We have to act quickly, but we also recognize that fossil fuel energy won't become a thing of the past overnight. So how much of that carbon emissions budget is inevitable and how much do we have a chance to eliminate? The C40 Cities Climate Leadership Group tried to answer that question in a report published last October. They found that existing investments and policy decisions have made a daunting 80% of our carbon budget essentially irreversible, or 'locked-in'. And if current trends continue, our entire budget could be locked-in by 2020. Even if every country meets their voluntary emissions targets, the collective goals of the global agreement puts us on track towards a temperature increase of well over 2°C. But there's still reason to be optimistic. C40 reports that of the remaining 20% of our carbon budget, one-third will be determined by urban policy decisions made within the next five years. Despite the potential dangers of the Paris agreement, cities across the world still have the capacity to spark enormous change. With 1.5 million people moving into urban areas every week, cities will have to play major roles in the shift to low carbon development. At the recent annual Columbia University Energy Symposium, students, faculty, leaders and executives came together to explore some of our most challenging energy questions.  In a panel titled City of the Future, experts discussed how cities can be designed to reduce emissions as well as how the energy sector can overcome challenges and take advantage of opportunities. The panelists were Tom Bailey, head of research at C40 and co-author of the carbon budget report; Luke Leung, Director of Sustainable Engineering at Skidmore, Owings and Merrill; Cameron Thomson, Manager of Arup's New York sustainability team; and Craig Schwitter, Principal at BuroHappold Engineering.
Back to Nature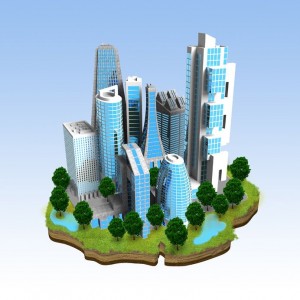 Luke Leung began the discussion with his own grand vision of future cities – one that stressed the value of introducing nature back to the urban fabric. He described mankind's interaction with the Earth in terms of entropy, or lack of order and predictability. Historically, we have systemically turned highly complex, diverse systems (low entropy) into simpler, degraded environments (high entropy). This high entropy has created irreversible damage. Considering the mess we've made trying to create order out of chaos, Leung calls for a new approach to our built environment – one that achieves "the lowest chaos possible when generating higher levels of order." In nature, all waste is converted and reused. Similarly, we have to be mindful of energy returned on energy invested. As an example, Leung offered the Pertamina Energy Tower currently under construction in Jakarta. The 99-story net-zero building will get all of its energy from wind at the top of the building and heat below its foundation. The technology to achieve this energy efficiency adds to construction costs, but is expected to pay for itself in 4-5 years! Greening our cities can also have a significant health impact, Leung said. Studies show that adding 10 more trees per city block can improve health perception in ways comparable to a $10,000 increase in annual income or being 7 years younger. Health care costs now account for 17.6% of GDP, so we cannot ignore the link between public health and economic growth.
The future is unwritten for our rapidly growing cities, but we can be certain there will be lots of new buildings. If we continue developing as we do now, new buildings will account for over 70% of future annual urban emissions. But according to Tom Bailey, if we transition away from dirty fuels within the next 5 years, we could avoid locking in 45 gigatons of CO2 by 2030 – that's 8 times the current annual U.S. emissions. And according to C40's report, energy-efficient investments made before 2020 would cost only a quarter of the amount to replace high carbon infrastructure in the future. Fortunately, populations are shifting towards denser urban environments for efficiency's sake, and not the other way around. "But density has diminishing returns," said Craig Schwitter of BuroHappold Engineering. "It's not enough." Convincing landlords to build retrofits is a challenge because there's little incentive to reduce energy costs. Schwitter argued that the price of energy is low enough that even building owners who pay their own energy bills think similarly. We should introduce regulations and market mechanisms that discourage energy use and incentivize renewable sources; for example, a tax on carbon emissions or net-zero energy standards for new buildings. "We need to change how people are engaged with energy," said Cameron Thomson of Arup. Even among professionals, expertise tends to be compartmentalized. "Few people can think across the whole spectrum," he said. When asked how the "internet of things" will influence the future of urban sustainability, Luke Leung responded by saying, "What we need is to make everybody a musician." He explained that although we have access to so much data, few people can read it, much like sheet music to a non-musician. It's not enough for data to be accessible – it must be understood. Introducing market incentives to nudge people into making better decisions is crucial, but with only five years left to act, behavioral changes will need to be made for the right reasons too. Cities are uniquely equipped to quickly implement policies and programs on the ground, and many are already making ambitious commitments under the Compact of Mayors, which launched at the 2014 UN Climate Summit and now includes over 400 cities worldwide. Regardless of the goals established at COP21, cities have an opportunity to lead by directly influencing crucial decisions and investments to curb emissions before 2°C warming becomes inevitable. Time is running out, but before making policy changes we should first take a step back and consider what we want our cities of the future to look like; then, ask ourselves how we can realize that vision.