Tag:
sustainable-cities
January 24, 2016
by Thomas Storck
Last year was a big one for the climate. Not only was 2015 the warmest year on record, we also witnessed the first universal agreement on climate change, negotiated at COP21, the global climate change talks held in Paris last December. The agreement includes a global warming limit of "well below 2°C", with "efforts" to limit it to 1.5°C. Chinese President Xi Jinping said of the conference, "It is not a finish line, but a new starting point." While his tone was optimistic, the language is tough to swallow and leaves many of us wondering why it took 21 years to arrive at the beginning. Meanwhile, our "safe threshold" for global warming has proven to be lower than predicted and our goals and policies remain so disconnected that it's hard to discern what options remain at our disposal. So it begs the question: how much time do we have left to make the changes necessary to avoid catastrophe and what should be prioritized?
(more…)
September 27, 2015
Rebecca Marshall's Mantra: "Sustainability has no boundaries."
By Pamela Berns
"Sustainability doesn't have boundaries." That's Rebecca Marshall 's mantra. On October 15, Rebecca, who is the Javits Center's Energy and Sustainability Manager, will spread the wisdom as she shares the in-depth sustainability story behind the Center's recent renovation. Rebecca is an upbeat person with a serious mission: to expand the boundaries of sustainability well beyond the Center's 840,000 square feet of exhibit space. While she monitors the building's resource consumption and engages employees internally, she also works to help customers exhibit responsibly and strives to ensure that the Javits Center is a "good neighbor" to the buildings that are rapidly going up in the adjacent Hudson Yards. She's also works to extend a green welcome to New York City tourists, and even helps provide a safe haven for the local wildlife population. And she shares a commitment with others in her field to improve and increase sustainability in the events and conventions industry.
(more…)
April 29, 2015
By Pamela Berns The New School celebrated Earth Day with a day-long event entitled "Earth Matters: Designing Our Future."  The program consisted of panel discussions ranging from sustainable fashion to climate change, with speakers from organizations as varied as NRDC, the Municipal Art Society, and the Mayor's Office of Recovery and Resiliency.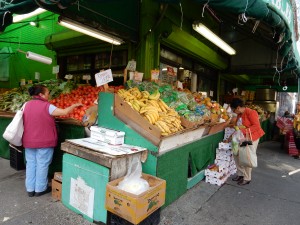 In a session about sustainable food systems, the expression "you are what you eat" took on new meaning with a presentation on urban food planning by Dr. Rosita Ilieva.  Dr. Ilieva is a Post-Doctoral Research Fellow at the Tishman Environment and Design Center at The New School, where she teaches and researches urban food systems and sustainable cities in the Environmental Studies program.  She also has earned a Ph.D. Cum Laude in Spatial Planning and Urban Development from the Polytechnic University of Milan.