January 27, 2017
by Samantha Yost On January 10, GreenHomeNYC hosted three professionals in the field of resilience and stormwater management at the offices of the Community Preservation Corporation, which itself has done significant post-Sandy recovery work in some of the most vulnerable and heavily impacted communities. This Sustainable Career Tracks event attracted a diverse crowd eager to get career advice from our panel of experts.
Mark Ginsberg, Principal at Curtis + Ginsberg Architects, LLP
Mark Ginsberg is a familiar face in the resilience community, having spoken on several previous panels about the work his firm has done with new construction and renovations on buildings in the flood plain. Mark is also co-author of Enterprise's manual Ready to Respond, Strategies for Multifamily Building Resilience, which seeks to give information to owners of multifamily buildings on how to protect their properties and residents in case of an emergency.  He spoke about the Arverne East project that his firm has designed in the Rockaways, an area in the flood plain that has endured heavy damage during Superstorm Sandy. Mark, who invests time outside of his job to speak at conferences, serve as a board member, and volunteer, considers it important to take time for these "extra" activities. He believes that it's an invaluable way to grow your network and develop your personal brand in the industry.
Lisa Blake, Senior Project Manager- Resiliency, NYC Department of City Planning
Lisa Blake started her career in the non-profit industry, working at internships with the Arava Institute and the Urban Green Council. Afterward, she applied for a position with FEMA and made the switch to the public sector. Lisa is currently employed by the NYC Department of City Planning in their resilience programs, which facilitate projects across the city and engage in several outreach and educational initiatives to get the message of resilience out. Her advice for job seekers is to build up a network of contacts through real relationships, rather than trying to schmooze at networking events. She said that it's more important to have five close, personal, professional contacts than 40 people you don't know very well. Additionally, LinkedIn is a valuable tool for getting informational interviews and building your professional network.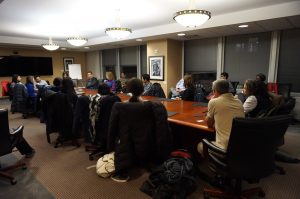 Dana Kochnower, Senior Policy Advisor at NYC Mayor's Office of Recovery and Resiliency
Dana had a different career path than the previous two speakers, having started in the telecommunications industry in video production. Wanting to make the transition to the sustainability industry, in 2014 she received a master's degree in Marine Biodiversity and Conservation from Scripps Institution of Oceanography and afterward began working for the Mayor's Office of Recovery and Resiliency. Dana's advice for job seekers focused on the importance of informational interviews. She said that many professionals are willing to take time to speak with people who are just getting started in the industry and are trying to make personal connections. She added that the key to getting informational interviews is persistence—if you don't hear back from somebody, it's important to keep pursuing them and following up. Busy professionals often fail to respond to the first message but will respond to a second or third follow up.
Advice for Job Seekers
In the discussion afterward, a few pieces of advice for job seekers emerged: Get involved! Serving as a volunteer or board member, and getting involved in events outside of your job is a great way to build professional contacts and your personal brand. It's important to view these activities not as something extra, but as an important part of your professional life. Network with the right people by building strong relationships. Take the time to cultivate and build up relationships in your professional network. It's important to have a core group of people who are looking out for each other, rather than having a huge collection of business cards from people you barely remember. Informational interviews are a great way to get exposure in the industry. Don't be shy about asking people for informational interviews, and be persistent if they don't answer back the first time. Having these people in your professional networks can go a long way when you're looking for a job.
What's next for Green Careers?
Join us in February for our annual resume "speed-dating" event!  This has been a great hit in years past, so if you want to improve the look of your resume and get advice from several different professionals in the industry, join us on February 21st!