November 23, 2015
By Thomas Storck
October's  Green Careers meet-up featured three sustainability leaders whose careers ranged from medicine to equipment manufacturing to government. Each professional, who spoke at this year's 
NESEA
 Building Energy NYC conference shared inspiring information about their work and career histories, and weighed in on career advice for those who want to pursue sustainability careers.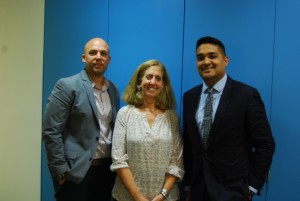 Photo credit: Samantha Yost
DR. ELIZABETH GARLAND
is an Associate Professor in the Departments of Preventive Medicine and Pediatrics at Icahn School of Medicine at Mount Sinai. She is the director of the Division of General Preventive Medicine and Community Health and the General Preventive Medicine Residency Program as well as the Health Promotion Disease Prevention Track Leader for the Mount Sinai Graduate Program in Public Health. She is currently leading research evaluating the impact of affordable housing on residents' health. Her relationship with green building developed through studying pediatric asthma in East Harlem, which ranks the highest in New York City for childhood asthma rates. Dr. Garland has explored how green housing can mitigate indoor allergens and pollutants and improve residents' respiratory symptoms. Recently, she evaluated the health impacts on tenants after they moved into Melrose Commons V, a LEED Platinum-certified building in the South Bronx. After tracking their progress for 18 months, participants reported significant decreases in asthma and other respiratory symptoms. She is now researching the impact of active design strategies on residents when incorporated into affordable housing, which results in increased physical activity and decreased health risks.
SAHEEL CHANDRANI
is currently Senior Account Executive at Johnson Controls, Inc., a company that globally offers HVAC equipment and controls to optimize building energy efficiency. While studying both Business and Mechanical Engineering at New Jersey Institute of Technology, he began his work ten years ago in the building efficiency and HVAC industry as an Account Executive for Siemens, a global engineering company and one of the world's largest producers of energy-efficient technologies. His expertise includes maximizing building performance by applying cutting edge technologies and marketing strategies. How do intelligent buildings affect the grid, specifically in regard to integrated demand resources? And how can we implement innovative technologies for demand-response integration? These are some of the questions that drive Chandrani's work. He says about 60-70% of his day is dedicated to the day-to-day business side of things, which allows him some flexibility to dedicate time to more long-term and bigger-picture issues, like focusing more on design stages. One challenge he faces at his office in particular is a lack of know-how among its talent to successfully bridge these two ideas together.
MICAH KOTCH
is the Director of NY Prize and Strategic Advisor for Innovation at NYSERDA. NY Prize helps communities reduce costs, promote clean energy, and build reliability and resiliency into the electric grid. The program is part of a statewide endeavor to modernize New York's electric grid, spurring innovation and community partnerships with utilities, local governments, and the private sector. Previously, he served five years as Director of Innovation and Entrepreneurship and Executive Director of the New York City Accelerator for A Clean and Resilient Economy (NYC ACRE) at New York University's School of Engineering. Kotch considers his career path a non-linear one and became involved with microgrids through his love of startups. He's a proponent of the LEAN startup method, which facilitates fast cycles of innovation through a series of tests, measurements and adjustments, and believes governments and utilities could benefit by adopting similar strategies. He sees opportunities in the changing utility structure and is interested in the dynamics between that and the proliferation of the new user-generated/sharing culture. Microgrids offer reliability, which he believes people will invest in. But some people will do "the right things for the wrong reasons", he points out, citing that Tesla sales are often linked to the high levels of prestige they offer to their customers. "It's important to make sure there's a market for clean energy solutions, rather than just a policy push." Here are some helpful hints from our speakers for career management and job-hunting.  
Photo credit: Samantha Yost
Any advice for job-seekers?
Dr. Elizabeth Garland: You must make the effort to actively network – make your luck happen Avoid saying "no" to opportunities – take advantage of all that is offered, whenever possible. Don't burn your bridges. Avoid those who "don't play well in the sandbox." Work with your co-workers, not against the culture of your workplace. Similarly, understand the culture of the workplace before you start working there (it's a good idea to ask). When emailing about a job offer, save it for the weekday (weekend emails can get buried). Saheel Chandrani: It's okay if you're not an expert in any skill or field, but when you need that knowledge, it's important to know people who are. Be good at something. When you find out what that skill is, figure out how to communicate it. Micah Kotch: Network with a purpose. The sustainability field is a relatively small world… Keep a list of 10 people or groups who you think are doing world-changing work so you can be prepared to talk to them when the opportunity arises.
What do you look for in a job candidate?
Dr. Elizabeth Garland: Interpersonal skills Reliability Asks questions but not too many Good letters of recommendation Saheel Chandrani: Good attitude Flexibility with their job description – that they accept that there are no clear boundaries and are open to any challenges Micah Kotch: Ability to multitask Good communication Writing skills Determination Adaptability Willingness to put everything they have into a specific goal if necessary
What organizations would you suggest getting involved with?
Dr. Elizabeth Garland: Center for Active Design//
centerforactivedesign.org
Partnership for a Healthier New York City//
healthiernyc.org
Saheel Chandrani: ASHRAE  (monthly Chapter meetings offer presentations on what's happening in HVAC)//
ashraeny.org/events/chapter-meeting
Building Owners and Managers Association//
bomany.org
Association of Energy Engineers//
aeecenter.org
Micah Kotch: NY Association for Energy Economics (monthly networking events)//
nyaee.org
NYC ACRE//
ufl.nyc/programs/acre
Once again, we've seen that sustainability experts come in many forms, and that there is a great deal of need for a wide variety of expertise in the field. And once again, we've learned that, when it comes to jobs,  what counts is passion, reliability and flexibility.