December 29, 2016
by Tamanna Mohapatra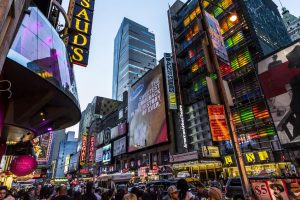 We've just been through another holiday season with tourists filling sidewalks, restaurants and New York City hotels. According to NYC & Company, the official destination marketing organization for the city, over
58 million visitors
came to Manhattan in 2015 alone, and another
59.7 million
were projected for last year. Clearly, tourism is alive and well in the city – and the one thing all tourists need is a place to stay. Although Airbnb and similar types of housing have become popular in NYC, hotels still provide the bulk of accommodations for visitors. But with increasing competition from Airbnb, along with consumer awareness and general CSR efforts, hotels are taking a serious look at their operations with an eye towards implementing green initiatives.
What Exactly is a Green Hotel?
Sustainability can mean many things for a hotel. For some, it can be physical, as in being housed in the latest LEED certified building. For others, it can mean working on the nitty gritty details of establishing programs to reuse and recycle
soaps and shampoos
, or it can mean looking at the big picture by partnering with city government to
reduce their carbon footprint
. In Manhattan,
19 major hotels
have pledged to reduce their individual carbon footprint by taking part in the NYC Carbon Challenge, which aims to reduce greenhouse gas (GHG) emissions 80% by 2050. It's estimated that participation will reduce citywide GHG emissions by 32,000 metric tons and save approximately $25 million in energy costs. Hotels are expected to provide a feeling of luxury and indulgence for travelers, which may seem to be at odds with green
principles. But that's a critical component of a good sustainability strategy – it has to blend in with business strategy while benefiting the bottom line, rather than functioning in isolation. Smart hotels introduce sustainability through improved technology that has a positive impact on the bottom line but isn't noticeable to guests. These can include a wide range of
improvements
: low-flow showerheads and toilets, waterless urinals, faucet aerators with a flow rate of 1.5 GPM (gallons per minute) and dishwashing valves with a flow rate of 1.6 GPM. Energy efficiency can be improved with compact fluorescent lighting, Energy Star rated appliances and electronics, energy efficient windows and digital thermostats with occupancy sensors in guest rooms. Food waste is another issue that creates a financial burden on hotels. According to LightBlue Environmental Consulting, in some hotels up to
47% of food waste
occurs at the pre-consumer level, as spoilage or as waste during preparation. A hotel selling 15,000 meals per month might generate 70 tons of food waste per year. And hauling waste is a huge expense that can be drastically lowered when hotels start recycling programs, sometimes hiring staff to separate waste. Some hotels have
recovered
$1,000-$3000 a month of reusable hotel property out of the waste stream.
How Green is My Hotel? Welcome to the InterContinental Barclay
An impressive case study in green hotels is the
InterContinental New York Barclay
, a five star hotel located in a vibrant and busy Midtown East neighborhood. The hotel's
sustainability plan
follows that of its parent company, Intercontinental Hotels Group (IHG), and focuses on the "Triple Bottom Line of Economic Prosperity, Environmental Protection, and Social Responsibility. We aim for our sustainability strategy – which aligns with the United Nation 2030 Agenda for Sustainable Development – to become the benchmark of the hospitality industry." With a goal to become the greenest hotel in New York City, the Intercontinental NY Barclay has adopted a number of
sustainability measures
. Conservation efforts that contribute to a positive bottom line include triple pane windows installed throughout the hotel, along with energy efficient lighting and an HVAC system that uses 30% less energy. Low-flow shower heads and toilets are in use, as are automatic water faucets in public areas and back of house. New supply water lines reduce water leaks and related water failures. In the area of environmental protection, water is conserved with an every-other-day towel and linen washing policy. Filtered tap water is used in all food and beverage outlets and menus feature mostly organic, seasonal and sustainable produce. 100% of the hotel's organic waste is digested by a food digester and an extensive waste management program sorts and recycles waste.
It's All About Goals
IHG has created the
Green Engage System
™, an online sustainability tool that enables its hotels to measure and reduce their impact on the local environment. The system measures energy, carbon, water and waste, and uses the data to provide customized performance benchmarking. Hotels are then provided with Green Solutions – recommendations for reducing energy, carbon footprint, water usage and waste. IHG has further committed to aligning its sustainability efforts with the prominent and comprehensive U.N. Sustainable Development Goals (SDG) to abolish poverty, combat inequality and address climate change. IHG has created its own measurable goals for each of the 17 SDGs, ranging from water, waste and energy management, recycling, and donations to a variety of charitable initiatives. This year, the Intercontinental Barclay has pledged to take on
three challenges: the NYC Mayor's Hotel Carbon Challenge, calling for a 30% reduction in carbon emissions by 2022, an 80% waste diversion ratio through the Waste Challenge, and a 20% reduction in water consumption as part of the EPA Water Challenge. Additionally, the company is striving to achieve 5 Keys – the highest attainable – in the
Green Key Global Eco-Rating Program
. For almost 20 years, Green Key Global has been evaluating and certifying hotels based on their commitment to sustainable initiatives. Recognized by the Global Sustainable Tourism Council (GTSC), the graduated rating system awards one to five "keys" based on performance in five operational areas. The areas of focus are Corporate Environmental Management, Housekeeping, Food & Beverage Operations, Conference & Meeting Facilities, and Engineering. The sustainable practices used to improve hotel operations span energy & water conservation, solid & hazardous waste management, indoor air quality, building infrastructure & land use, environmental management and community outreach. Consumers can use the power of their wallets to support hotels that have implemented green strategies in their operations.  So the next time you're traveling, be sure to opt for a
green hotel
.