April 17, 2018
by Tamanna Mohapatra If you're an eco-minded entrepreneur looking for the next great "green" idea, you may take some inspiration from a trio of local small businesses that hold sustainable values at their core. Starting a business, green or otherwise, has rewards and challenges. Fortunately, there are
resources
available through New York State, and inspiration from these local business owners that can help in the pursuit of a green dream.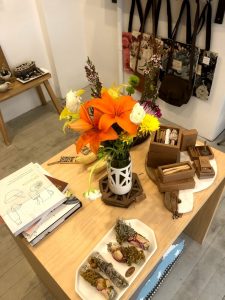 Saint Seneca: Supporting Independent Artisans
With a name inspired by the intersection of the two streets on which it's located in Ridgewood, Queens,
Saint Seneca
is a lovely curio store that sells local artisan goods. Ridgewood local Yuka Anziano founded the business in the summer of 2015, with money inherited from her father.   It was a gamble to open an artsy, though reasonably priced, home and lifestyle store amidst the dollar stores and local deli, but it's a risk that has paid off. Anziano called on a talented pool of friends in the area to design the logo, hand paint the sign, and build the displays, opening the store in just four months. She believes that supporting small makers and designers is better for the community and believes that operating in New York provides a huge advantage. "There is endless talent here," she said. "Even within my own neighborhood of Ridgewood, I have makers just a few blocks away. I have lived here for over a decade and it has become quite the creative hot-bed." In terms of sustainability, Anziano has found a way to practice the 3Ps – people, planet and profit – by supporting local, socially responsible makers. Her biggest jewelry
supplier works with communities in Kenya to bring social and economic change to the Maasai community in Amboseli. Saint Seneca is presently doing well, but like all new businesses, running out of money was an initial concern. According to Anziano, "If you truly love what you do, you will find a way to push through your fears and not be afraid to fail." She went on to say that the amount of time dedicated to a new and growing business makes it hard initially to set aside time for family and friends. "You must have a lot of energy and laser focus if you want to be successful." But she added, "In my opinion, true success is measured by how happy you are."
Dank Banana Bread Company: Sweet Sustainability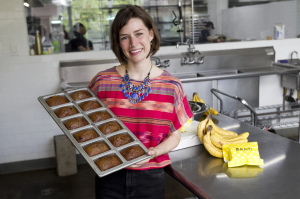 Caitlin Makary didn't start out as a baker by trade. She was a clothing designer by day and an avid biker and mountain climber in her spare time. But her vegan banana bread was such a hit among her hiker friends that when she found herself looking for new career opportunities, she decided to turn her hobby into a business – and the
Dank
banana bread company was born. Makary put her design background to good use creating the look and feel of her product, from designing an innovative logo to her website. From humble beginnings that included delivering her baked goods in large Tupperware bins on the back of a motorcycle, her product now has a cult following and retails in over 40 locations across Manhattan and Brooklyn.  Initially operating out of her sister's restaurant, Makary eventually moved to
Brooklyn Pilotworks
, a shared commercial kitchen and culinary incubator for food entrepreneurs, located in Bed Stuy, Brooklyn. The bakery now produces the same amount of bread in 4 hours that initially took a week to produce. That type of efficiency has helped the business grow.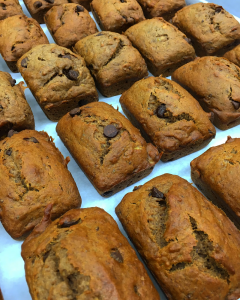 From the beginning, Dank has made sustainability a part of its business. The bread is made without preservatives and is stored in recyclable bakery boxes. It's a 100% made to order product, creating almost zero waste in the kitchen, and the shared facility at Brooklyn Pilotworks recycles all recyclable materials. There's also less waste at the point of sale; while some baked goods are thrown out at the end of each day, Makary's product has a longer shelf life. Another main focus at Dank is building a community – both by providing jobs and by making regular donations to local organizations, like the NYC chapter of the Adaptive Climbing Group, and sponsoring Formula Femme, a women's track cycling team. According to Makary, there are several advantages to having a New York-based business. "New York makes a lot of logistics possible. Public transportation is (mostly) great, and you have access to material sourcing and a good marketplace." That doesn't mean there aren't financial challenges, including deciding how to price the product. But another advantage is that the city is teeming with well-informed people, young entrepreneurs and an effective medium, both online and in-person, to share questions and answers. "New York City is truly the center of the universe," Makary said. "The entrepreneur life works perfectly here."
Strong Rope Brewery: A Pint with a New York Flair
For a craft brewery with a local flair, look no farther than
Strong Rope Brewery
in Gowanus, Brooklyn. Founder Jason Sahler was always interested in pursuing a creative endeavor, but it wasn't until his home brewing hobby won him a prize in the 2011 Brooklyn Wort home brew competition, that he decided to make it his full-time career. Sahler now makes his beer and operates a taproom in Gowanus, which is the only place his beer is available – a practice that allows him to control quality and give his customers a personal touch. In just over two years, production has increased from 5 gallons a day to about 62 gallons. As a graduate of NYU's sustainability program, incorporating sustainable practices into Strong Rope's operations not only comes intuitively to Sahler, it has paramount importance. In addition to embracing the city's recycling and composting initiatives, Strong Rope reuses waste water from production to cool the beer. Sahler also is looking into a number of green initiatives with like-minded organizations. For example, spent grain is being composted presently, but in the future, it may be turned into gluten-free flour through a partnership with
Rise
, a company that upcycles organic by-products.
Under the guidelines of the NY State Farm brewery license, Strong Rope's beer must be made primarily from locally grown farm products. According to Sahler, working with local farmers is very much a part of the brewery's overall sustainability picture. His hope is that by supporting local farmers and agriculture, Strong Rope can do its part to 'prevent farmland from becoming suburban house tracks." Besides access to a wealth of locally grown farm products, another advantage of being based in New York is access to consumers willing to try something new and original. There will always be challenges to starting a business, but Sahler does recommend following the dream of entrepreneurship, as long as you do your homework through proper planning, studying the industry, and always hiring good people. We'll drink to that!