Tag:
sustainable-business
August 1, 2020
By Alexa Roccanova Though the COVID-19 pandemic has disrupted business as usual, it has also heightened awareness of the fragile balance between nature and humanity. To some, the magnitude of the virus's impact represents a culmination of enduring environmental, economic, and social issues. Sustainability presents a globally beneficial path forward; however, not unlike the pandemic, its extensive scope demands responses that both tackle and develop complex and interconnected systems. Public and private sectors are now seeing the COVID-19 economic recovery as an opportunity for an operational reset.
Ambitious Actions Needed: Sustainable Development Goals The
United Nations Sustainability Goals
(SDGs) are helping both sectors to pursue environmental and humanitarian targets by providing a universal framework of seventeen integrated objectives needed to facilitate global environmental, social, and economic well-being by 2030.
April 17, 2018
by Tamanna Mohapatra If you're an eco-minded entrepreneur looking for the next great "green" idea, you may take some inspiration from a trio of local small businesses that hold sustainable values at their core. Starting a business, green or otherwise, has rewards and challenges. Fortunately, there are
resources
available through New York State, and inspiration from these local business owners that can help in the pursuit of a green dream.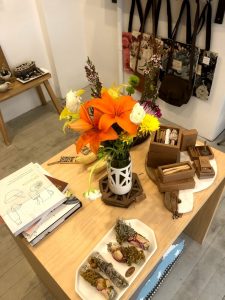 Saint Seneca: Supporting Independent Artisans
With a name inspired by the intersection of the two streets on which it's located in Ridgewood, Queens,
Saint Seneca
is a lovely curio store that sells local artisan goods. Ridgewood local Yuka Anziano founded the business in the summer of 2015, with money inherited from her father.   It was a gamble to open an artsy, though reasonably priced, home and lifestyle store amidst the dollar stores and local deli, but it's a risk that has paid off. Anziano called on a talented pool of friends in the area to design the logo, hand paint the sign, and build the displays, opening the store in just four months. She believes that supporting small makers and designers is better for the community and believes that operating in New York provides a huge advantage. "There is endless talent here," she said. "Even within my own neighborhood of Ridgewood, I have makers just a few blocks away. I have lived here for over a decade and it has become quite the creative hot-bed."
(more…)
July 28, 2014
GreenHomeNYC's Summer Sustainable Businesses  Tour
included a visit of three
 environmentally-responsible venues in Brooklyn: Our first stop was
 Build It Green!NYC  (BIG) – 
New York City's non-profit retail outlet for salvaged and surplus building materials and other household items, including refrigerators, doors,  appliances, and even books! The tour of BIG NYC was lead by Harvey Jaswal, who provided a thorough outlook on the history of  the venue, an overview of the store's storage spaces and items available for purchase.  Harvey also discussed the process by which businesses, home owners and developers can donate materials and appliances to BIG during building renovations.  These materials can then be purchased by people looking for rare and vintage materials for thier own renovations. Architects and designers are oftentimes able to find unique items for a great price here!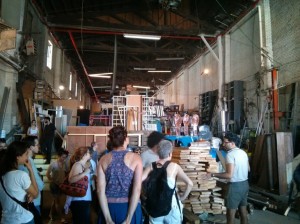 From Build It Green, we headed over to our next stop
– Lower East Side Ecology Center  E-Waste Recycling Center 
to explore a warehouse  that allows residents to dispose of old or broken electronics in an environmentally-responsible way.
(more…)